Senecio, Kleinia: "Creeping Succulents"
Senecio means "old man" in Latin, but I think the opposite of old when I use them in the gardens I design for clients—Senecio is a new favorite of mine. This family is a highly diverse collection (with more than 1,000 species) but I am partial to the succulent Senecios for their striking hues and fabulous foliage attributes.
Native to South Africa and a member of the sunflower family, succulent-type Senecios are mainly small ground covers that quietly creep and hug the ground, branching and suckering from roots. I find them to be a trifecta of plant positives: easy, fast, and water-conscious.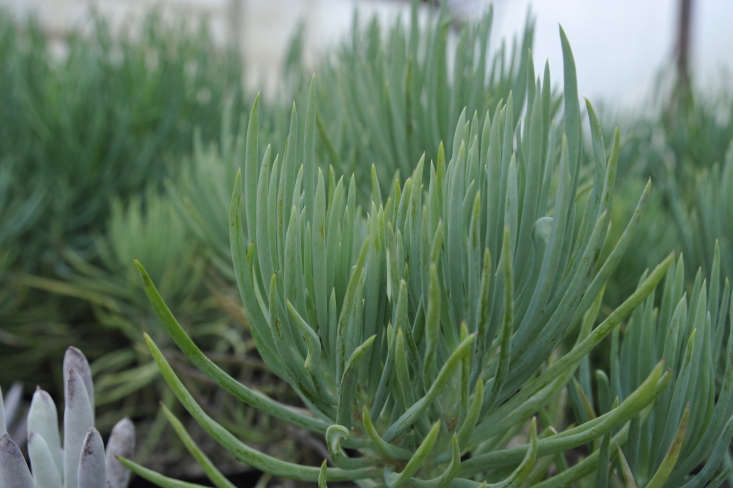 One of my favorites is Senecio vitalis for its fantastic foliage fingers that provide a striking blue-green color and upright, textural contrast.
Another of  my favorites is Senecio radicans 'String of Bananas.' Not only is the name awesome, it also trails and weeps to reach lengths of more than  3 feet. This variety also favors mild neglect and protection from direct sun, making it a perfect choice for containers on shady patios.
Similar is Senecio rowleyans 'String of Pearls', with its attractive draping effect.
For more, see Blue Chalksticks: A Field Guide to Planting, Care & Design.
Cheat Sheet
Plant Senecio ground cover succulents with other drought-tolerant, deer-resistant succulents and plants in a rock garden, green roof or in a simple, modern garden. The gray-blue types pair well with similarly colored concrete patios or bluestone pavers.
Small flowers appear on some varieties but most are not grown for their flowers (though bees would argue that point).
Many Senecio species are toxic, so plant with caution around pets and children with a proclivity to graze on the landscape.
Keep It Alive
Surprisingly not fussy about soil pH, succulent senecios mostly prefer a sunny spot with sandy, well-draining soil. Think coastal, drought-tolerant gardens. Some senecios also tolerate heat while some prefer bright light like the varieties 'String of pearls' and 'String of bananas'. These make excellent indoor plants as well.
Most will be perennials in growing zone 9-11 but a few can withstand brief cold spurts. Long exposure to freezing temperatures will turn the fleshy types to a slimy mush unless protected.
If your senecios look crowded or have spread beyond your parameters, try propagating them with cutting, an easy and fast project. Cut stems during the growing season in early spring or fall and plant in containers filled with sandy soil. (Hint: Share some with your gardening friends.)
For more of our favorite succulents, see:
You need to login or register to view and manage your bookmarks.