Although they're inherently practical, there's something luxurious about garden sheds and outbuildings. As extra spaces, they're not required to meet the basic needs of a main home. As demonstrated here, a shed can really be whatever you want it to be.
Collected from the Gardenista Gallery of nearly 4,000 images, here are 11 of our favorite sheds and outbuildings:
Above: Photograph by India Hobson.
After growing up on her parents' plant nursery in England's West Midlands, fourth-generation horticulturalist India Hurst of Vervain Flowers grows and arranges flowers in studio space carved out of what she describes as her family's picturesque "tumbling old glasshouses."
Above: Photograph by Artemis Russell.
Artemis Russell is the collector behind the blog and online shop Junkaholique and the designer at Rust, the London-based jewelry company she runs with her husband, Nao. She gets creative in a tiny studio in the backyard. For more, see Outbuilding of the Week: Artemis Russell's Tiny Garden Shed.
Above: Photograph by Casey Dunn.
On a corner lot in Austin, TX, a 500-square-foot modern shed and art studio sits in the shadow of a grand Victorian house. For more, see Outbuilding of the Week: Travis Heights Arts Studio by Clayton & Little.
Above: Photograph by Gillian Carson.
Our Portland editor, Gillian Carson, takes us on a tour of her garden in Before & After: Expat Gillian Carson's English Garden in Oregon.
Above: Swedish blogger Agneta Enzell turned her potting shed into a family space. For more, see Outbuilding of the Week: Black and White Orangery, Scandi Style.
Above: In 186 square feet, a guest cottage, garden shed, and backyard clubhouse. For more see Steal This Look: Guest Cottage Kitchenette by Ikea.
Above: London-based architect Ben Davidson of Rodic Davidson Architects designed a new home for his grandfather's workbench and tools. For more, see Architect Visit: A Garden Workshop in Cambridge.
Above: Photograph by Mimi Giboin for Gardenista.
In Oakland, CA, Jamie Kidson keeps beekeeping attire, tools, seeds, and gardening accessories in her backyard shed.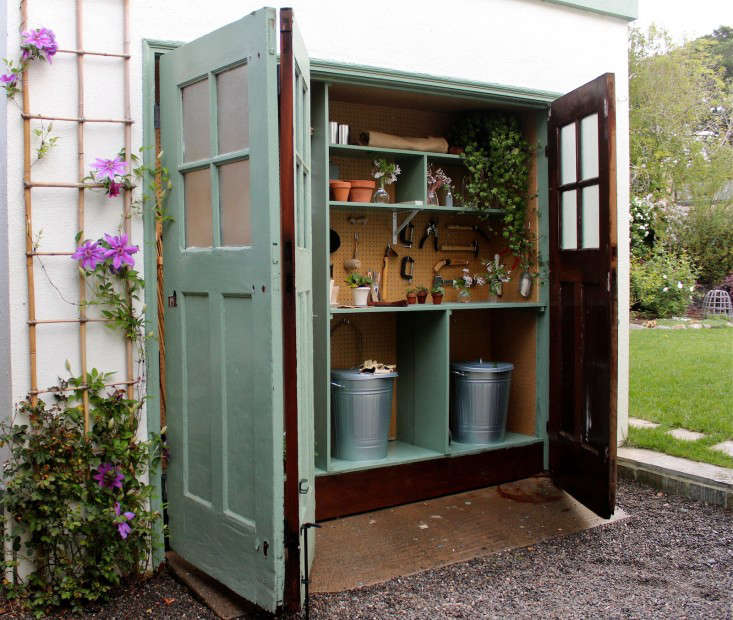 Above: Photograph by Michelle Slatalla.
Michelle's 18-inch-deep garden shed is hidden behind the rollaway doors of her circa-1920s garage. For more, see Steal This Look: My Mini Garden Shed in a Garage.
Above: Julie's mini garden shed is attached to the facade of her Mill Valley, CA house. Photograph by Michelle Slatalla.
Above: Photograph by Tom Kubik for Gardenista.
For more, see Garden Visit: A Tiny Shed in San Francisco's Foggiest Backyard.
You need to login or register to view and manage your bookmarks.