"A great alternative to gravel, crushed clam or oyster can be used on paths, patios, courtyards, driveways, and even bocce ball courts (the shells don't hold water or imprints from shoes and balls)," writes Janet. "As the shells are walked on or driven over, they break into smaller pieces that disperse evenly, creating a stable surface that's not prone to the ruts and holes you get with crushed stone toppings."
In additional to being practical, seashell surfaces are environmentally friendly—and stylish. We've rounded up some of Gardenista favorites to make the case.
Parking Pads
For more of this project, see Landscape Architect Visit: Clamshell Alley on the Coast of Maine.
Dining Terraces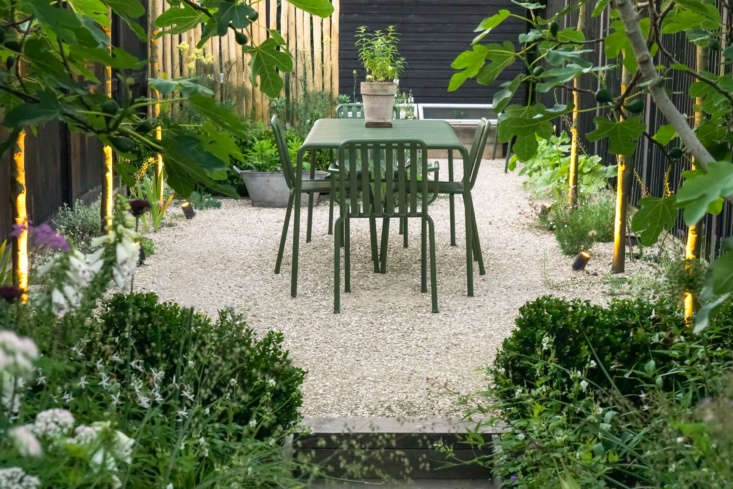 A carpet of crushed seashells is the perfect "rug" for an outdoor dining area.
Herb Gardens
A sense of scale and proportion can elevate a humble surface material in an estate garden.
Garden Paths
See more at Garden Visit: Secrets of Another Century at Colonial Williamsburg.
Garden Gateways
See more of this garden at Gardenista Book Sneak Peek: The Architects' Studio on Cape Cod.
Cottage Gardens
See more in 10 Garden Ideas to Steal from Provincetown on Cape Cod.
Side Courtyards
For more of this garden (and for a closeup view of the seashell ornamentation on the front gate), see From Sweden with Love: A Romantic Captain's Seaside Villa.
Bocce Courts
For a DIY bocce court, first spread a three-inch layer of drainage rock. Next add a weed barrier (such as a layer of landscape cloth). Then spread a three-inch layer of crushed rock, fine gravel, or decomposed granite. You can also top dress the surface with a special bocce court blend of crushed oysters; for information, see Myco Supply.
For more, see Hardscaping 101: Bocce Courts.
Ribbon Driveways
Mulching Materials
N.B.: This post has been updated with more examples; it was first published July 2018.
If you're designing or resurfacing a path or driveway, start with inspiration from our curated design guides for Driveways 101, Pavers 101, and Sustainable Surfaces.
(Visited 1,102 times, 1 visits today)