Instagram inspiration, one bouquet a day from a farm in Sweden: In 2013, German-born Juliane Solvång and her partner purchased Björkåsa, a small farm near Hässleholm. Shortly after, the doll-maker (who has a degree in puppetry and performing arts from Ernst Busch Academy of Dramatic Arts in Berlin) started picking flowers every day from May through October, posting them with the hashtag #onebouquetperday.
At first, "picking flowers on my walks was a fantastic way for me to get to know our new surroundings," says Juliane, "to let friends and colleagues know how our life looked in our new place."
Juliane's bouquets are both a meditation and a daily self-portrait. "Picking flowers helps me to stay focused and nurtures my creativity as a doll-maker. It allows me to clean my mental windshield from unnecessary information, it brings me back to what is essential in my life…"
In the years since she started the project, many have joined Juliane in the creative exercise of picking one bouquet per day. You can too (and don't forget to use the hashtag #onebouquetperday).
Photography by Juliane Solvång via @onebouquetperday.
Juliane's bouquets are largely extemporaneous, picked while the artist is going about her daily business. Some flowers are from her own garden, while others she finds in the fields and woods near Björkåsa. Often Juliane incorporates herbs and other outside-the-box-elements into her wild compositions, which range from a single stem or variety of flower, to larger, more boisterous, affairs.
Juliane picks her bouquets every day from May through October; that's 184 each year! Using a tripod and sometimes a remote trigger, Juliane shoots all her bouquets the day they are picked. "I am entirely self-taught and have still much to learn about taking photos, so the series has become a great training for me," she says.
Juliane's vintage dresses play an important supporting roll in her images. She appreciates the history (and quality) of her mid-century frocks, many of which she has been wearing for 20 years or more.  "I was given most of my vintage garments by people who know of my passion…When we bought Björkåsa, the old owner gave me a box with dresses she had worn as a young woman here at the farm. To know she picked flowers and fed the chickens in the very same dress I am wearing, doing exactly the same thing here at the farm, sixty years ago, feels very special to me. Knowing the stories behind the dresses I am wearing creates a strong bond between me and the women who once have owned them."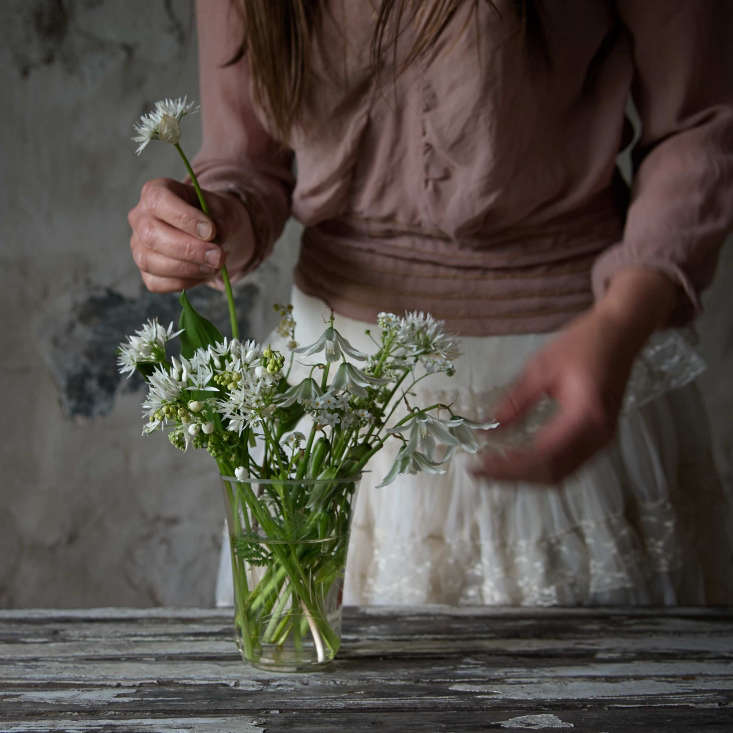 More foraged floral inspiration:
(Visited 90 times, 1 visits today)