Native flowers that look plucky in the wild are prone to wilt if picked–and sulk droopily if shown a vase.
So when I heard that Brooklyn florist Emily Thompson (whose clients include the White House) had gone foraging the other day for native plants to make all the centerpieces for the Brooklyn Botanic Garden's recent spring gala, I was a little skeptical. Until I saw the breathtaking results. "Do you want to know the secrets?" she asked. Oh, yes. All of them, please:
Photographs by Sophia Moreno-Bunge.
Above: Thompson started cutting natives on Monday for a Thursday night gala honoring the Brooklyn Botanic Garden's newly expanded native flora garden. Accompanied by native flora garden curator Uli Lorimer, her team foraged in the New Jersey Pine Barrens on Tuesday, a day that was sunny and hot. "We all came back with ticks on us," says Thompson.
Tip No. 1: When you cut a native, put it immediately into water and keep it well hydrated. "That's the secret with fragile flowers. Think about how some commerical materials are in transit for 48 hours, yet somehow they make it," she says.
Above: High bush blueberries.
Tip No. 2: Choose natives for the shape and texture of their leaves. "In an arrangement, I like the proportion of flora to foliage to be like it is in nature," says Thompson.
Tip No. 3: In native floral arrangements, use color sparingly. "I love for it to have just a couple of punctuationsof flowers because then they're more precious," says Thompson.
Above: BBG curator Uli Lorimer (R) helps gather rhododendrons. "He took us to special places," says Thompson. "He was interested in what we were doing because it honored the spirit of the BBG's native garden."
Above: Another day of gathering. Before heading to the pine barrens, Emily (in red) and team had "gently pruned in the drenching rain" at the BBG's native flora garden, she says. "It was a study in green, which aesthetically is kind of the ultimate for me."
Above: The white flowered shrub Thompson is holding is Virginia sweet spire (Itea virginica).
Above: The dried seed heads belong to the swamp mallow (Hibiscus moscheutos).
Above: With avan full of natives, the team headed to the soil room at the Brooklyn Botanic Garden to start making the centerpieces.
Above: An arrangement of pine and blueberry branches. "It was very dramatic and had a lot of textural contrast," says Thompson.
Tip No. 4: Create a support structure for your arrangement in the bottom of your vase or pot. Thompson doesn't use green florists' foam; instead she has a more environmentally friendly technique. "We used a plastic insert that had a ball of chicken wire in the middle, and the stems go down into the chicken wire," she says.
Thompson uses coated green chicken wire (rather than plain old aluminum chicken wire). It needs to have a coating on it, or it will tear up your hands," she says. A 25-foot roll of Vinyl Coated Chicken Wire is $26.99 from Star Nursery.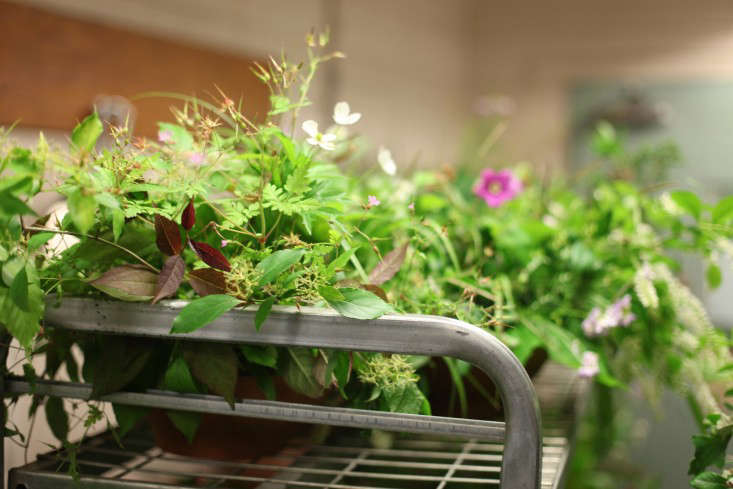 Above: Thompson divided the plant materials into three categories, depending on whether they had been gathered from the pine barrens, the BBG's old native flora garden, or from the BBG's new meadow garden. 
Tip No. 5: In a floral arrangement, group natives that grow together in the wild; the result will look more natural.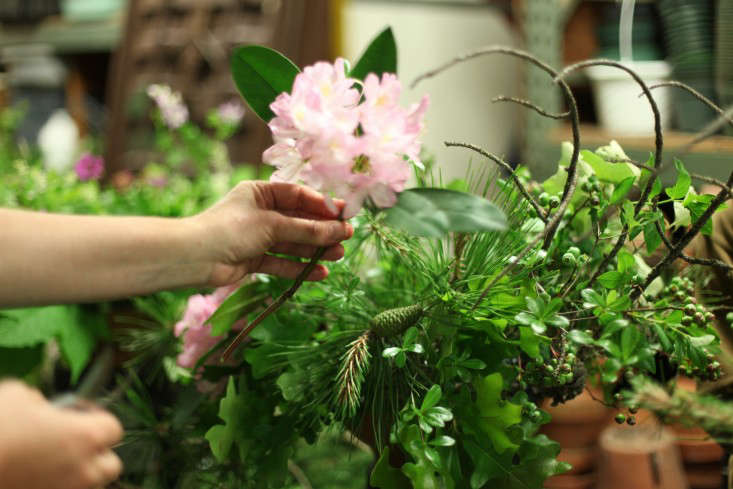 Above: A wild rhododendron with a pink flower.
Tip No. 6: Start by creating a visual structure for the arrangement. Choose a primary plant material–it should be one of the strongest plants you gathered, with a strong shape. "For instance, false Solomon's seal has a wonderful arcing shape, and you can immediately create an asymmetrical spilling arrangement with it," says Thompson. 
Tip No. 7: Work with three materials only in each arrangement so you have "strong visual swaths," says Thompson. At the end, you can add a tiny visual punctuation of a fourth, colorful plant.
Above: Wild sweet pea, rhododendron, and Solomon's seal.
Tip No. 8: Finding contrast is a goal.  Pair a plant with a bigger leaf with something more delicate.
Above: An arrangement of natives gathered from the pine barrens: pine, blueberries, and tiny oak leaf.
Tip No. 9: Embrace the austerity of a single-color arrangement. "If nothing individuates in an arrangement, that's fine–it can look like a delicate cloud, with shading or an underbelly," says Thompson.
Above: White asters with yellow centers.
Tip No. 10: Don't be afraid to work with plants with roots. "We were given some sedge, donated by a wonderful native flora grower, and we incorporated that into our arrangements," says Thompson.
Above: One of 49 tabletop arrangements Thompson's team created for the recent Brooklyn Botanic Garden gala.
(Visited 12 times, 1 visits today)