Bellflower, Campanula: "Starry Bells"
Ranging from low and spreading to upright and tall, bellflowers are at home in most garden settings, from the front of the rock garden to the back of the perennials bed.
Please keep reading to learn more:
Bellflower is a group of more than 300 plants— including annual, biennial, and perennial varieties—that come in a wide selection of colors and sizes. Open star-shaped bells are a primary characteristic (campanula is Latin for 'little bell"), and flower colors range from shades of pink to white but mainly lavender and pale blues, making them a perfect companion for soft-toned cottage gardens.
Blooming the heaviest in June and July, but continuing well into October in some areas and conditions, these diverse charmers routinely make it into my garden designs.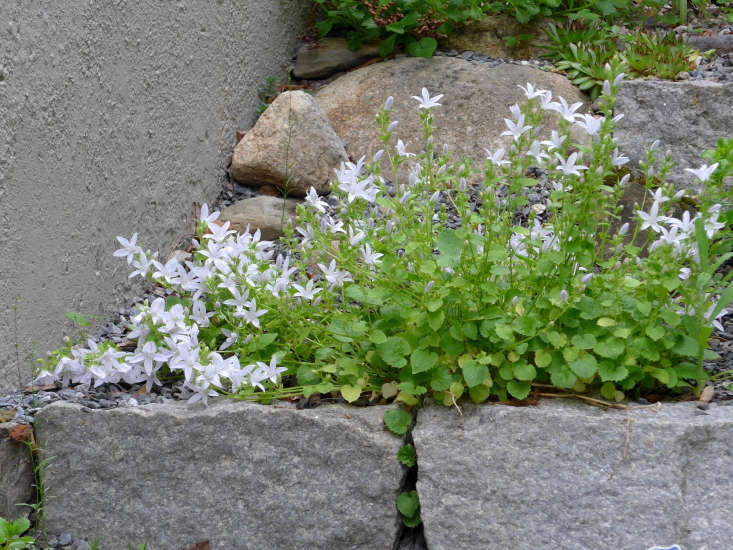 One favorite: white  Campanula poscharskyana for the way it mingles nicely. The white bells perfectly brighten a partly shaded spot.
Cheat Sheet
With their informal habit and showy flowers, bellflowers are easy to work into your garden. The ideal setting for the upright growers include cottage and cutting gardens, while the low growers such as Dalmatian bellflower work well as border and edging companions, mixed into rock gardens where they can spill over edges, or as a ground cover in woodland settings.
Quick little growers that mix well with a variety of perennials including geraniums, daylilies, and coral bells.  Low-growing varieties look especially charming planted under bare-bottomed roses.
Happy, nodding heads of the taller, straight stem varieties including Campanula persicifolia make excellent cut flowers and are great re-bloomers if diligently deadheaded.
Keep It Alive
Some varieties such as clustered bellflower and Serbian bellflower spread at their own whim, so be gracious with your space and allow them to roam freely.
Most bellflowers appreciate full sun for best flower production, but varieties such as Serbian bellflowers and Dalmatian bellflowers are content in part shade. All like moist, well-drained soil rich in organic matter.
Deadhead low growers by half after the first flower flush to tidy up the plant and to prevent self-sowing (if this is desired). On the taller varieties, remove individual faded flowers to promote more blooms; when all the flowers are finished, you can cut back the flowering stalks to the base.
N.B.: This post is an update; it was first published in April 2017.
For more companions for bellflowers, see:
(Visited 216 times, 1 visits today)