About 10 years ago Tammy Hall moved from London (where she worked as an architect) to Shropshire to live on a farm with her partner, James, who was brought up nearby. The landscape quickly stole her heart.
"When commuting miles to work in the city seemed strange and surreal given I now lived in such a beautiful part of the world, I luckily found flowers I loved to grow here," says Hall. And thus was born her flower farm and floral business, Wild Bunch:
Photography by Britt Willoughby Dyer for Gardenista.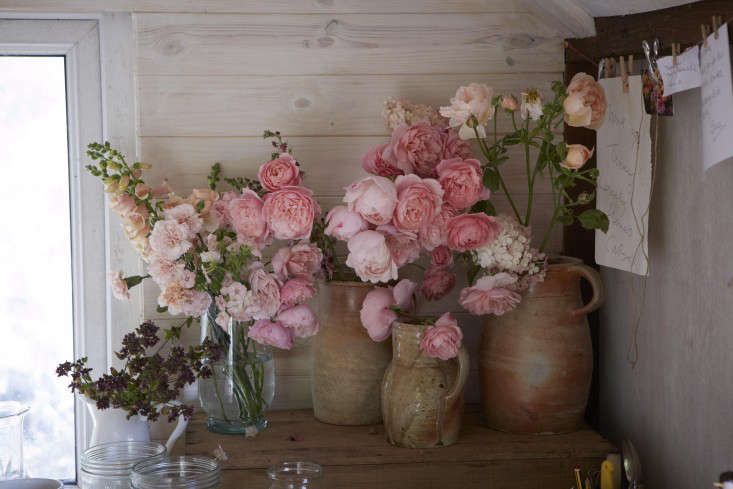 Above: Tammy grows several different David Austin roses including 'Grace', 'Evelyn', 'Sally Holmes', and the 'Shepherdess'.
Above:  "My favorite time of day in there is late afternoon and early evening when the light the hut captures inside is magical," says Tammy.  "It is a lovely small space to work on small jobs, and is my meeting point for future clients."
Above: "With beautiful views across the hills, I treasure the stillness and peace I can have in here," says Tammy.
Above: Dahlias, roses, and nasturtiums all are grown on Tammy's Marlow Farm.
Above: Tammy grows David Austin's 'Evelyn' rose for its scent as well as for its beauty.
"We have two polytunnels, and they extend the growing season at both ends," Tammy says. "I have my treasured flowers that I couldn't be without throughout the growing season, like sweet peas, protected annuals like Orlaya grandiflora, Ammi Majus, cosmos, and various climbers like Cobaea, jasmine, and passion fruit."
Above: 'Diva' and 'Cafe au Lait' dahlias are staked in the garden.
Above: Dahlias in the foreground include pink 'Paradise City', orange 'Jowey Linda', and mustard-colored 'Four Queens'.
Above: "I grow on a south facing field, just under an acre, that looks out over the Mid Welsh hills," says Tammy. "The rest of the rambling old kitchen garden is roughly three acres and has these different space—all beautiful and full of life, but quite untamed at the moment."
Above: Tammy gathers roses from the garden.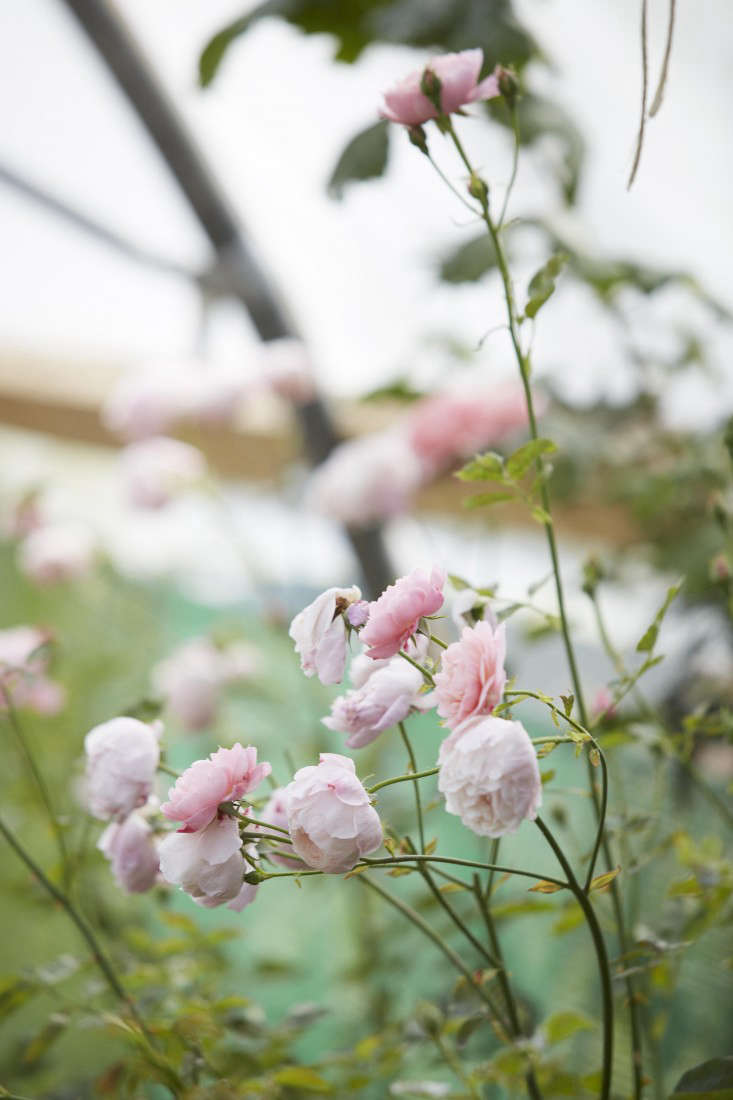 Above: 'Evelyn' again—impossible to get enough of this one.
Above: Tammy has a second, larger studio on the ground floor of her rambling, three-story farmhouse.
Above: The farmhouse is in the midst of renovations. "We renovated this large room for my studio space," says Tammy. "We have a number of ongoing building projects, and at some point I hope we will do up a small barn for my flower work.
Above: The spectacular Dahlia 'Penhill Watermelon' oversees the space from the mantel.
Above: Tammy offers seasonal Flower Club workshops. Next up will be a collaborative class with a local printmaker, from 10 am to 4 pm on November 16.
"We will work on making foraged table centerpieces and look at winter table styling," she says. "Hannah will work with our students on making botanically inspired block printed labels, cards, and sheets of wrapping paper."
For more information about the Flower Club, see Wild Bunch.
(Visited 150 times, 2 visits today)