Coming up on three years ago, my husband James and I celebrated our wedding at Barberry Hill Farm, down the street from where I grew up in Connecticut. On what surely was the hottest day of the year, we gathered friends and family to declare our love, eat a farm-grown feast, and dance the night away.
I always say that a little bit of luck, very kind neighbors, and extremely generous friends and family were more responsible for the day than I was, but in case you're embarking on summery outdoor wedding planning of your own, here are my best tips for ensuring the day goes smoothly, simply.
Photography via Reading My Tea Leaves, except where noted.
Embrace Rusticity
Above: James and me and some very free-range chickens.
If you're planning an outdoor wedding, embrace the idea that there will be bugs and weather and dust to contend with. That's half the fun! (Just plan accordingly.) I had a simple cotton dress made to wear on my wedding day, and I chose flat oxfords that I knew would keep me upright while navigating rocky New England farmland.
Let the Setting Set the Tone
Above: Mason jars strung up with bailing twine and filled with flowers from the farm.
A wedding in the middle of a beautiful outdoor space doesn't need much more than blue sky and green grass for décor. The day before my wedding, my dad and I lashed together cedar poles and strung them up with glass bottles to make a backdrop for the ceremony in front of Barberry Hill's rows of zinnias and sunflowers.
We used bailing twine to string up Mason jars filled with flowers along the fence posts. Simple white tablecloths and jars filled with a rainbow of flowers from the farm dressed up plywood-topped folding tables. On the morning of the wedding, my sisters cut Queen Anne's Lace to tuck into Kraft paper place cards that we placed on top of white cloth napkins–and that about sums up the decorative elements we added to the scenery.
Work with the Seasons
Above: Zinnias at Barberry Hill Farm in Madison, Connecticut. (See 12 Tips for Growing Cutting Flowers from Barberry Hill Farm for ideas on how to grow your own.) Photograph by Erin Boyle.
Let the time of year guide the majority of your decision-making.You might really love peonies and asparagus, but if you're planning your wedding for July or August in New England, you will be hard-pressed to find them. Don't drive yourself crazy with a pre-determined color palette or menu. Work with what's in season instead.
Zinnias and raspberries and cornflowers and Queen Anne's Lace were growing in abundance when we got married, so we used those in our flower arrangements. A few days before the wedding James and I sat down with our caterer and worked out the menu based on what was fresh that week, and at dinner we gobbled up ripe peaches and tomatoes and fresh-caught fish.
Basic Amenities
Above: Roosevelt Dime playing an acoustic set during our wedding ceremony.
You'll need to think at least a little about boring things such as electricity, plumbing, and basic amenities for an outdoor wedding. We asked our band to play an acoustic set during our ceremony and borrowed our caterer's quiet generator to run speakers for the reception (he used it to power his kitchen-on-wheels and power strings of lights).
We also needed a portable toilet to accommodate guests. We didn't rent a super fancy one–though rest-assured such options abound if you decide you want to go that route–but we did stick a bouquet of flowers in there and make sure that it was clean. 
Have a Backup Plan
Above: White tablecloths and wooden benches under a canvas tent.
It doesn't have to be an entirely new location, but if you're planning an outdoor wedding it's wise to have a backup plan in case the weather doesn't cooperate. It might be a barn that you can move into in case a storm blows in, or a tent that you rent to dine under in case there's an evening shower.
For me, planning a simple wedding also meant relying a bit on luck. I didn't want to expend a huge amount of resources–of either time or money–to make sure that every last element of the day would go off without a hitch, so I embraced a little quirkiness (and said a little prayer to the rain gods).
Go Without
Above: The long driveway at Barberry Hill Farm that served as an impromptu dance floor. Photograph by Erin Boyle.
The wedding industry will tell you that you need about a million things to pull off an outdoor wedding (or any wedding). But if you are willing to go without something "necessary," you often can save time, stress, and most important, money. We didn't want the expense of renting a dance floor for our wedding, so our guests danced under the tent on a patch of dusty, gravely driveway. No one batted an eye. Everyone danced. Even my grandmother.
Ask For Help
Above: A nearby field of Queen Anne's Lace. Photograph by Erin Boyle.
When planning a wedding–or any large event–you're much better off putting some things in the hands of capable hands of professional (or familial) helpers. I had visions of making every single tabletop bouquet at my wedding and picking my own Queen Anne's Lace from a nearby field on the morning I got married. But I realized pretty quickly I would need to delegate. I left the bouquet making to the very capable Kelly Goddard of Barberry Hill Farm and enlisted my sisters to cut buckets of Queen Anne's Lace in my stead.
Skip the Minutiae
Above: Simple greens might be all that you need to set a pretty scene. For more ideas, see Foraging a Midsummer Tabletop. Photograph by Erin Boyle.
Your guests will remember the moment that everyone got up to dance. They'll remember the kind words that your dad spoke about brand-new husband. They might remember the super delicious blackberry margarita that they sipped before dinner, but the tiny hand-painted signs, the labored-over party favors, the custom-printed somethings or other, will largely go unnoticed. Allow yourself to just skip some altogether. Exactly no one will notice except for you, because you'll be breathing easier.
Borrow What You Can
Above: Borrowed glass bottles hanging from cedar poles at our wedding.
Our caterer, the very talented Jonathan Rapp of the River Tavern in Essex, Connecticut, has been doing farm dinners for years now and we benefited tremendously from his expertise (and supplies!). He made his own rustic benches to use at his farm dinners, and we borrowed those even though there was some discussion about whether they'd be comfortable enough for all of our guests. At the end of the day, ease and savings won and we even used the same benches as makeshift pews for our outdoor ceremony. Similarly, I hadn't planned on making this cedar backdrop until a few days before the wedding, so we called in a favor and a friend of my mom's dropped off a box full of vintage bottles for us to use.
Buck Tradition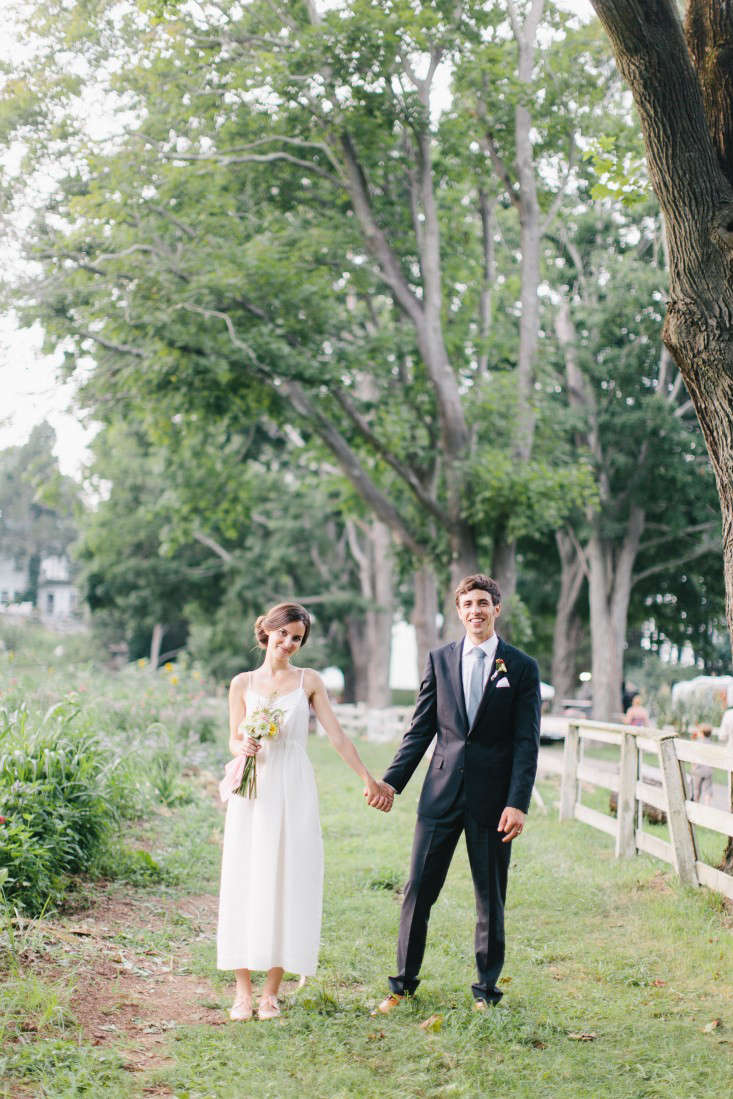 Above: James and me on our wedding day.
Weddings often get complicated because we have an idea of what they're supposed to include. Allow yourself to stray from tradition a little bit. Choose what feels right for you, but don't feel as if you need to choose everything just because you read it on a checklist somewhere.
James and I decided to simplify our wedding by not having a traditional wedding party (which also meant forgoing all of the planning decisions that go along with that). Ditto a bridal shower. Ditto a wedding cake. Ditto escort cards. Ditto favors. (I could go on, but you get the idea.)
For more of Erin's ideas for celebrating outdoors, see:
(Visited 111 times, 1 visits today)