Would you like to add an extra 250 square feet of living space without spending tens of thousands of dollars? Read on to learn everything you need to know:
What is the difference between a deck and a patio?
A patio is built at ground level, on a level surface, and typically is constructed of a "permanent" material such as stone pavers, brick, or poured concrete. A deck floats above the ground, supported by footings, at a height of anywhere from a few inches to many feet and can be built on an existing slope.
Typically, a patio is considered more of a permanent feature–and is more expensive to build. For instance, a 250-square-foot bluestone patio costs $3,797 to build (including materials) on average, more than twice as much as the $1,882 price tag to build a wood deck of the same size, according to Homewyse.
OK, a deck. How do I design a deck?
Pros know: Start the design process by consulting a landscape architect or designer, who will help you come up with a design based on how you want to use a deck and the physical properties of your land (Does your yard slope? Is the ground marshy? Do you want to build around existing trees without causing them damage?). A professional also will know if you need a permit for a deck and whether local building codes require a railing.
Attached vs. freestanding: You can build a freestanding deck on your property, but if you plan to use a deck as an extension to everyday living space, consider attaching it to the house for indoor-outdoor flow. Use string and stakes to lay out the design to make sure you like the size and shape.
Can I build my own deck?
After you have a plan in hand, if you are extremely handy you may want to build your own deck. But keep in mind there is more to building a deck than sawing and nailing lumber planks. In a cold climate, you will need to dig piers below the frost line to support the deck and make sure it doesn't heave in winter as the ground freezes and thaws. If you are not Bob Vila, you probably will be better off (and save money in the long run) by hiring a contractor or master carpenter.
Is wood the best material for a deck?
Wood is our favorite choice for a deck because it's a natural material that complements the surrounding landscape; left untreated, wood decks will fade to a soft silver color that plays a supporting role to the garden that surrounds it. Other than wood, the best choice for a deck is a composite material–made of a combination of wood and recycled plastic–which has its own pros and cons.
Pros: Composites are long-lasting, won't splinter or fade, and have coatings that resist stains.
Cons: Engineered products can't be painted or stained, so be careful when you pick a color to choose one that will blend well with natural surroundings (and with your house, even if you someday paint the facade a different color).
OK, wood. What kinds of wood are best for a deck?
You can use either a hardwood (more expensive, lasts longer, needs less maintenance) or a soft wood. Here are the most popular types of wood for a deck:
Cedar: A soft wood that will show wear and get dings, cedar is nonetheless a popular wood for decks because it grows in abundance on the West Coast where its plentiful supply keeps down the cost.
Douglas fir: Looks beautiful, costs less than ipe or redwood; needs to be treated with preservatives to ward off termites, rot, and mold.
Ipe: This hardwood, which looks like teak but costs less, is long-lasting and beautiful (it's knot-free).
Pine: A soft wood, pine needs to be treated with preservatives to prevent it from deteriorating quickly (and to keep away wood-eating bugs such as termites). Planks need to cure for several months to prevent warping.
Redwood: A long-lasting hardwood that won't warp or split; has an "orange-y" tinge that will fade to a soft silvery gray if left untreated.
Should I paint, stain, or seal a deck?
We like the look of an untreated hardwood deck best because over time it fades to a soft silvery gray that doesn't try to compete with the natural surroundings for your attention. But if you built a deck from a soft wood or just don't like the look of faded redwood, you can apply a sealer, stain, or paint:
Sealer: This is a transparent finish that won't change the color of the wood and will protect it against the elements. Re-apply every year.
Semi-transparent stain: Will enhance (not change) the wood color and soaks into the grain. Re-apply every two-three years after you notice fading. For more about stains, see Paint & Palette: 8 Colorful Exterior Stains.
Opaque stain: This stains, like paint, will change wood color and will protect wood against the elements for up to a decade before you need to re-apply.
Paint: For a deck built with soft wood, an exterior paint will provide the best protection against rot, splinters, mildew, or general deterioration. You will need to re-apply every three to five years, depending on wear.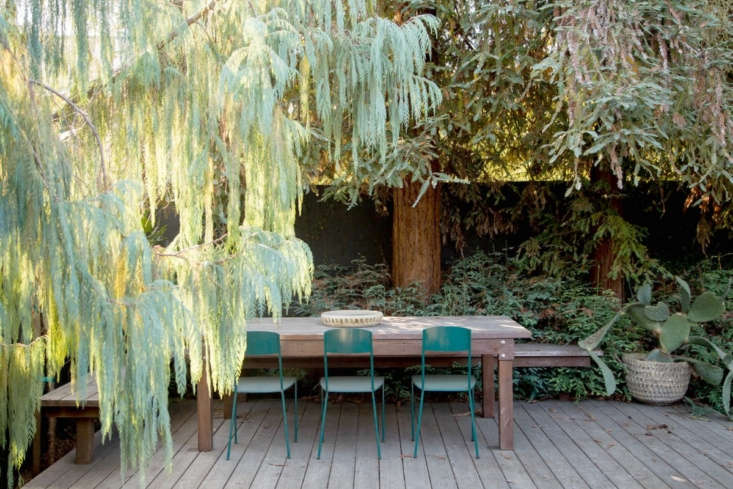 Summary:
Deck or patio: If your property is steep or you want to extend living space with a lower-cost solution, a deck is the answer.
Design and build: Consult a professional designer or landscape architect for a plan and hire a contractor to build it (unless you are an accomplished carpenter).
Wood or composite: We like the natural look of wood, but a high-quality composite material requires less maintenance.
Soft or hardwood: Use a hardwood if budget allows; your deck will last longer and the wood will be more beautiful.
Paint, stain, or seal: If necessary. But remember that after you do it once, you'll have to re-apply the finish from time to time.
Finally, learn how to successfully design a deck for any landscape or exterior home project with our Hardscaping 101: Decks & Patios guide.
For more on decks, see:
(Visited 398 times, 1 visits today)