Greatest Hits 2021: This week, we'll be republishing the most popular posts of the year. Happy reading!
Ok, let me get this ridiculous pun out of my head: Gardeners do it mulch better! Phew, we can now move on. However corny, though, that phrase does speak the truth.
Mulch is one of those garden essentials that has numerous benefits, and when used correctly, this versatile material can help the soil and promote plant health by protecting  roots from heat and cold, preventing erosion and soil compaction, and decreasing your work load by suppressing weeds. All this you likely already know. So here are some lesser known mulch facts to be aware of before you make the smart decision to use this multitasking material—and, hopefully, to not repeat my mulch pun. Ever.
Please keep reading to learn even more about mulch:
1. Mulch doesn't have to be wood bark.
Many materials can be used as mulch, such as gravel, grass clippings, straw, leaves and compost. Of course some mulch choices (like compost) will stimulate microbial activity in the soil and add more nutrients as it breaks down, while others (like gravel) are longer lasting and don't need to be replenished as often. Basically, your mulch choice should match your budget, garden style and garden needs.
2. Mulch can be flammable.
Many of us have destructive wildfires on our minds; so it's smart to think carefully about your mulch choices, especially around your home and other buildings or wood structures. Of course most mulch is made from organic material so it is certainly flammable, but some materials are more so than others. In general, fine or stringy mulches ignite quicker. Pine needles top the list, as do shredded cedar bark and shredded rubber. The most fire-resistant choices are the inorganic types like decomposed granite, rocks and gravel. Pro Tip: Use fire-proof inorganic mulch materials within 5 feet of structures.
3. Mulch can be toxic.
No doubt that I love chocolate (maybe you do, too), so when I heard that there was such a thing as cocoa bean mulch I was intrigued—until I learned that this mulch, made from cocoa shells, is especially toxic to dogs. The lesson is to avoid using this mulch if you have curious pets.
Another questionable mulch is rubber mulch, which obviously is not organic so it doesn't decompose or add anything beneficial to the garden. Plus, it can leach chemicals that can harm plants.
Free mulch can be acquired from tree or utility companies (yeah!), but make sure they're not giving you the remains of a black walnut tree (boo!) as the toxic chemical called juglone in the tree can damage and even kill plants.
Last, dyed mulch—even that trendy black stuff—can be made with cheap dyes and from recycled treated wood like old decks, pallets, and crates that may contain nasty preservatives like creosote or chromated copper arsenate (CCA). CCA-treated wood can kill earthworms, beneficial insects, good soil bacteria, plus be harmful to people and animals who dig in it.
4. Mulch needs to be refreshed.
In the spring and fall, walk your garden and notice if your mulch needs a new fresh layer. Do you see bare spots, exposed irrigation? Or has runoff taken your mulch away? If so, consider getting a load delivered to your house (better than buying it in wasteful plastic bags).
5. Mulch can be installed wrong.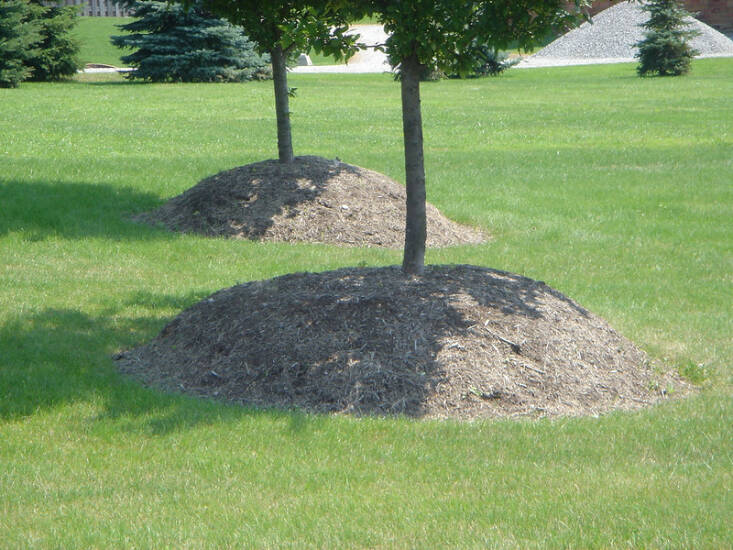 To avoid attracting unwanted bacteria, disease, pests, and annoying weeds, make sure that that you follow some basic rules when you apply mulch. First thing to remember: mulch needs to be applied approximately two to four inches deep for it to be effective. Second, before applying mulch, you'll have to weed your area as best as possible (but, please, without nasty RoundUp). A thick layer of mulch will suffocate most weeds, but the tenacious ones will find their way to freedom despite the covering. Some gardeners use a permeable weed cloth before applying mulch and that can definitely work in larger, unplanted areas. Last, make sure you don't bury any trunks or stems with mulch as this will lead to water retention and possible rot and disease. Pro Tip: No mulch volcanoes. Keep mulch about three inches away from the base of plants and tree trunks to allow for air circulation and to prevent insects from hanging out.
For more on mulch, see:
N.B.: This post was first published October 2021.
(Visited 431 times, 1 visits today)