I live 8,000 miles from where I grew up, one hemisphere north and one sideways, too. Home for me is still my mother's garden in Constantia, a suburb of Cape Town in South Africa. My other home is my own backyard garden in Brooklyn, New York. Now, in January, that Brooklyn garden is buried under two feet of snow. I can't believe it will ever wake up again. So this is the perfect time to escape to the southern tip of Africa, to take a warming walk through a garden filled with flowers, edibles, and resident birds.
Photography by Marie Viljoen.
Fortunately for my mother's plants, the property came with a borehole when my parents bought it decades ago. That borehole, drawing on an aquifer, now supplies occasional garden watering needs (the lawn is no longer watered), as well as water for the entire household. Still, water-hungry plants such as these plump peas have been confined to a few containers, which manage consumption better. And whenever anyone takes a shower, a bucket in the shower stall catches excess, which is given to thirsty plants.
Pollinators do not mind the notoriously smelly leaves of P. neochilus, and its gorgeous blooms are a cool blue for the warm orange spires of Bulbine frutescens, another waterwise choice (its gel-filled leaves are also a botanical first aid kit, good for burns and skin ailments).
Above: Succulent Cotyledon orbiculata is aggressively happy in full sun, needing no supplemental water and feeding nectar-hungry sunbirds when it is in copious and statuesque bloom. The plant propagates very easily from cuttings and makes a near effortless gift for gardeners challenged by evolving growing conditions.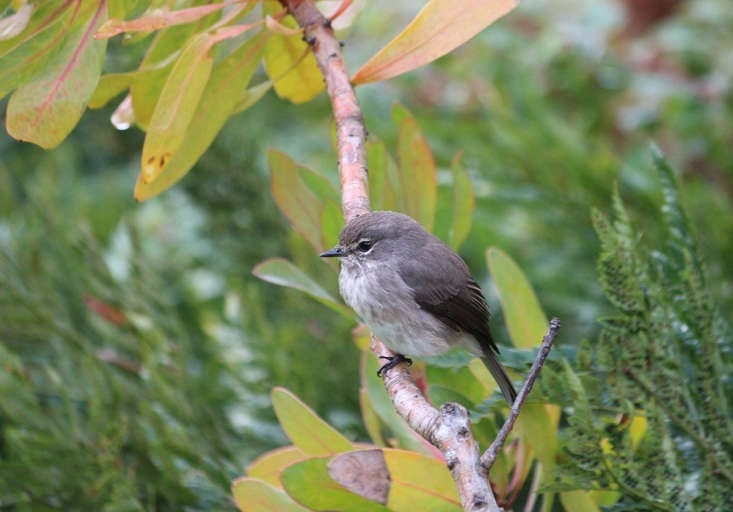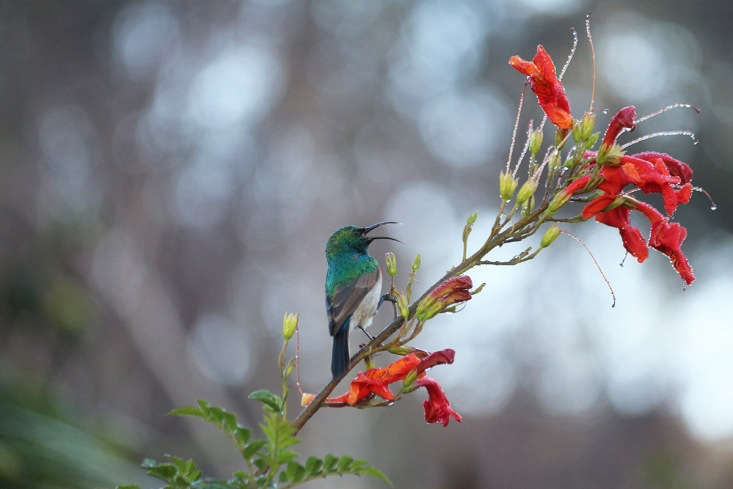 Every garden is  a blend of  many factors, including place, time, and circumstance. And personality, of course. Tuning your horticultural world more closely to its greater influences creates a green space that enriches not only your soul (because that is why we garden), but also the environment where wildlife persists against the odds in our urban lives. Observing these plants, birds, insects, and small beasts provides us with little dopamine hits (like the ones we have come to expect from social media, where our complex responses have been whittled down to a Like, or an emoticon). When spring rolls round, plant something.
For now, there are seed catalogs. Because planning is half the pleasure.
See how Marie's mother's garden has changed from one year to the next, in Garden Visit: My Mother's Garden in South Africa and Back to Africa: At Home in My Mother's Garden.
Visit Marie's Brooklyn garden in Rehab Diary: A Year in the Life of a Brooklyn Garden.
N.B.: Are you designing a new garden or rehabbing a flower bed? See our Garden Design 101 guides to get started and Perennials: A Field Guide to Planting, Care & Design.
(Visited 311 times, 1 visits today)