I was lucky to spend several weeks in sunny Cape Town recently, staying with my parents in their Constantia home. Long, hot days filled with flowers provided welcome relief from Brooklyn's unusually gray winter.
Sipping coffee on the patio every morning with a host of birds, doing a daily chameleon count, and picking flowers from the garden became my new rituals.
Photography by Marie Viljoen.
Above: On the dry sidewalk in front of No. 9, in full sun, in the sandy soil of Cape Town, the plants must be resilient. They receive little to no supplemental water. With an assortment of drought-tolerant southern African plants, including Cotyledons, aloes, and fynbos species, the so-called succulent bed is designed to be as water wise as possible.
Above: My mom, Maureen Viljoen, has been gardening here for 33 years, and is happiest in her garden. Now 83, and in serious pain from degenerating discs in her lower back, as well as arthritis, she still picks flowers for the house from the ample supply in her perennial beds.
Above: Hidden from the street, the garden proper grows in soil that has been enriched by decades-worth of compost, much of it generated in-house by a three-compartment compost pile in a shady corner. Agapanthus, the-kale-that-wouldn't-die (lacinato), low maintenance yellow lantana, and gaura—a Texas native—are at their peak after the summer solstice.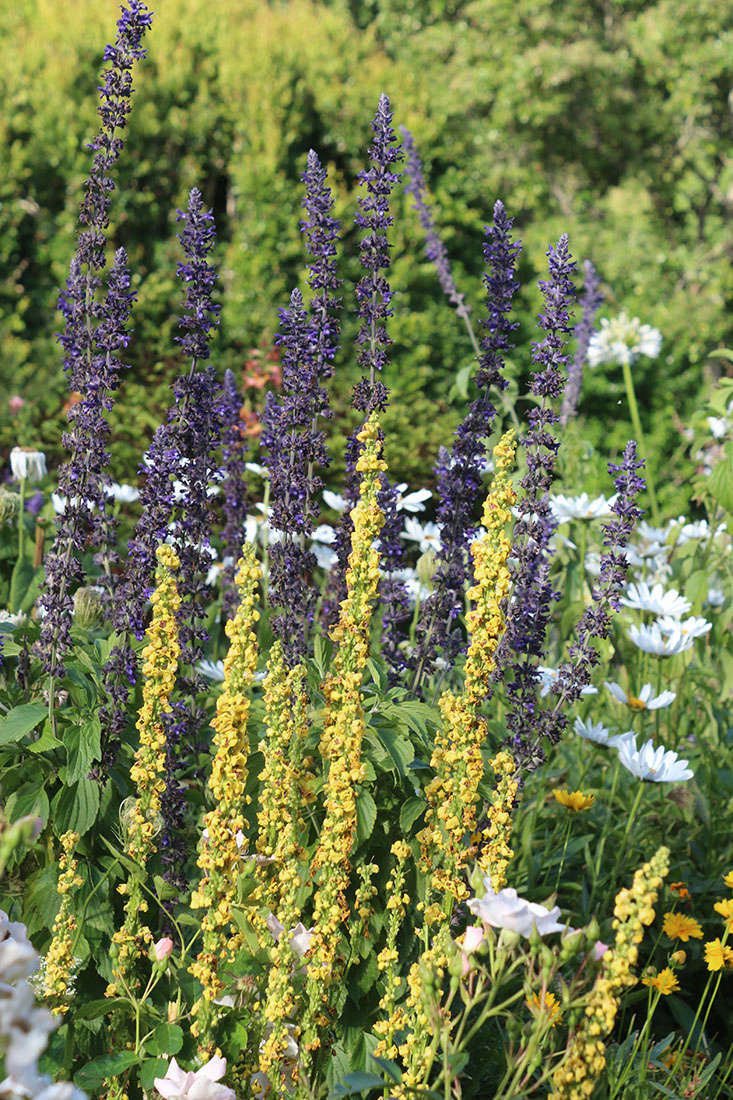 Above: Past midsummer the vertical spikes of salvia and verbascum are a duel of yellow and blue.
Above: My mother leaves the spent flower spikes of veronicastrum in place for as long as possible: they are a favorite hunting spot for the resident Cape dwarf chameleon population. The little garden dragons feast on flying insects.
Above: A deep blue agapanthus cultivar is offset against brilliant orange Inca lilies (Alstroemeria). Fennel flowers rise six feet tall, attracting pollinators as well as small garden birds like white eyes and rooibekkies, which eat aphids attached to the fronds.
Above: Requiring nothing more than deadheading, indestructible Shasta daisies (Leucanthemum x superbum) are a long-blooming summer stalwart as well as a magnet for the beetles that the chameleons relish.