Once a year I leave New York City and return to my mother's garden at the foot of Africa. The cab ride from Cape Town International traverses a stark cross-section of South African life, first cutting through the impoverished shanty towns on the city outskirts, with the whiff of the nearby sewage plant. After the outlying suburbs, we move along leafy Rhodes Drive on the cool, wooded eastern flank of Table Mountain, past Kirstenbosch National Botanic Garden. Then we enter the suburb of Constantia, and dip into the valley where my parents' pitch-roofed house anchors the end of a quiet cul de sac.
Photography by Marie Viljoen for Gardenista.
Above: Flame-colored aloe blossoms shoot up from a bed beside the house.
The first glimpse of the house is an unusual one. In South Africa, most houses are separated from the street by tall walls, electric fencing, and razor wire. No. 9, on the other hand, is wide open, with a full view of the aloe and succulent garden my mother planted to replace much of the former lawn.
Above: The brick driveway arcs past the front door and the row of wine barrels under the stoep roof, planted with indigenous asparagus fern, peppermint Pelargoniums, and Streptocarpus. As the driveway curves back to the street, it skirts a mixed bed with perennial fuchsia, Plectranthus, Agapanthus, and Cape fuchsia (actually a perennial, Phygelius capensis).
Every night the private security company's truck sweeps down the drive, leaving behind a note in the mailbox under the polished brass number 9, saying All is well; we have been here.
Above: As I leave the cab, two corgis tumble out the front door to greet me, hysterical with pleasure. My mother emerges, quiet and happy. In my teenage bedroom, bright with fresh-cut flowers, I look out through the sash window at the garden Maureen Viljoen has worked for 30 years to create. Indigenous, exotic, edible, and ornamental plants blend seamlessly into a plant collector's dream oasis.
Above: At the property's border a tall living wall of small trees, shrubs and climbers–a refuge for birds and the occasional mongoose–separates the garden from a communal greenbelt where a small stream seamed by enormous poplars runs down from the mountain. Above and beyond the living wall and the giant trees rises Table Mountain.
Above: When I step onto the brick patio behind the house, the scent of the Confederate jasmine covering the pergola wraps around me like a shawl. The patio is where meals are eaten in good weather, at a large iron table under an awning, lit by candles and oil lamps at night.
Above: Now, a cloud of waxbills explodes from the bird feeder. Sunbirds visit for nectar and twittering prinnias patrol for aphids in the potted Iceberg roses. A hadeda ibis stalks the lawn, poking its beak deep into the turf to extract pale grubs.
Above: I walk the garden, jet-lagged in the sudden summer and shell-shocked by the abundance of flowers. More lawn has been swallowed by my mother's riotous mixed plantings.
Above: Vegetables, herbs, and flowers, native and exotic, thrive as neighbors, in a botanical iteration of South Africa's rainbow nation status. (In the 1980s, an American friend took note of Cape Town's regimented municipal plantings and exclaimed to my mother, "Even the flowers are segregated in this country!")
Above: In one bed artichokes, foxgloves, Agapanthus, succulent Cotyledons, leeks, Verbascum, and Coreopsis coexist, knitted together by a sprawl of tiny pink flowers whose name no one ever remembers. Maintaining this apparently random garden style requires a gimlet eye and a great talent for plant choice.
Above: When I was 14, I laid out an herb garden in full sun in the western corner of the garden. It's now cooled by significant shade from grown trees. My mother has ingeniously transformed the area into a secluded nook where she and my father share weekend lunches on a pretty bench. A water lily grows in a tiny fountain on a mossy patio, and frogs like to visit. Two tall walls that make up the rear of the house support shelves for potted shade-loving plants and works by local craftspeople.
Above: On a raised, tiled workspace is a forest of bonsais–white stinkwood, pomegranate, Acacia, and olive. At ground level, Streptocarpus, Begonias, Fuchsias, and Heuchera form a quilt of textured color. A trough of arugula hugs tall Amaryllis in scarlet bloom.
Above: The thistle-like flowers of the artichoke.
From this corner the rest of the wide garden can be glimpsed in the sunlight, through the branches of the tree tomato. The fruit (also called tamarillo) hangs in bright orange bunches, egg-sized and desirable. I eat a bowlful at a sitting, thinking gleefully that I've seen them for sale in Manhattan at $2 apiece.
Above: A recent shift in my mother's sunlit space has been the shrinking of her beloved Agapanthus collection. Agapanthus are indigenous to this part of the world. The fancy cultivars, bred in local nurseries, range in color from near-black to blue and white-tipped. But they've recently been attacked by a scourge called the Agapanthus borer, a caterpillar that burrows from the unopened bud, down the long stalk, and into the crown, causing the plant to rot and die.
Everywhere, in public plantings and in gardens, one glimpses Agapanthus buds held at an odd and ominous angle, with a tell-tale black spot on their sheaths. This little-understood pest is changing the gardening landscape. At No. 9 the Agapanthus collection has dwindled to just a few varieties that seem, for now, immune.
Above: To the east is the garden's social cornerstone–a giant London plane tree whose canopy air-conditions the deck beneath it on the hottest summer day. Thirty years ago this tree was a skinny sapling; now, its trunk is too wide for me to wrap my arms around.
Above: This is the summer dining room, where a table is set for two or 12 with linen and beautiful plates and glasses. For a party, flowers from the garden spill out of vases, wine chills in ice buckets, and course after course is ferried to and fro by guests traipsing across the lawn.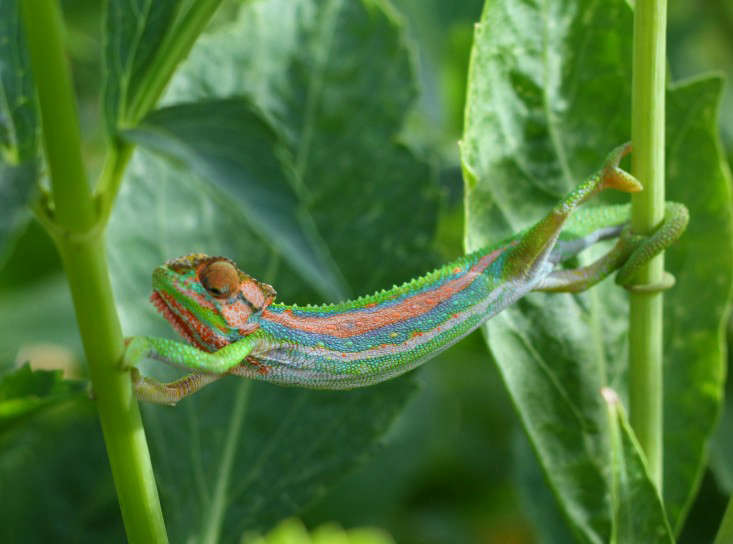 Above: Meanwhile, shy green dragons–Cape dwarf chameleons–roll their eyes from their floral hideaways.
Above: Sunflower in bloom.
Every few years, the garden at No. 9 is one of a handful opened to the public by a trio of Constantia garden clubs. Tickets are sold, tea and snacks are served, and the money raised–$10,000 last time–is donated to local nonprofits. One of these is Abalimi Bezekhaya (Xhosa for "Planters of the Home"), which supports micro-farmers on the low-income Cape Flats; another is Soil for Life, which focuses on healthy soil for growing organic foods.
Above: Closeup on garlic blossoms.
This is the garden to which I return, whose evolution I have watched over many years, whose beauty and whose practical lessons have made me a gardener and lover of plants. It has convinced me that a garden is to be lived in, by many creatures. More than anything, it has taught me that a healthy garden depends not just on a grand vision, but on the living, breathing presence of the gardener and of her spirit.
For more on South Africa, read about a stylish country store near Durban at Shopper's Diary: Blueberry Café in the KwaZulu-Natal Midlands.
(Visited 264 times, 1 visits today)