For anyone hankering after European formality—only a touch, we're not talking Versailles—Le Jardin Plume in Upper Normandy is just the ticket. Influenced by more recent movements involving perennials and grasses, the former orchard is nevertheless firmly rooted in French garden tradition, including plenty of neat clipping and evergreen hedges.
When Patrick and Sylvie Quibel first arrived here in 1996, they found an orchard and much flat space, formerly occupied by sheep. Let's take a grand tour around their garden:
Photography by Claire Takacs.
Sky-reflecting geometric pools may be part of the language of Baroque, but a pair of Adirondack chairs dispenses with lofty notions, as does the timber and brick house.
A network of hedges near the house has an early-20th-century English look: Different styles are accommodated because they are all connected. Le Jardin Plume is a synthesis of European gardens, now.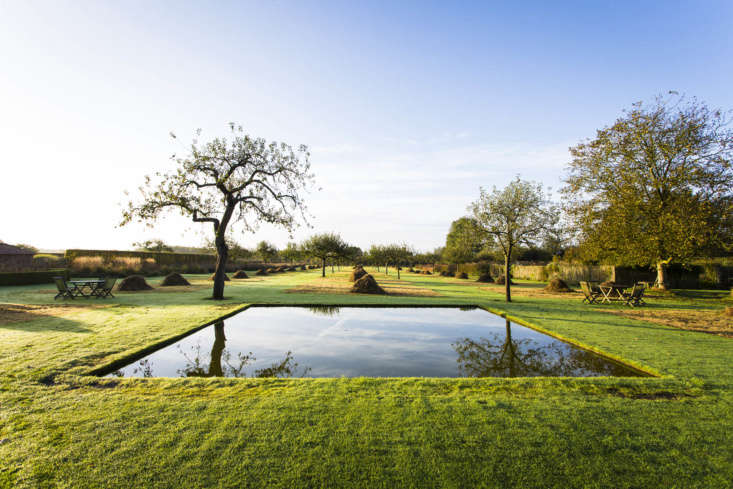 Orchard Garden
The base note in this garden is still a series of fruit trees, but they have been incorporated into a vast parterre, with long grass marking the divisions, with miscanthus in the foreground.
In spring, traditional orchard bulbs flower under the apple trees, including pheasant's eye daffodil, Byzantine gladiolus, and snake's head fritillary. They are succeeded by native wildflowers such as meadow cranesbill and cowslip.
Feather Garden
Hedges, everywhere, establish an ancient atmosphere while doubling up as a network of useful windbreaks. To the right, vibrant pink Persicaria orientalis, or prince's feather.
Le Jardin Plume was named after the effect of vertical grasses around the garden. Here they are joined by asters and drying-out Actaea in a selection of plants that celebrates the vertical and wavy, with no large flower heads.
Fountains of feathery grass dominate here in the Plume Garden, underpinned by Calamagrostis 'Karl Foerster' and interspersed with Verbena bonariensis.
The Summer Garden
The design of the Summer Garden is a nod to the Baroque style; decorative formality at its most grand. Within the parterre of boxwood, however, the plants run riot, in a limited but not quiet palette of red, yellow, orange, and gold.
Boxwood Balls
The Flower Garden
Le Jardin Plume and its plants nursery (specializing in perennials and grasses) is open to the public. For visiting hours and information, see Le Jardin Plume.
Are you inspired to add a touch of French formality to your garden? See Boxwoods: A Field Guide to Planting, Care & Design in our curated guides to Garden Design 101. Read more:
(Visited 529 times, 1 visits today)