An iron gate makes a strong statement—and the best designs provide security without forfeiting curb appeal.
As a starting point, there are some standard rules for designing a garden gate:
Width: A gate opening should be at least least 3 feet wide for comfortable single-file egress. A 4-foot opening is better if you need to push a lawn mower or trash cans through the gate. A 6-foot opening will allow visitors to walk side by side up a path.
Single vs. Double Gates: A single-panel garden gate should not be wider than 4 feet (at wider widths, it may be so heavy it sags on its hinges). For wider openings, use a pair of gates.
Gate Swing: Front gates (and driveway gates, for that matter) should swing into your property, not outward into public space unless your walkway or driveway is on a steep slope.
The design rules for garden gates offer plenty of opportunity for to get creative. The other day our contributor Britt Willoughby Dyer went sleuthing for ornamental ironwork and came back with 10 stylish examples of front gates that make a statement—without making visitors feel unwelcome:
Photography by Britt Willoughby Dyer.
Historical Hues
To find more historical hues to enliven modern ironwork, Kendra went sleuthing in the streets of London. See the results of her detective work in Paint Colors for Iron Gates and Fences.
Five-Bar Bracing
Mixed Materials
Fanciful Finials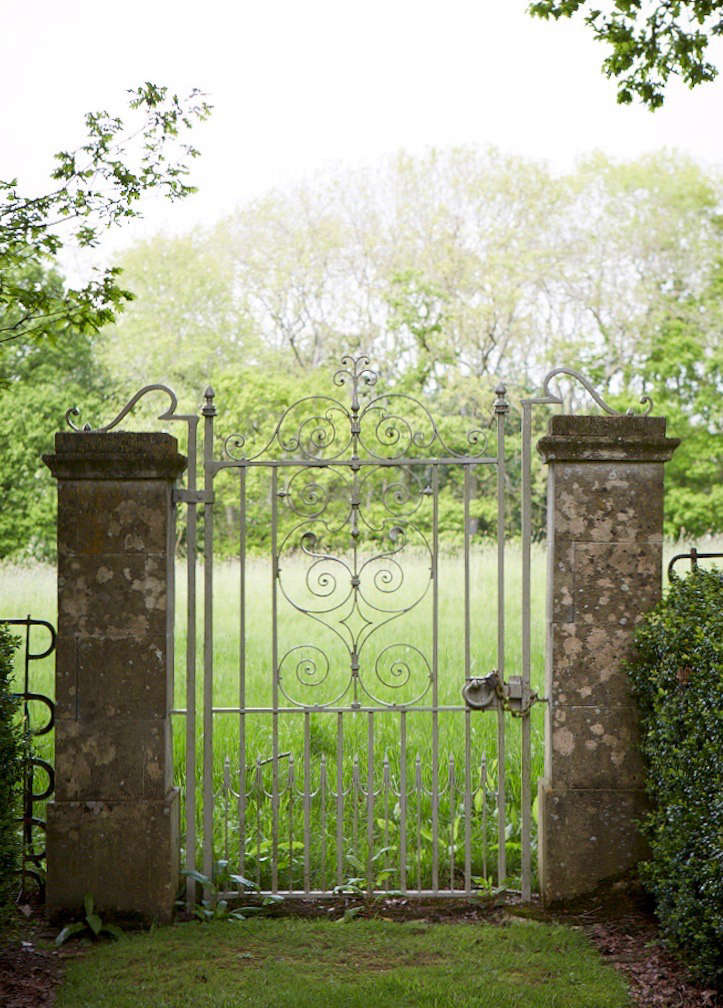 A decorative finial softens the "keep out" message without sacrificing security.
Chicken-Wire Casual
You can get a similar effect with a layer of hog wire. See the look in Hardscaping 101: Hog Wire Fences.
Scrolled Spires
Ornamental scrolls can be loose, tight, pointed, flared, leafy, snakelike—or any other shape you can imagine. The more distinctive, the more likely a scroll is to distract a visitor from a gate's implacability.
Mossy Stairs
Tip: Mossy risers will add texture and an air of antiquity (but keep the moss off the treads to avoid slip-and-fall injuries). See more design ideas at Hardscaping 101: Entry Stairways.
Double Duty
Stony Companion
Above: The filigree of a thin iron gate complements the bulk of a stone wall.
Unhinged
N.B.: Are you installing a new garden gate (or upgrading an old one)? See more design ideas:
Finally, learn how to successfully design a fence for any landscape or garden project with our Hardscaping 101: Fences & Gates guide.
(Visited 313 times, 1 visits today)