In the 300th anniversary year of the birth of Lancelot "Capability" Brown, it is clear that his reputation as the United Kingdom's greatest landscaper is safe. What is not so clear is how the landscaping of historic parklands can influence our own gardens. Notebooks at the ready while we do some interpretation.
Capability Brown was an 18th-century minimalist. Living through the reigns of three King Georges, he was a land shifter whose work was defined by subtlety. Brown's style was so pure that his landscapes look as though they have arranged themselves; this apparent simplicity has helped to ensure their remarkable survival rate. If a Capability Brown landscape could be bottled, it would be essence of grass, trees, and water.
Here are 10 garden ideas to steal from Capability Brown:
Photography by Jim Powell for Gardenista.
Maintaining Composure
Above: This is not a field. It's part of the parkland at Burghley House in Lincolnshire. That is to say, it is where the garden around the house extends into the countryside, but is still composed as a picture. The grazing line under these linden trees (common lime in the UK) has been made by deer or sheep.
Live-in Livestock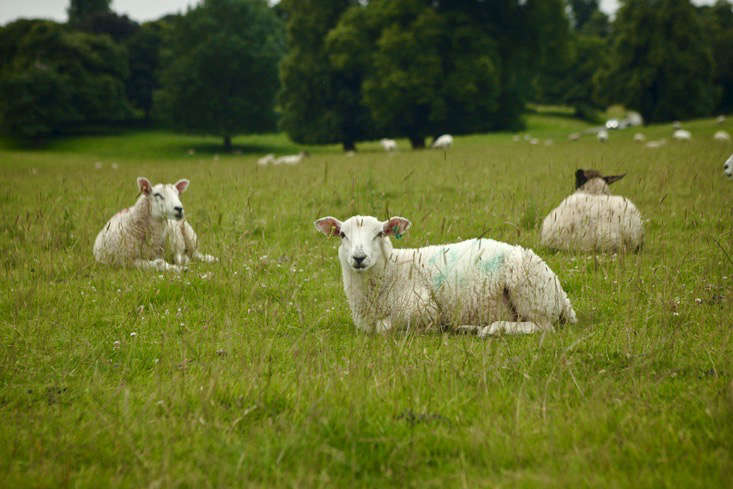 Above: If there are no obvious barriers between a house and its wider context, then grazing animals are brought closer to the windows in a picturesque way.
One of Brown's favorite devices was a ha-ha (see below). For contemporary country gardens, a simple barrier such as post and rail fence helps to maintain a flow between the landscape and your own back yard (see Garden Visit: Charlotte-Anne Fidler's View Over Wiltshire).
Hidden Ha-ha
Above: "Ha-ha!" people cried, allegedly, on almost falling down the steep drop and out of the formal garden. This one, at Chatsworth in Derbyshire, is shored up with dry stone walling, prevalent in the Peak District. Capability Brown did not invent the ha-ha but he saw great capabilities in it (together with the capabilities of new landscapes, which is how he got his own nickname). In theory, animals did not jump over this glorified ditch and into the garden, though I've seen sheep do it. People had to walk to the proper passing place.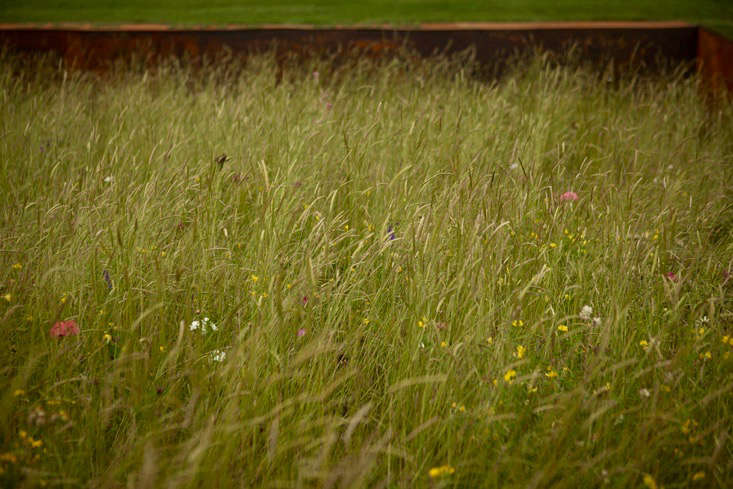 Above: At the Hampton Court Flower Show this year, a homage to the ha-ha; an unreachable meadow of wildflowers is viewed from a vantage point of smooth turf. Contemporary ha-has can be made from rusted steel, like this one, or local materials. Changes in level, with holding walls or terracing, can create a change of mood in a contemporary outdoor space.
Land Forms
Above: Brown was not a decorator but a builder of earthworks. Moving hills, creating woodland and lakes: these had to be undertaken in the pursuit of visual harmony. The work of Victoria Truman at Hampton Court (as seen above) recalls the more recent land forms of Charles Jencks and Kim Wilkie as much as Brown's, whose lines were more curving and less likely to be sculpted into particular shapes, such as turf seating.
Water Ways
Above: When Brown surveyed Chatsworth, it was already blessed with a real river running through it (the River Derwent), which only needed highlighting. Where this was not the case, a sequence of ponds was created, to suggest a meandering river. Chatsworth also had a convenient rise of trees around the house to cradle it in its setting. Anchoring a house to its landscape is still a fundamental tenet of garden design, though it took later generations to work out how to have flowers as well as a green landscape that flowed right up to the back door. Brown's approach was uncompromising; his habit of destroying more complicated Tudor gardens has meant that he is not universally loved.
Above: Brown appreciated water for its reflecting properties, of trees, the house, the sky. This stream at the Hampton Court Flower Show reflects a rusted metal tree canopy, designed by students of Plumpton College. The surrounding planting does not detract, keeping to Brown's favorite color: green. For more reflecting pools, see Garden Visit: a Landscape of Reflections in Wales.
Spotlight on Trees
Above: A young copper beech is part of Victoria Truman's homage to Capability Brown at Hampton Court. Beech is a quintessential Brown tree, with oak, evergreen oak (Quercus ilex), and linden (Tilia x Europaea). A small stand of trees is a microcosm of the idealized landscape; one exquisite beech next to an oak next to a copper beech. This idea is translatable to other climates, using natives and honorary natives.
A Stand of Trees
Above: A collection of oaks, growing near a collection of sweet chestnut trees at Burghley. Whether it consists of three trees or dozens, a stand of trees highlights their shape and color.
Repeat Varieties
Above: The intriguing spiraled bark of sweet chestnut at Burghley. When the same varieties are repeated, either in avenues or loosely scattered, the trees' details become fascinating.
Slow Gardening
Above: The spreading, horizontal branches of Cedar of Lebanon. As accessories to a large house, these big old trees take some beating. They take a hundred years to reach their prime and most cedars in England are a little past it. Gardeners of today: be generous and plant for the future.
Charming Masonry
Above: A bridge provides a place from which to take in the view. It also provides a focal point from the house. Charming masonry also includes temples, follies, and towers, which serve no obvious purpose but, along with bridges, can act as "eye catchers" in the landscape.
While we are on the subject of views, a sweeping drive for larger properties is very Brownian, as are visual games in which the house comes into view only to disappear again.
Owning the View
Above: Or giving that impression. Sheep at Chatsworth within their designed environment. It is very possible that the Duke of Devonshire owns the view beyond these trees, but the lesson we need to take away here is the sense of theater. Like a proscenium arch, a view needs to be framed, whether or not it extends beyond the backyard.
For more Garden Ideas to Steal, see our recent discoveries during visits to Paris, Brooklyn, and Sea Ranch, California.
You need to login or register to view and manage your bookmarks.