Amid rumors that Prince Harry and Megan Markle are about to move into a 21-room apartment at Kensington Palace, the royal couple may be on the verge of trading a walled garden at Nottingham Cottage (where Harry once slung a hammock) for much grander views.
The castle grounds may be somewhat grander than yours or mine, but the Kensington Palace landscape still offers plenty of inspiration for a smaller garden. Here are 10 garden ideas to steal from Meghan Markle and Prince Harry at home:
Sunken Garden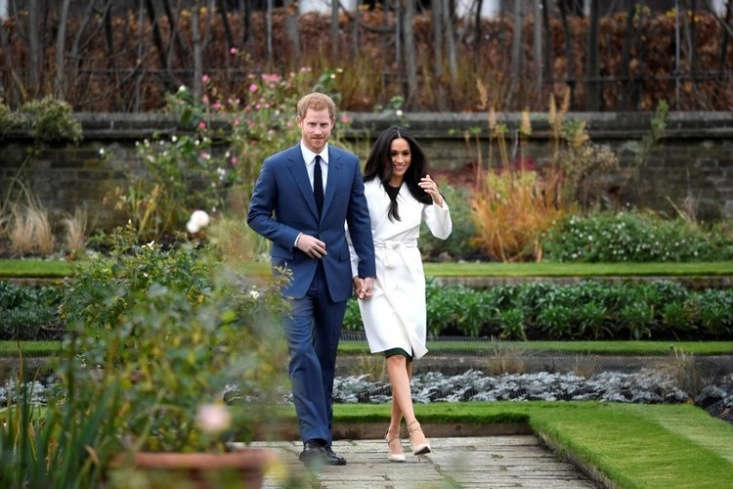 A sunken garden is one that is below ground level, typically surrounded by terraces to define its perimeter. At Kensington Palace, the sunken garden's formal layout was inspired by the Tudor pond garden at Hampton Court Palace, which was built for Henry VIII in the 16th century.
But a sunken garden also offers modern, environmental benefits: it can collect rainwater to prevent runoff and conserve water in a dry climate.
Tree Tunnel
The covered path's Tilia platyphyllos rubra trees, destroyed by severe storm damage in 1987, have recently been replanted as part of a £12 million overhaul of the palace grounds under the direction of landscape architect Todd Longstaffe-Gowan.
A slow-growing cultivar, theses large-leaf lime trees are known in the US as linden trees, where their ability to thrive in polluted city environments make them a popular street tree. With their pliable stems, they are excellent candidates for pollarding or pleaching.
For more growing tips, see Gardening 101: Littleleaf Linden Trees.
Theatrical Topiary
Long-lived, evergreen, and extremely hardy, yew trees are an excellent choice for tall, dramatic topiaries. See more in Yew Trees: A Field Guide to Planting, Care & Design.
Gilded Ironwork
"Until recently Kensington Palace was a virtually invisible—an unloved royal backwater, set behind forbidding railings, heavily embowered with shrubs and trees, and the approach to the front door was to many potential visitors so confused and labyrinthine that few attempted to persevere," notes Parks and Gardens UK.
During the £12 million remodel, impenetrable hedges were cut back, shrubs were pruned, and an attempt was made to make the grounds better integrated with the landscape of central London. The public entrance to the grounds "is more visible and welcoming to the millions of souls who cross the Broad Walk every year. No less important has been the removal of great swathes of clutter—including benches, dustbins, security railings, trees, and shrubberies to the northeast and southeast of the palace—to recover important and expansive eighteenth-century views over Kensington Gardens," notes Parks and Gardens UK.
Side-by-Side Fountains
A hallmark of the design of Kensington Palace's formal sunken gardens is symmetry; fountains are made from reclaimed water cisterns used during the 17th century.
Marble Urns
The formality of large Italianate stone urns and statuary can be undercut (and improved upon) by the casual unruliness of a not-too-manicured trailing vine.
Purple Palette
Purple is the color of royalty and appears in many vibrant forms in the sunken garden's ornamental beds. (See Now Trending: 9 Surprising Purple Palettes for a Garden.)
Vibrant Color
Jewel-toned flowers look richer and more luxurious against the gloomy backdrop of gray London skies.
Layered Look
Layers of ornamental plantings, a formal style that dates to the 18th-century tenure of royal head gardener Charles Bridgeman, adds interest to a garden. At Kensington Palace, the plantings change seasonally.
In your garden, where there may be no royal head gardener (nor staff), focus on layering ornamental plants that will bloom in succession throughout the planting season: flowering bulbs in spring, followed by perennials, followed by annual flowers to combat late-summer doldrums, followed by autumn-flowering perennials.
Padlocks for Privacy
A decorative or vintage padlock can add style to even a small garden shed or bike storage unit. For sources, consider a circa-1920s Decorative Lock & Key ($45 on Etsy) or an antique-style Lock & Key set ($20 on Etsy).
Is there any end to the inspiration we can take from English gardens? Even if you don't live in a climate as perfectly suited to pampering a wide range of plants, there are plenty of ideas to steal from UK gardeners:
(Visited 226 times, 1 visits today)