It takes a singular woman to take on the big boys on Chelsea's Main Avenue and it's rare to come away with a gold medal, as designer Charlotte Harris did yesterday. The judges and media are partial to outsize rocks and muscular planting at the Chelsea Flower Show; it's confusing when someone like Harris comes along, since she can play that game too.
Harris deservedly won gold for a garden that was the favorite of many people on press day: a sophisticated and garden-like response to a brief from the Royal Bank of Canada, marking the 150th anniversary of Canada as a country.
Photography by Jim Powell, for Gardenista.
Real gardeners tend to ignore television coverage of the Chelsea Flower Show; the BBC refuses to talk about plants or plantsmanship in a serious way. In the real world, a female designer's work speaks for itself, but at Chelsea one's approach is interpreted and repackaged by an excitable media. Designer Jo Thompson, for instance, will always be known as "the lovely Jo Thompson," in this shallow narrative. How to package the complexities of Charlotte Harris, or any female designer for that matter? When it came to predicting gold medals earlier in this Chelsea Week, it was easier to concentrate on the men.
At the beginning of the design process Charlotte and her partner journeyed to the boreal forest that stretches over the northern hemisphere. They took to a canoe in Canada, laden down with note books, to be conducted by various guides along the way.
Charlotte's intention was never to recreate the landscape of the wetlands and boreal forest, or even a corner of it: this would have made no sense in the grounds of the Royal Hospital, London. Instead it is an intensely considered response, in which an edited selection of Canadian native plants have been sourced (or replaced with something similar in shape and color) from Europe. Hard landscaping is inspired by the stone and wood of the forest. There is nothing random about the wonderful solid wood chairs, carved, charred and polished by Jim Partridge & Liz Walmsley.
In an excellent piece of forethought, Charlotte Harris has announced this week that she is joining forces with Hugo Bugg (who will forever be "young Hugo Bugg"), a familiar face at Chelsea for having been the youngest person to win a gold medal in 2014. They are called Harris Bugg Studio.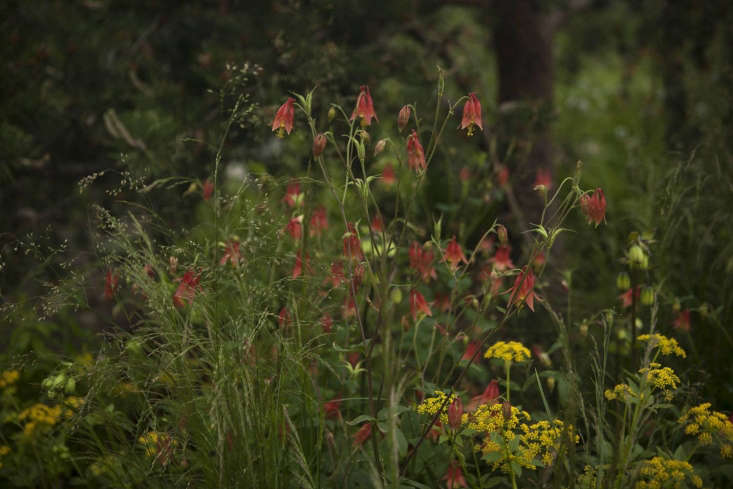 Flames of columbine Aquilegia canadensis, familiar to residents of New England and the Great Lakes, are not so commonplace at Chelsea. Here it is combined with golden alexander Zizia aurea, and the tufted hair grass Deschampsia cespitosa.
Silver-leafed coyote willow forms a loose periphery at one end and is eminently transferable into real gardens, especially where there is space to be filled. It reaches to about 10ft, and needs to remain shaggy and unpruned.
Glacial boulders are studded around the garden, while the paving on the formal terrace features carefully sliced boulders. The patterning is based on the cellular structure of a maple leaf; rough edges overhang clear water, an evocation of a freshwater lake. Marginal plants separate the water's edge from the crowds on Main Avenue.
A bank of irises similar to this were spotted from the comfort of a canoe in Ontario, and made it on to the Chelsea garden. Despite the profusion of irises every year, this one is a standout among other green verticals, right at the front.
More inspiration from the Chelsea Flower Show (past and present):
(Visited 117 times, 1 visits today)