Sarah Raven, gardener, writer and TV personality, has it pretty good as far as I can tell. She lives in East Sussex, England, a mecca for gardeners, in a charming old dairy farm called Perch Hill where she has been gardening and hosting gardening courses for years. And if that isn't enough to make you jealous, at one point, she and her family spent eight years living at Sissinghurst Castle in Kent, the family home of her husband Adam Nicolson, the grandson of the late great Vita Sackville-West. Their time there had a mission; both had books they wanted to write on the place and its history and much effort was spent trying to reconnect the property, now owned by the National Trust, to its agricultural roots.
I visited Sarah years ago at Perch Hill and felt completely transported strolling around her garden. Like Sarah, it's loaded with ideas. There are always projects on the go, and above all there's lots of color. She is not one to shy away from a vibrant palette. Her borders–whether they are designed to be productive or simply ornamental–are always artfully filled with color and texture combinations to covet. On my visit I learned that bold combinations, such as plums-with-orange-and-reds (one of Sarah's favorites), can be playful and sophisticated when done right. Photographer Ngoc Minh Ngo visited Perch Hill a few years ago in early June and captured the garden in its delightful allium phase.
Photographs by Ngoc Minh Ngo.
The Oast garden, which is adjacent to the family's living quarters, was designed to be ornamental and is a rich mix of color and structure. Salvias, cardoons, angelica, brightly colored dahlias and zinnias, gladioli, and jungly foliage from cannas and banana are all there throughout the seasons. Sarah is a fan of alliums for their boldness, structure, long-lasting quality, and whimsy. Her favorites are Allium christophii, Allium schubertiii, and Allium 'Purple Sensation.' She mixes them with other May/June highlights such as Orlaya grandiflora, ostrich fern, and aquilegias. The trick to keep them coming back year after year is to not disturb them. Sarah is known to use the seed pods in arrangements, and for Christmas she sprays the dry seed pods silver to decorate her tree.
Sarah's thriving garden (open to the public several times a year) and online shop are all about productive gardening. Her focus on vegetables, herbs, flowers, bulbs, and seeds is to teach students how to grow everything well and what to do with it all after you have.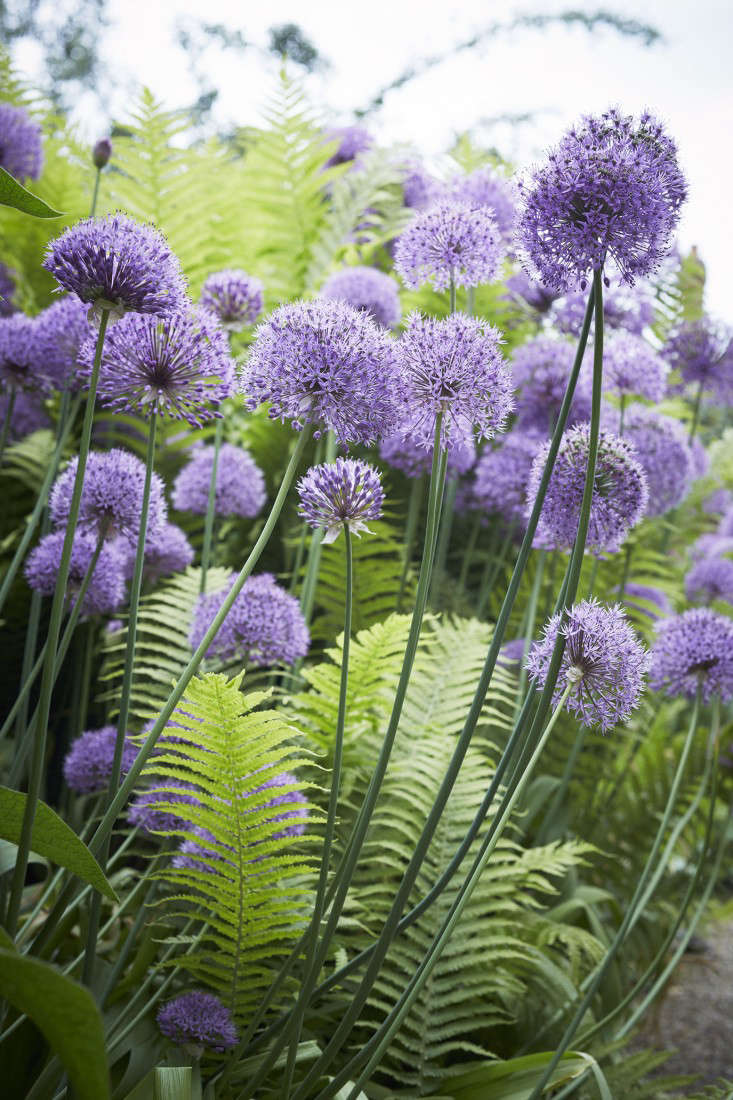 Above: A map of Perch Hill Farm's location: Willingford Lane, Brightling, Robertsbridge, East Sussex, TN32 5HP. Open to the public on select visiting days and by appointment. Visit Sarah Raven for more details.
For more tips from Sarah, see:
(Visited 675 times, 2 visits today)