Heading out of town in Concord, Massachusetts, one passes The Old Manse, an imposing clapboard building, which in the 18th century witnessed the start of the Revolutionary War at the battle of North Bridge (and decades years later became home to naturalists Ralph Waldo Emerson and Henry David Thoreau). A little farther down the road is another sort of landscape: a thoroughly modern garden shaped by the historic character and progressive nature of this revolutionary town.
The new landscape designed by Richard Burck of Richard Burck Associates and constructed by Robert Hanss of Robert Hanss Inc. looks as if it evolved slowly over the centuries. It harmoniously connects a newly built house to surrounding wetlands, meadows, and woodlands. Taking a cue from Concord's rural surroundings, the contemporary garden honors Concord's conservationist traditions.Let's take a walk around.
Photography by Justine Hand.
Creating the Concord landscape was a two-phase process. Phase one married the newly built residence with its natural surroundings. After the owners purchased an adjacent property, phase two integrated the new terrain into the landscape design and included an expansion of the gardens.
Throughout the property, traditional materials and motifs employed in modern ways create visual unity and to reinforce the sense of place. New fieldstone walls, stone steps, and walkways echo existing hardscaping to help define and connect the outdoor spaces. In constructing the walls, Hanss opted for an intentionally "loose" style of stacked stone to harmonize with Concord's rural character. Where possible, the stone was found on site or sourced locally.
The homeowners also got a pond and an old stone wall when they bought the neighboring property. Burck and Hanss opened up the space by removing invasive plants and selectively thinning and pruning overgrown vegetation. Next they added the lawn (irrigated by a well dug on site) which acts like a carpet to seamlessly connect the disparate features of the landscape. Wherever possible, existing native trees, shrubs, and other plants were transplanted within the site. In one case, a line of 15-to-20-foot evergreens were moved and re-grouped more naturalistically.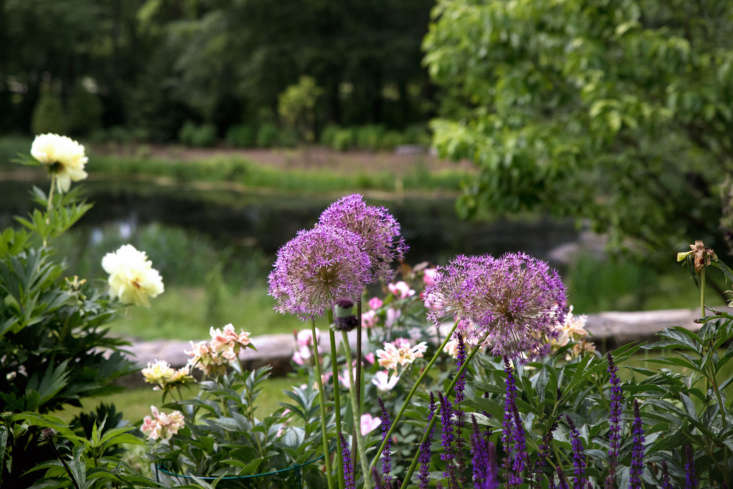 Below the house and drive, a small vale is home to a meadow previously choked by overgrown plantings. Here Hanss cleared the site of invasive species and planted a field of native grasses and wildflowers, which now hosts birds and pollinating insects.
A series of functional outbuildings also help enhance the historic character of the property, while still maintaining a clean, Shaker-like look. All feature traditional materials such as painted clapboards and wooden shingles.
See more tips for designing a landscape from scratch in our Garden Design 101 guides, including Decks & Patios 101 and Pavers 101. More historic New England garden tours:
(Visited 456 times, 1 visits today)