Artificial grass incites strong feelings. Either you love it (for looking good, lasting 20 years, and never needing water) or you hate it (for being an unnatural  petroleum-based product). See more about the Pros and Cons of Artificial Grass in our previous coverage; today we've rounded up seven case studies of gardens where artificial grass replaces traditional turf.
Backyard Putting Green
For more, see Sleekness in Seattle: Modern Garden, Midcentury House.
A Family-Friendly Backyard
For more, see Garden Visit: At Home with Architect Kelly Haegglund in Mill Valley, California.
Around the perimeter of the artificial turf are garden beds with drought-tolerant perennials and ground covers.
The garden is partially shaded; it makes no difference to artificial grass whether it's in sun or shade.
Four Seasons Lawn in Brooklyn
Up on the Rooftop
For more, see Garden Designer Visit: A Rooftop Meadow Garden in Brooklyn.
Proper drainage is very important on a roof garden, particularly in Brooklyn, where you need to protect both your own building and that of your neighbors, notes Farris.
In London Fog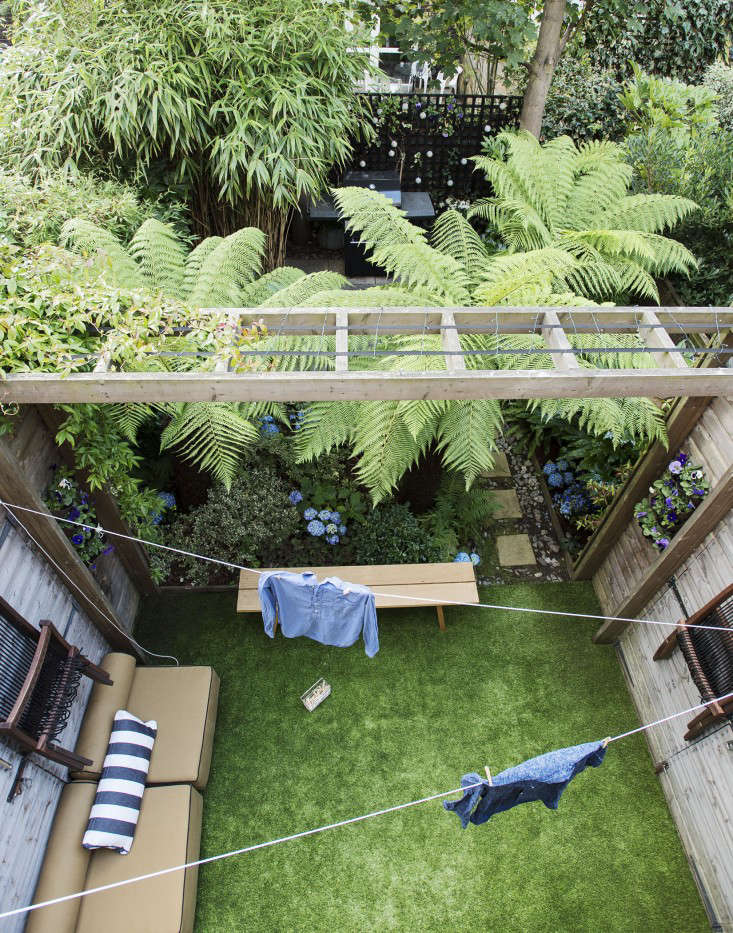 Says Christine: "When we wanted to accommodate the teens that came to hang out in our tiny garden, we provided them with different types of outdoor seating—outdoor sofas, a wooden bench, and two folding chairs from Ikea. Sometimes there were too many (teens, that is) and then they would sit directly on the cold, damp paving stones. That was when we installed the artificial grass."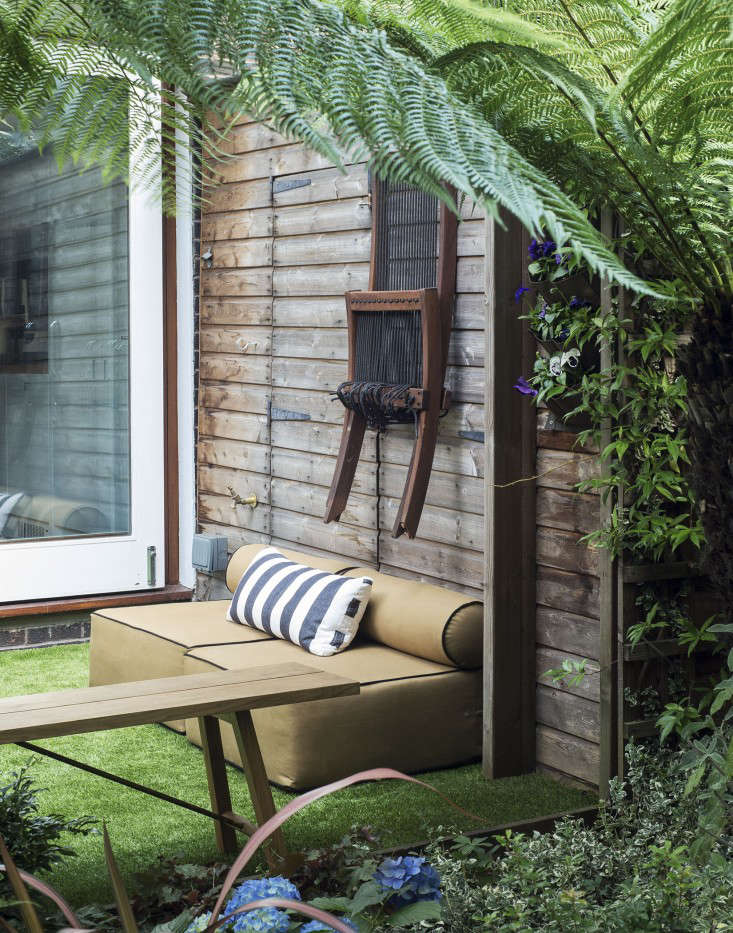 Water Wise in California
Architect Barbara Chambers installed an artificial grass lawn in her garden in Mill Valley, California to save water in a drought-prone region.
Chambers installed Dupont's ForeverLawn in her backyard.
To lay paver required cutting out squares of turf. "I started using the cutouts for doormats and found they worked really well,"says Chambers.
See more of this garden in our book, Gardenista: The Definitive Guide to Stylish Outdoor Spaces.
Tough Turf for a City Balcony
British gardening writer Isabelle Palmer has two balconies at her flat in a converted Congregational church in London.
Palmer laid artificial grass on a balcony for added color.
For more gardening ideas from Palmer, see Ask the Expert: 10 Balcony Gardening Tips from Isabelle Palmer.
N.B.: Looking for a lawn replacement? See:
Finally, get more ideas on how to plant, grow and care for various grasses with our Grasses: A Field Guide.
(Visited 311 times, 1 visits today)