Artificial grass has been gaining ground—and a reputation for being eco-friendly because it doesn't need water, fertilizer, or to be mowed. Plus, the newest generation of artificial grass often looks good enough to fool us into thinking it's real.
But have we been too quick to extol the virtues of artificial grass? After Michelle included it on a list of 13 Landscape Design Ideas to Steal in 2015, some readers revolted: "It might be better to grow something, rather than smother the living soil beneath it," Susan Krzywicki wrote. Another reader pointed out, "Artificial turf is extremely hot. Ask any child who plays soccer in the DC. region. On a bad day, the turf can burn through your cleats."
Our readers got us thinking. Does artificial grass offer salvation to drought-prone climates—or it is one of those inventions that will eventually end up in the too-good-to-be-true file? Here's a close look at the pros and cons of live lawns versus artificial turf.
Where do you stand on this issue? Tell us in the comments section below.
Our London editor Christine Hanway's backyard has lush green grass—real or fake? Read on to find out. But first, the backstory.
Turf Grass Lawns: Drawbacks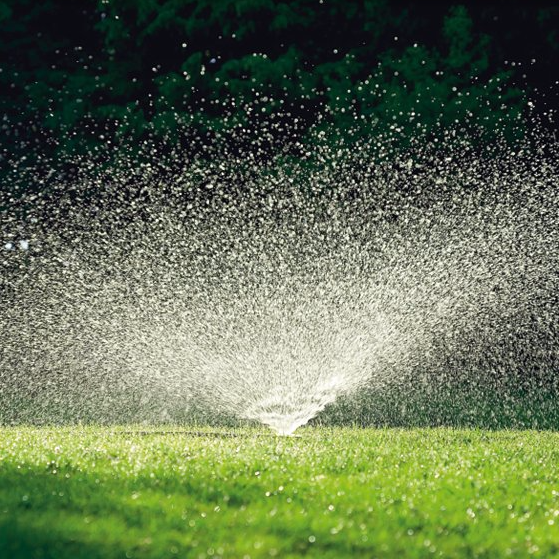 Velvety green lawns come at a cost to the environment. They account for one-third of all residential water use and pose an environmental disaster in dry climates. Our efforts to maintain lawns–mowing, blowing, and trimming with gas- and electric-powered tools–create air pollution that far outstrips the oxygen-producing benefits of grass. If you use fertilizers on grass, the chemicals pollute the groundwater.
The issues surrounding the environmental impact of real turf have caused some municipalities to restrict the size of lawns in new projects. For instance  in Mill Valley, CA regulations allow only 500 square feet of real grass for a new home or major remodel. Will we soon have grass police?
Turf Grass Lawns: Benefits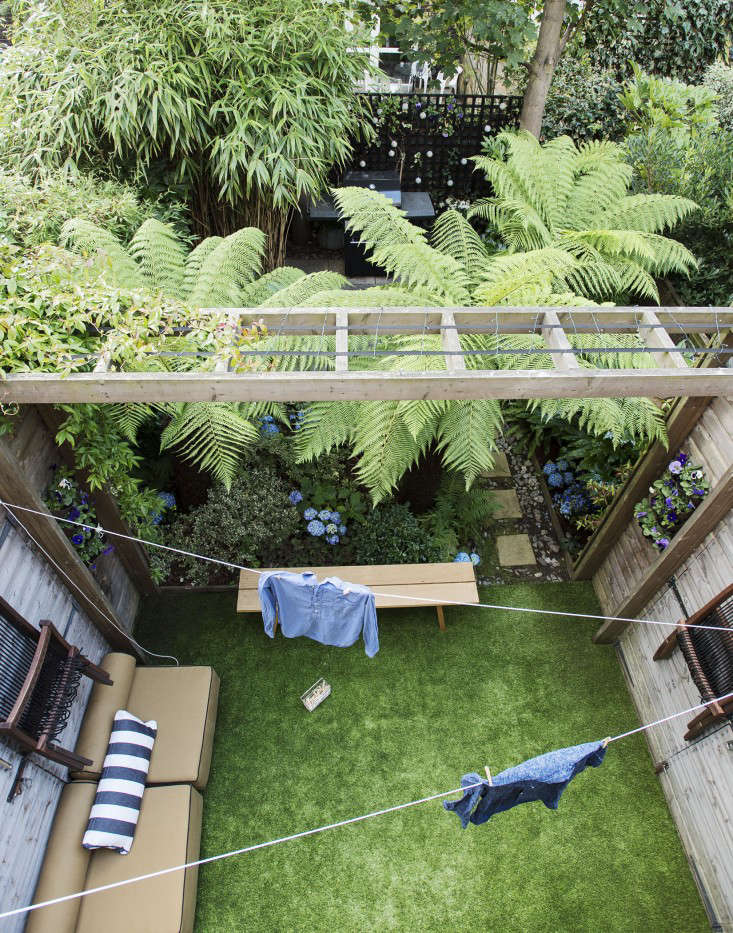 "A lawn is a beautiful, emotional thing, like a pool, and it has an emotional value. It makes a garden look beautiful and serene," says environmental crusader Sally Dominguez, who invented the Rainwater Hog rainwater catchment tank.
A transplant from drought-plagued Australia, architect Dominguez says, "Don't give up your lawn. My take on it is this: When we moved here from Australia, we went to a house for a cocktail party and saw this lush lawn. My kids and I couldn't believe it. It looked so rich and inviting, we all immediately took off our shoes and walked in it."
Rather than get rid of real lawns, Dominguez recommends recycled laundry and shower water–known as graywater–to water our lawns. If you stick with organic fertilizers and can tolerate a less-than-perfectly-green lawn, you don't have to feel guilty about having a patch of real turf, she says.
For more of Dominguez's tips, see Ask the Expert: 7 Ways to Save Water in the Garden, from a Graywater Crusader.
Artificial Grass: Benefits
A true outdoor carpet, artificial grass directly addresses the primary environmental concerns of real turf. It requires no watering, no mowing, and no feeding. Some manufacturers use recycled materials, such as old tires or plastic bottles. And, while expensive, the life expectancy of artificial turf can be upwards of 25 years, making it a less costly alternative to real turf over its life span. For a crash course in artificial turf, see Hardscaping 101: Artificial Grass.
We can't ignore the aesthetic value of synthetic turf. Available in an array of blade lengths, colors, and textures (including variegated strands), the new generation of synthetic grass can fool most.
"I would never had thought I would be a fan of fake anything, but I'm sold," Chambers says. For more of her garden, see Architect Visit: Barbara Chambers at Home in Mill Valley.
"I love my artificial grass. They have come a long way with the design, texture, and color," Chambers says, "There is no way you can tell my lawn is fake unless I confess."
How has the synthetic grass fared in Chambers garden? "I've had my artificial grass for almost two years, and it still looks like new—no maintenance, no fuss, no gophers, and no water," she says. "While the cost was very high to install, I'm certain it's paid for itself by now. Best of all, it looks amazing all the time."
Artificial Grass: Drawbacks
While synthetic grass may look and feel like the real thing some simply can't get past the fact that it's plastic. It is hailed for its water-saving benefits, but artificial turf has its own environmental drawbacks. It is a petroleum-based product that creates pollution and waste in the manufacturing process. And, while it is often made partially with recycled materials, it is not biodegradable. After a long life of from 15 to 25 years, it will, ultimately, end up in a landfill.
Critics point to synthetic turf as an environmental heater. It absorbs heat and feel hot to the touch in direct sun. Pet owners give synthetic grass a mixed review. It does not absorb animal waste (but is permeable so liquids pass through to the ground underneath).
Lawn Alternatives
Nonplastic alternatives to real turf that will stand up to heavy foot traffic and offer soft landing for kids' play areas include: wood mulch (sometimes called "playground chips"), ground covers that require little water and maintenance (see Fields of Green: 5 Favorite Lawn Substitutes), and decomposed granite (see Low-Cost Luxury: 9 Ways to Use Decomposed Granite in a Landscape).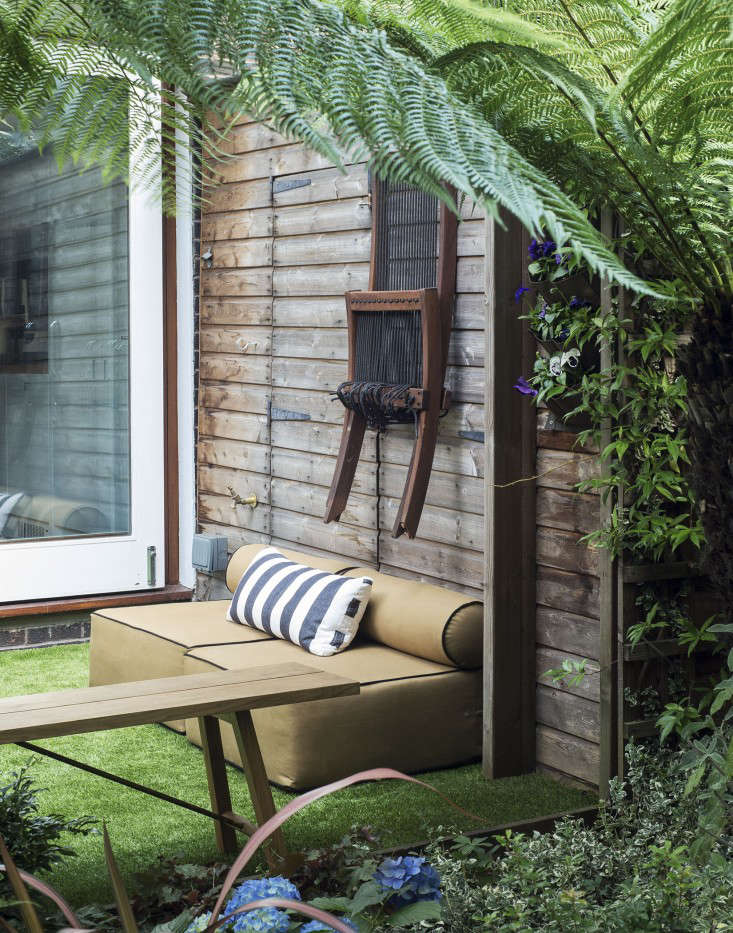 For more environmentally friendly ways to live with a lawn, see:
Finally, get more ideas on how to plant, grow and care for various grasses with our Grasses: A Field Guide.