Once, the kitchen garden at Chatsworth, or any British country house, would have been run with military precision by a formidable man in a suit. He was the conduit between the big house and the propagation house, trusted to produce cut flowers as well as home-grown pineapples. The business of flower decorating was more scientific then. These days, the cutting garden is run by Becky Crowley, a young art-school-trained grower, who gives us a tour:
Photography by Jim Powell, for Gardenista.
Chatsworth flowers are tough. Winds sweep over the Peak District straight into this garden, despite sheltering trees, hedges and walls. An advantage of being high up is that the water travels downwards, toward the River Derwent which flows in front of the great house. Waterfalls and streams are part of the iconography of Chatsworth, and the sloped kitchen garden has its own plentiful source with a water cascade.
The flowers most vulnerable to wind, at the edge of the garden, are generally staked; eccentrically twisted spires of lupines and foxgloves are good; bent stalks not so much. The softer stems of cornflowers would be flattened in an instant if they weren't grown through nylon mesh stretched horizontally between poles. It soon becomes invisible.
Becky Crowley took over the flower operations in the kitchen garden three years ago. The plot she inherited was already in good order, having been meticulously cultivated for decades. Becky works within a formal framework of espaliered fruit trees, with some reminders of what grew there before, such as raspberries. They are wonderful in bunches just as the fruit ripens, says Becky, and the strong young shoots make good foliage fillers. Other old favorites in terms of flowers, which are still in demand, are peonies, delphiniums, and lupines.
One of the first lessons that Becky learned was the necessity for rabbit fencing after raids set her back earlier on, in what was already a daunting new job. This steel mesh is dug to about a foot underground. Rabbits are less of an issue in the rest of the kitchen garden as much of it is grown on giant raised beds constructed from brick. Although the gardens that rise above the back of the house look out over a designer deer park (art directed by Capability Brown), deer do not roam into the enclosed gardens.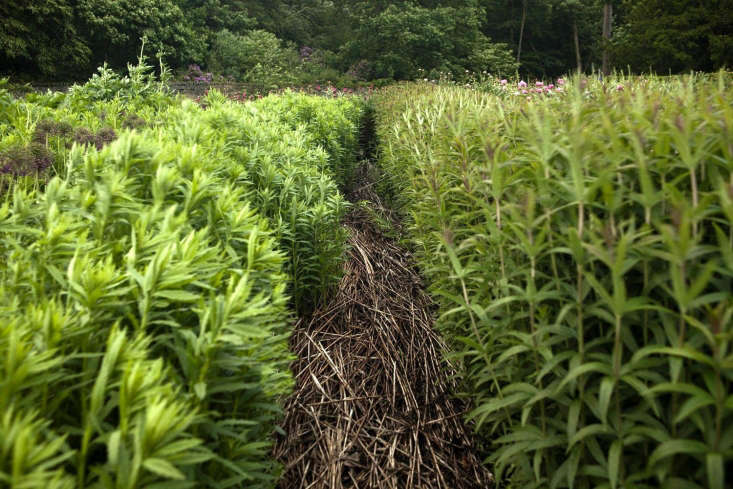 For mulching and suppressing weeds, Becky uses straw, a natural by-product of the farm yard. The weather-beaten outer casings of straw bales are not useable by the animals but are infinitely useful here. As a marker, it is spread out over bulbs after they have finished flowering, while giving them a cool cover. It also breaks down into the soil, adding to a good open structure. Straw is useful as a path, preferable to mud which would then be traipsed on to the formal areas. A clear access to the flowers is vital.
There are three florists at Chatsworth who depend on Becky for a constant supply all year round. Nicky from the (world famous) farm shop is there during our visit; some of her haul is shown here. The florists for the house are Sally and Zara. Supply and demand involves an open dialogue. Obviously the Duke and Duchess have a say in what they'd like to see in the house but Becky is allowed to get on with it. The Duke has said that he'd send word if there was anything coming down the hill that he didn't like and this hasn't happened yet.
Becky works with a team of volunteers, who help to keep the cutting garden looking neat, as this is not only a productive area but an important part of the attraction of Chatsworth, for visitors. To this end, many flowers are left in place; it is rare that a whole row will be cut at once.
Self-seeded Verbascum bombyciferum, which may have floated up from the terrace by the house. In the cutting garden, it has been given indefinite leave to remain.
With or without mesh as further protection, flowers are grown in the style of vegetable gardens: in rows. In bloom here: Heuchera sanguinea.
N.B.: See more about Chatsworth House:
(Visited 223 times, 1 visits today)