I spent a lot of time in this house as a child—it was owned by a jazz musician friend of my parents. Situated on a sandy slope overlooking Provincetown Harbor and surrounded by acres of National Seashore Park land, the six-bedroom house was designed by Boston architect Nathaniel Saltonstall, a colleague of Walter Gropius and Marcel Breuer. "His genteel, regional approach to modernism was popular with his clients, many of whom were wealthy art collectors," according to the Cape Cod Modern House Trust. I hope a dedicated modernist takes it on; the Atlantic Bay Sotheby's listing contains the phrase "needs extensive updating."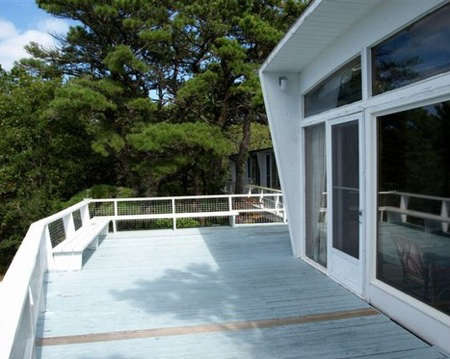 Other work by Saltonstall in Wellfleet includes the The Colony, a group of cottages overlooking Wellfleet Harbor that he built in 1948 and ran as a private club for artists (guests included Lionel and Diana Trilling and Paul Newman and Joanne Woodward). The Colony is still in operation today.
You need to login or register to view and manage your bookmarks.