In the Northeast, October is a special month. As red maples begin to blaze, maitake, a prized edible mushroom, appears at the base of some old hardwood trees (which it is slowly killing). Favoring oak, the dense, heavy mushrooms may be nestled against the tree's trunk, or a few feet away, fruiting from—and feeding on—old roots. The mushrooms reappear on the same trees year after year. And they are exceptionally good to eat. It is my twelfth season of hunting maitake in the wilds of New York City, and the sense of fun has not diminished.
Here's where to find maitake, how to cook them, and some precautions to bear in mind.
Photography by Marie Viljoen
The name maitake means "dancing mushroom" in Japanese. It is very hard to control the excited wiggle in your walk as you approach the first mushroom of the season, and your next dinner. Maitake grow in temperate forests in the Northern Hemisphere, favoring cold winters and old hardwoods, and they do not differentiate between rural and urban forests. In cities you might even spot them on street trees.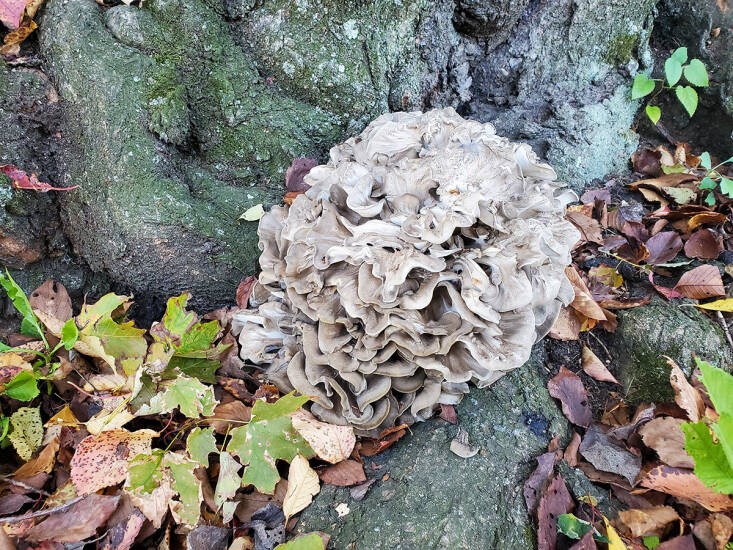 Maitake is also known as hen of the woods: picture a fluffed-out gray hen sitting on her brood.
Oak trees are maitake's usual host, and I have also seen them at the base of beeches, cherry, and even a London plane. The mushroom is parasitic, feeding on the trees' roots, and causing a white rot, which will weaken its benefactor and contribute eventually to so-called tip-over (when a tree topples from the base).
While immature mushrooms can fit in the palm of your hand, grown-up maitake can weigh upwards of 10 pounds and sometimes double that. It is hard not to feel pleased carrying home such a prize on your way past a gourmet store charging upwards of $20/lb for foraged maitake. They are cultivated, too, a process pioneered by Japanese growers. These tame mushrooms look very different from their feral cousins: small, delicate, and frilly, versus sturdy and heavy. Their flavor is milder, although quite good.
Maitake appearing in carpets of fallen leaves are cleaner than those surrounded by bare soil, which splashes up if there is rain and is incorporated in the mushroom as it grows, making it gritty to chew. Use a sharp knife to slice the maitake at the base, trimming off any debris stuck to the bottom. Avoid mushrooms growing at the base of trees used by raccoons as a latrine (there will be tell-tale signs of scat). And always cook your wild-collected mushrooms.
What part of wild maitake is best to eat? In a young, butter-tender mushroom, the whole mushroom is delicious, cooked. On larger maitake, the gray caps, or "feathers" remain tender.
At home, slice smaller maitake in half to see how clean they are. Trim away any debris, and wash. For  tender mushrooms, you can also tear the caps, keeping a strand of the soft white core attached to each. Then wash.
For large mushrooms, cut off the caps for dinner and save the woody core to roast for broth.
In terms of flavor and fragrance maitake is exceptional. While the mushroom cooks, especially if it is roasted, the scent is—at least to my nose—reminiscent of chestnut honey. When I first made maitake chips that first bite was a revelation: It tasted as though the mushroom had been marinated in soy sauce. Maitake contains l-glutamate, a natural flavor-enhancer, and the embodiment of umami.
Roasted Hen of the Woods and Farro Pilaf
Serves 2
Two layers of maitake complexity make this woodsy pilaf sing autumn. The woodier heart makes a flavorful broth, while the roasted ears  intensify that unique flavor. (I soak the farro for 72 hours; the resulting texture of the grain, which will have begun to sprout, is wonderful.) The recipe doubles easily.
Pilaf
1 cup farro, soaked for 72 hours in the fridge, water changed every 12 hours
2 Tablespoons chives, cut finely (or field garlic)
1/3 cup pine nuts or pecans, lightly chopped
Broth
2 Tablespoons olive oil
8 oz maitake heart, finely chopped
1 cup finely chopped onion
1 garlic clove, finely chopped
½ cup finely chopped carrot
2 Tablespoons green mugwort seeds or leaves (substitute rosemary or sage)
½ cup white wine
3 cups water
½ teaspoon salt
2 teaspoons sugar
¼ teaspoon freshly ground black pepper
Roast Mushrooms
3 Tablespoons olive oil
1lb maitake caps, broken apart
¼ teaspoon salt
Drain the farro.
Broth: In a saucepan over medium-high heat warm the oil and add the maitake heart. Cook for 10 minutes, stirring occasionally. Add the onion, garlic, and carrots, stir well and cook for another 5 minutes. Add the wine, water, salt, sugar, and pepper. Bring to a boil, then lower the heat to cook at a simmer for 40 minutes. Strain the broth through a fine mesh sieve. Measure out 1 cup for the pilaf (use the extra for soup, sauce, or just do broth shots!).
Roast mushrooms: Preheat the oven to 375 degrees F. In a bowl toss the maitake caps with the oil and salt. Transfer to a large skillet and into the oven. Roast for 40 to 45 minutes; they should be turning crisp and smelling good. Remove from the oven, take out the mushrooms and reserve, leaving the mushroom-infused in the skillet.
To finish: Place the skillet over medium heat and add the farro with the chives, stirring for a minute. The grains will make appealing, popping noises. Push the farro to one side and add the nuts. Leave them to toast for a minute then stir everything together (you will notice that the germ of the farro is showing up whitely at the tip of each grain, now). Toast together for another minute and then pour in all the broth. Bring to a gentle boil and cook, simmering, until it has all been absorbed, about 20 minutes. Taste. Add salt. Now stir in the roasted mushrooms, and give them a minute to heat through. Serve at once.
(Although it is completely unnecessary no one has ever turned down the offer of some microplaned parmesan over the top…)
For more of Marie's recipes, see:
(Visited 734 times, 3 visits today)