If you were looking for a discreet little country hideaway where you could escape the cut-throat world of business, you probably would not follow in the footsteps of Jay Gould. You could, though.
Lyndhurst, the very high profile Gothic revival castle where the notorious 19th century railroad magnate and gold market manipulator chose to de-stress, welcomes visitors:
Photographs by Jeanne Rostaing for Gardenista.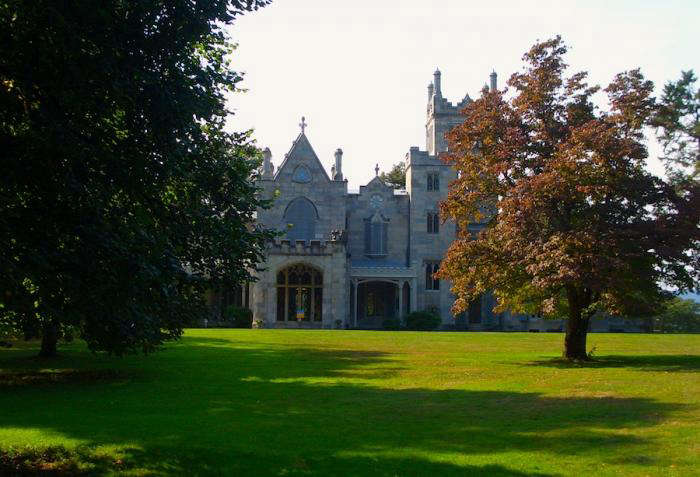 Above: The house stands today on 67 bucolic acres of land just north of Manhattan in Tarrytown, New York.
Above: Owned by the National Trust for Historic Preservation, Lyndhurst is a lovely place to visit year round but especially in the fall, when its many old specimen trees put on a color show. The trip by car or Metro North Railroad takes you along the Hudson River–and back in time.
Above: For the history buff, the area is a mother lode of famous sites such as Kykuit, the Rockefeller Estate; Van Cortlandt Manor, and Sunnyside, the home of Washington Irving, which is adjacent to Lyndhurst.
Above: The mansion resembles a rambling medieval cathedral crossed with a fortress. No wonder it was chosen as the location for two of the Dark Shadows movies. The interior is filled with original furnishings and art work and can be seen by purchasing a ticket for a guided tour, usually offered Friday, Saturday, and Sunday; May through December. Check the website for the schedule of special Halloween themed tours being offered in October. http://www.lyndhurst.org
Above: There is free admission to the Lyndhurst grounds, which are open from dawn to dusk every day of the year. Beside the majestic views of the Hudson and the Tappan Zee Bridge, a visitor can see the old linden trees which gave the estate its name, a rose garden created by one of Gould's daughters, and a restored fern garden. Much of the original landscape design, done in the 1860s by Ferdinand Mangold, was created by draining swampland and turning it into a vast rolling 20 acre lawn.
Above: It was Mangold who supervised the building of one of Lyndhurst's most intriguing features, a colossal 380 foot wide greenhouse. Like the remnants of a dinosaur, it survives today as a sprawling steel skeleton, with its once glittering panes of glass long ago destroyed. But in Jay Gould's time the greenhouse was a favorite haunt of his and held his vast orchid collection and more than 240 varieties of palms.
Above: The greenhouse was built on the site of an earlier, wooden one that burned just after Gould bought the property in 1880. It was designed and built by Lord and Burnham, Victorian greenhouse specialists who also built the Enid Haupt Conservatory at the New York Botanic Garden. Gould's was the first in the US to be made of metal framing which was not only fire-proof but let in more light than thicker wooden frames.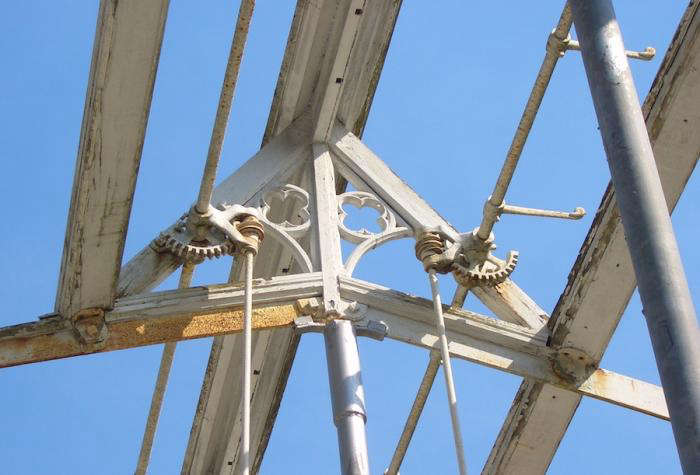 Above: Jay Gould employed 16 fulltime gardeners, who labored in 14 separate plant rooms in the greenhouse, as well as in a hot house where fruits and vegetables were grown out of season.
Above: Gould died of tuberculosis in 1892. His fortune, estimated to be approximately $75 million, was left to his six children. The greenhouse was in operation until 1945, when the orchid collection was sold off and the greenhouse was closed to save fuel.
Above: Lyndhurst remained in the Gould family until 1961 when Gould's youngest daughter Anna died and left the property to the National Trust for Historic Preservation.
Above: By car, it takes about 45 minutes to drive from Manhattan to Lyndhurst.
(Visited 42 times, 1 visits today)