My clients are often in love with gravel, or at least with the idea of gravel. But as a landscape designer, I have a love-hate relationship with the paving material.
The other day I visited a clients' newly purchased house—and realized that the sellers had put pea gravel between the entry pavers to "dress it up." Gravel was scattered everywhere. Instead of being neatly tucked between paving stones, the stones felt undesirably scratchy underfoot. I thought: right material, wrong place.
Here are 10 things I wish all my clients knew about gravel:
1. Not all gravel is created equal.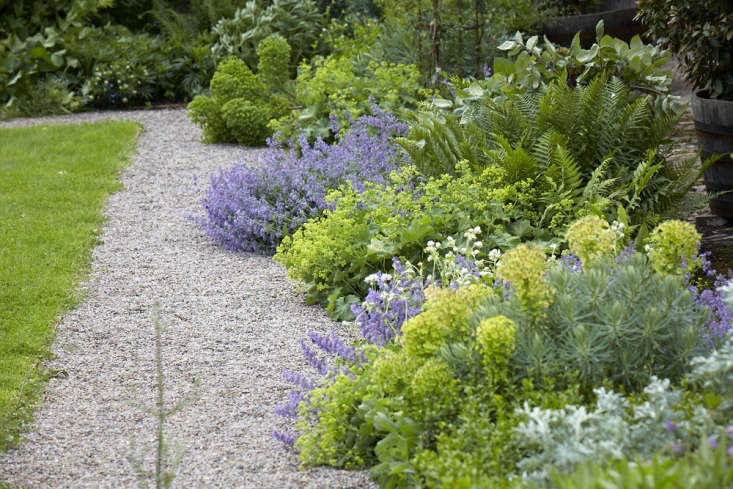 After you decide to add gravel to your landscape, the next question to ask yourself is: what kind? Each type of stone has its own distinct look and textural appeal, and its own purpose. Your selection will vary regionally, so I recommend the first step should be to visit a local stone quarry to see what is available.
2. Get to know the three most common textures of gravel.
After you settle on a variety and color of stone, you will need to consider size and texture: decomposed granite, crushed stone, or pea gravel?
In a nutshell: Decomposed granite (or DG, as it's known) is a powdery granite that makes a fine texture of silt and little rocks. DG is a popular option for paths and patios. Usually yellow-gold and fading to tan in color and relatively affordable. Crushed stone is probably the closest to the typical idea of what a gravel driveway looks like. This material is also used for patios, retaining wall drainage, back fill, and grading. Pea gravel is tricky because its name has the word "gravel" in it, but some note that pea gravel is actually a small and smooth river rock.  See Hardscaping 101: River Rocks to learn more.
3. DG may stick to your shoes or a pet's feet.
My major pet peeve is that the particles (especially when wet) will hitchhike into your house, where it not only will create a mess but also can scratch hardwood floors.
4. Decomposed granite needs more maintenance than you might expect.
Install decomposed granite in layers for added durability, compacting each layer. Also consider adding a stabilizer product (a water-activated binder) to glue the tiny pieces together. While it can hold up for a considerable time, it does need periodic refreshing if soil muddles it or moss tarnishes it in shady spots. Last, you might also consider installing landscape fabric underneath to discourage weeds.
5. Most crushed stone colors range from gray to gray.
Depending on where you live, crushed stone comes in a variety of colors but mostly shades of gray. Size ranges from .5 to 1.5 inches and can be purchased by the bag or the yard.
This material provides good traction because the shapes are basically angular and fit together like puzzle pieces, and resists weed growth while also allowing water to permeate.
6. You need to lay a weed barrier beneath gravel.
Tips
: Lay down landscaping fabric first to ward off weeds, and unless you're laying a very small area, it's usually more economical to buy this gravel by the yard rather than by the bag.
7. Crushed stone underfoot? Wear shoes.
8. Pea gravel requires a rake.
Regularly rake paths, walkways and patios to maintain an even surface. Consider installing a edging material to help keep stones in place. I love walking on crunchy pea gravel paths; it reminds me of walking on a beach. Pea gravel sizes can vary from 1/8″ to 5/8″ and come in an array of different buff colors. Purchase either in bags or by the yard.
9. Landscape edging to keep gravel in place can get pricey.
"Whether you have a pristine space or you garden on the more naturalistic side of the horticultural fence, incorporating an edge between your borders and lawn has many benefits," writes Clare in our guide to Landscaping 101: Lawn Edging. Edging options include metal, wood, stone, concrete, brick, and even plastic at costs that vary from budget-friendly to pricey.
9. There are better fillers than gravel to use between pavers.
Lightweight stones have a predisposition to scattering and can quickly look messy if the material gets out of bounds so I discourage using gravel as filler between pavers.
10. Gravel can be a drag if you have to drag garbage cans.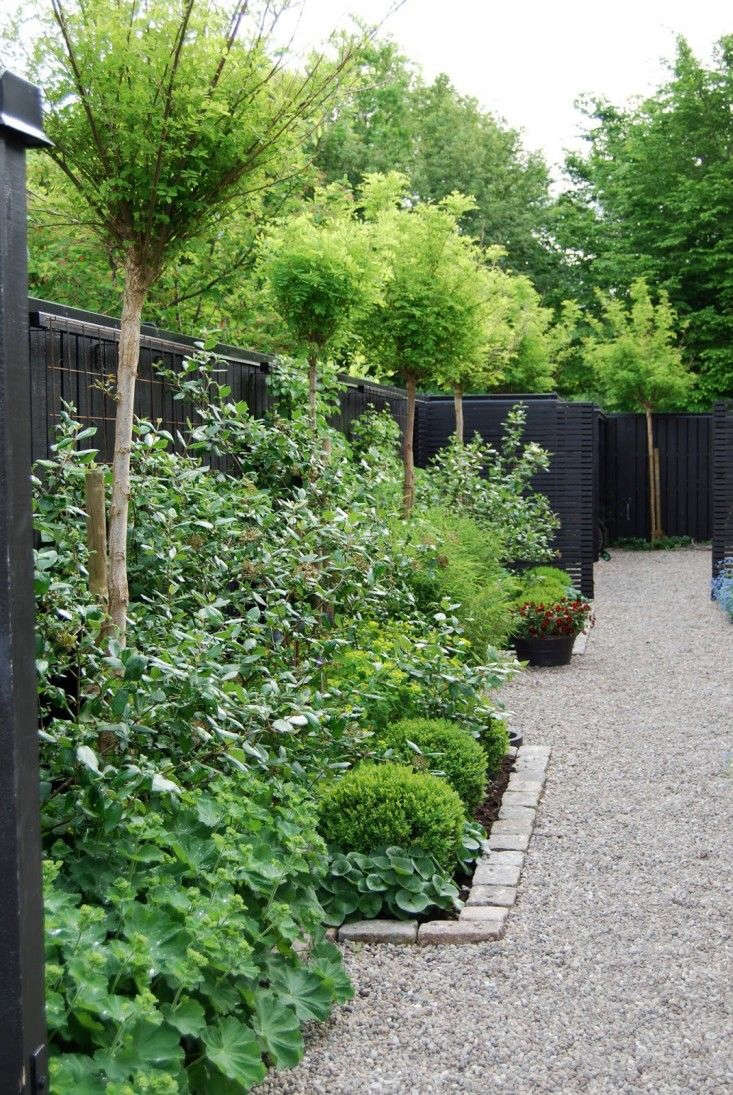 If you try moving anything heavy like garbage cans or lawn mowers over gravel, it can feel like … a drag. Consider installing a concrete pad to store bins.
For more ideas, see How to Successfully Use Gravel in Any Landscape  in our curated Hardscape 101 guides. Read more:
Finally, learn how to successfully use gravel in a hardscape project with our Hardscaping 101: Gravel guide.