Anyone with a lawn knows the instant gratification that a sharp, freshly trimmed edge can give, but while keeping lawn regularly cut is one thing, it's far more time consuming and fiddly to keep your edges in order. Step forward: lawn edging.
What are the benefits of lawn edging?
Whether you have a pristine space or you garden on the more naturalistic side of the horticultural fence, incorporating an edge between your borders and lawn has many benefits. A strong edge will create neater, visually pleasing lines but it will also prevent border plants merging into grassed areas and help minimize infestations of weeds, especially invasive plants such as couch grass, from running into your borders too. It may also help to stop the migration of mulch and bark chips onto grassed areas.
What are the best materials to use for lawn edging?
The material you choose does, to a certain extent, depend on the style of your garden. There are options in metal, wood, stone, concrete, brick, and even plastic.
Metal Lawn Edging
Steel edging such as
EverEdge
is one of the strongest options and it's very popular with garden designers—count the gardens at the
Chelsea Flower Show
using this sturdy, durable and aesthetically pleasing edging. It comes in meter-long strips that link together and are then sunk into the ground with pointed "teeth," or, in longer strips that can be manipulated into sinuous curves. There are also circular options to install around trees and other features and this type of edging comes in many finishes too including black, brown, and rusted Cor-Ten steel.
Pros:
Long-lasting, sturdy, looks great and you can generally use a mower or strimmer right up to the edge.
Cons: Can be expensive.
Plastic and Rubber Lawn Edging
There are increasingly sophisticated edging options in plastic, including a heavy duty polypropylene edging from
Smartedge 
which is flexible and is fixed into place with pins (£32.99 for 5 meters).
EcoBlok's Flexi Border is made from recycled rubber tires but mimics small bricks and comes in a range of colors. It can also be curved to 70 degrees (£12.99 per meter).
Pros: Quick to install, can be economical.
Cons: Some plastics can become brittle and break over time.
Wood Lawn Edging
Perhaps the most economical and lo-fi edging of all, is a simple timber plank that is sunk into the side of lawns and held in place with a few deeper uprights. But most garden centers also sell other wooden options on rolls including willow, bamboo, or mini logs.
Pros: Easy to install, will look naturalistic against borders and lawn.
Cons: Not as long lasting as some other materials.
Brick or Stone Lawn Edging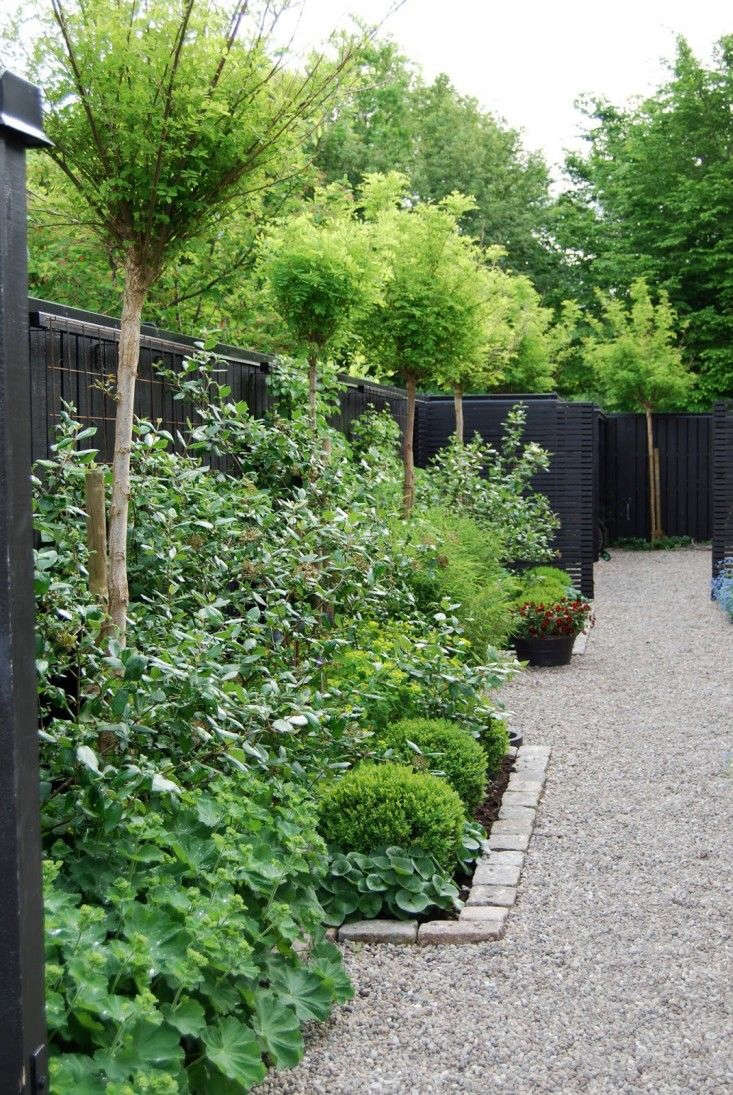 For cottage gardens, the mellow tone of brick provides a very traditional and aesthetically pleasing edge. Bricks are inserted on their long side either directly into the soil or, better still, onto a layer of sand. They are then knocked into position and checked as you go along with a plumb line to ensure they are level. This is an economical option if you have old bricks to use up. There are also a variety of stone, terra cotta, or concrete panels which are laid in a similar way or laid permanently on a concrete foundation.
Pros: Gives an instant cottage garden feel and looks great.
Cons: More time consuming to install, can be more expensive if you are sourcing bricks. Bricks can sometimes need resetting over time and some are susceptible to frost damage too.
N.B.: See more landscape edging ideas:
(Visited 328 times, 1 visits today)