Honesty, Lunaria: "Silver Dollar"
Honesty is honestly loved—for its long performing time, early color, and the handsome shape of the plant. Not to mention its jagged heart-shaped leaves, cruciform flowers, and flat disks of seeds that continue to develop in hue and texture over summer. Whether white or vibrant lilac, honesty does the job of brightening a shady spot in a way that is rarely planned.
Photography by Jim Powell for Gardenista.
In the Lunaria genus are annual, perennial, and biennial species. Most commonly spotted in gardens is L. annua, a flower that self-seeds freely and pops up in unexpected places.
In spring, honesty creeps up on you by gaining height while other herbaceous things are still hugging the ground. It gives a hint of the height and structure to come, with summer's spires. Being a self-seeder, it sprouts in places that are hard to reach with a trowel, even if you'd thought of planting one there.
Unlike say, allium, the flowers of Lunaria bear no resemblance to the seed heads. Like allium, it is good-looking at every stage. Planted in an awkward corner between a hedge and a building, it softens the scene early on, while fading into the background when everything else catches up. Lunaria is part of the Brassica family.
Honesty has a way of choosing the best spots where its color and leaf shape are seen at their best advantage, with acid green of euphorbia or Smyrnium perfoliatum (shown). They hold their own on a woodland garden floor but benefit from thinning, so that the crowd does not become too dense. When happy, they can grow to heights of two feet and almost as wide.
The default version of Lunaria annua is purple-mauve. White is a variation but for something that works twice as hard there is the variegated honesty (Lunaria annua var. albiflora 'Alba variegata'). With leaves that are outlined in marbled silver, it would be a valuable addition in a white garden.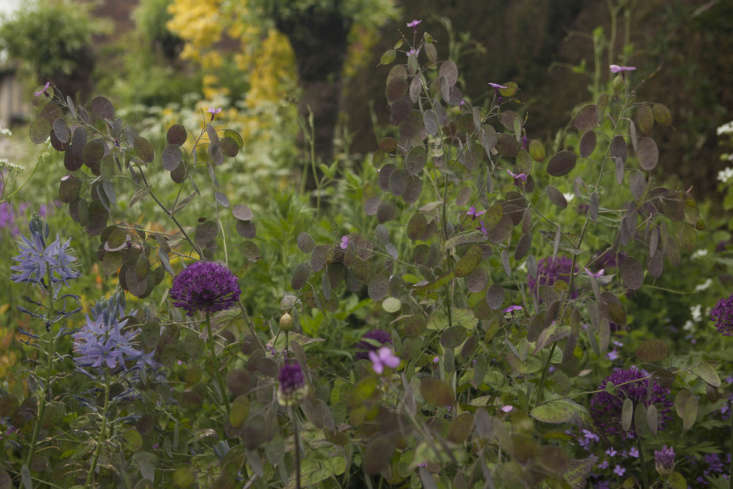 Some forethought in sowing honesty seeds (remembering that they won't flower until two years later) could lead to transformative color combinations. Shown here, a whole range of purples developing over the season at Great Dixter.
Cheat Sheet
Despite its name, Lunaria annua, honesty is a biennial. The perennial version, mauve-white, is Lunaria rediviva, with elliptical rather than round seed cases.
Variegated honesty, with marbled leaves, is a useful cut flower, with good value in its heart-shaped leaves as well as its flowers.
Honesty is a European native and is hardy to zone 4. In the USDA, various varieties will thrive in growing zones 2 to 10.
Keep It Alive
Leave the seed cases for decoration but take some seeds for yourself as well.
Remove self-sown seedlings if there are too many; sow seeds when the cases become papery.
Honesty thrives in any kind of soil that is moist and well-drained, sheltered or exposed, in sun or shade.
For more growing tips, see Honesty: A Field Guide to Planting, Care & Design in our Annuals 101 and Perennials 101 guides. Read more:
(Visited 332 times, 3 visits today)