Hang the garden makeover; anyone who favors natural, twiggy plant supports can have an authentic English cottage garden.
One hundred fifty years ago, there were extremes. Cottage dwellers had highly productive, unintentionally pretty gardens. Landowners had a manicured sward, magnificent flower borders–and a team of gardeners. These days, the cottage style is the one that makes sense, ecologically and economically. Here's how to get the look, using willow garden supports and arbors.
Photography by Kendra Wilson, for Gardenista.
Above: A Tri-Fold Screen made of woven vines can stand on its own or lean against a wall; it's $198 from Terrain.
Above: A rustic, homemade alcove for climbers. A Living Willow Arbour is £240 at Natural Fencing.
Above: Runner bean poles made from hazel. Willow plaited around the center strengthens the structure.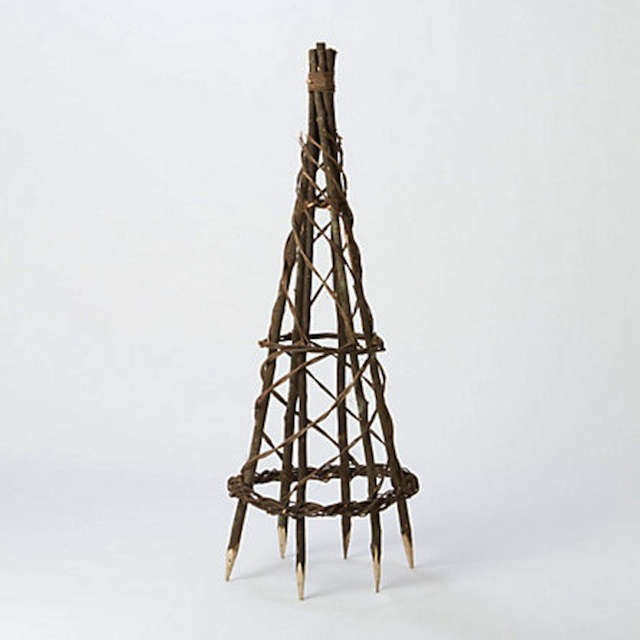 Above: If you don't have your own hazel, a Braided Vines Obelisk can provide similar support. It's $88 from Terrain. A Hazel Obelisk is £30 at Natural Fencing.
Above: Clever people like author and seed supplier Sarah Raven (in whose garden these photos were taken) grow their own hazel and willow to ensure a regular supply. Others are perfectly within their rights to use trimmings donated from neighbors, begged from park departments, and "stolen" from their own gardens. Willow can be bought by the bundle from Musgrove Willows, Somerset.
Above: A wigwam for sweet peas does not need to be willow or hazel; alder or birch will do.
Above: A surround for thalictrum. For staking, build the structures before the cut material is allowed to dry out so it remains pliable and will bend round corners without snapping. (The end of winter is the best time to be doing this.)
Above: Hazel verticals and horizontals are screwed together to make an arbour. Flexible willow forms the arch. Making your own supports means that you can tailor them to the size and shape you require. Making them on the spot is ideal: Supports from garden centers are designed to fit on the top of a car and are rarely tall enough for vigorous climbers.
Above: Try a willow weaving workshop to unearth hidden talents. This plant support was made in Cambridgeshire and took part of a morning; at the end of a day many more would be loaded into the back of the car. The next best thing is to pay for a slightly eccentric obelisk like this one, having been homemade by someone else.
Simple weaving skills could lead to more complex knots. The addition of netting keeps pigeons off leafy vegetables at Blacksmiths Cottage.
Above: Phlox encircled by hazel. Essentially, the stout part of the pole, branch or wand is driven into the ground as a support and the finer pieces are bent round and twisted, while adding more of the pliable tips — cut into reasonable lengths — by the handful as you go. Because willow and hazel are so good-natured, they will allow you to twist strands together without coming undone again. (N.B.: For more bent wood garden structures, see Wind in the Willows.)
(Visited 769 times, 1 visits today)