The spring sunshine in Cape Town has a brittle quality, where periods of intense clarity are suddenly muted by bursts of rain. Moments later the sky clears, Table Mountain reappears from the shrouding clouds, and the world sparkles. At Jaftha's Flower Farm in Constantia, fields of ranunculus and stocks are in bloom, posies of violets are sold by the delicate bunch, and long-stemmed, fragrant freesias are bought by customers who bump down Brounger Road (freshly potholed by a sodden winter) to the small, fifth-generation farm. (Learn the history of the farm in our previous story.) Jaftha's is a destination for any flower-loving visitor to the city, and for me, recently, the welcoming farm offered floral comfort during a visit from New York City to see my unwell mother.
Photography by Marie Viljoen.
I last visited Jaftha's Flower Farm in summer, when its rows of plum trees were dropping ripe fruit and the fields were filled with the dahlias for which the Jaftha family is famous. Now, in early spring, the fruit trees are in bloom and the dahlia tubers that were lifted before the Cape's wet winter are about to be planted again in the rich black soil of the valley.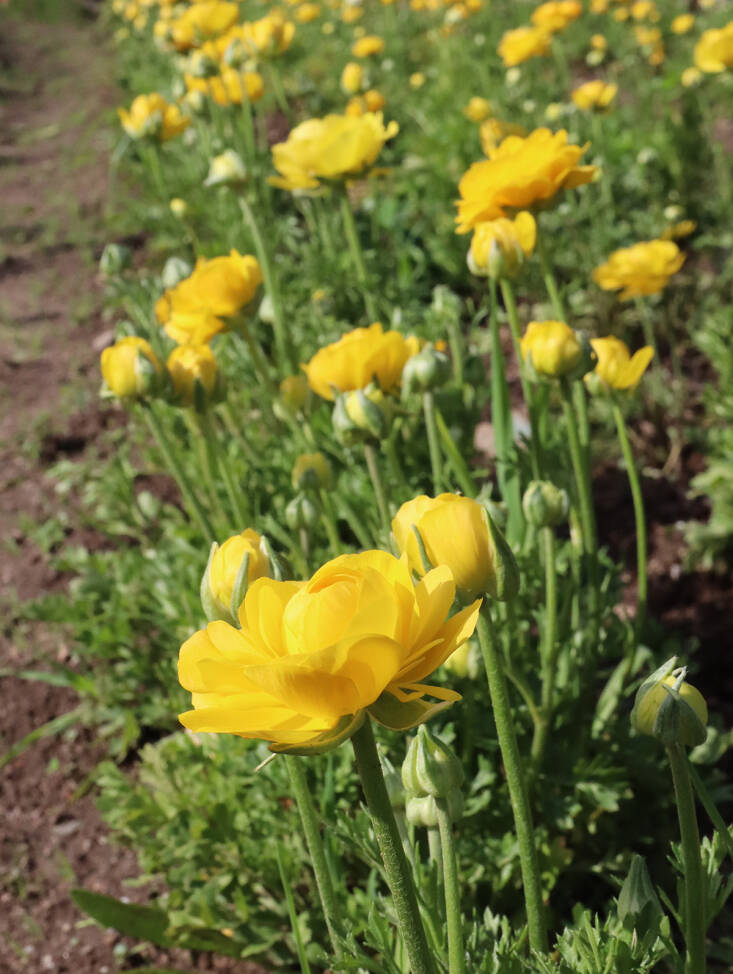 Buying flowers directly from any cut flower farm is a treat, and at Jaftha's the same flowers cost around a third of local store-bought bouquets. For visiting Americans, there is an exchange-rate bonus: The prices are exceptionally favorable at a time when one US dollar buys around 18 South African rands. For example, at the time of writing, a R50 bouquet of vivid ranunculus is $2.65.  And those flowers last up to 10 days, in fresh changes of water.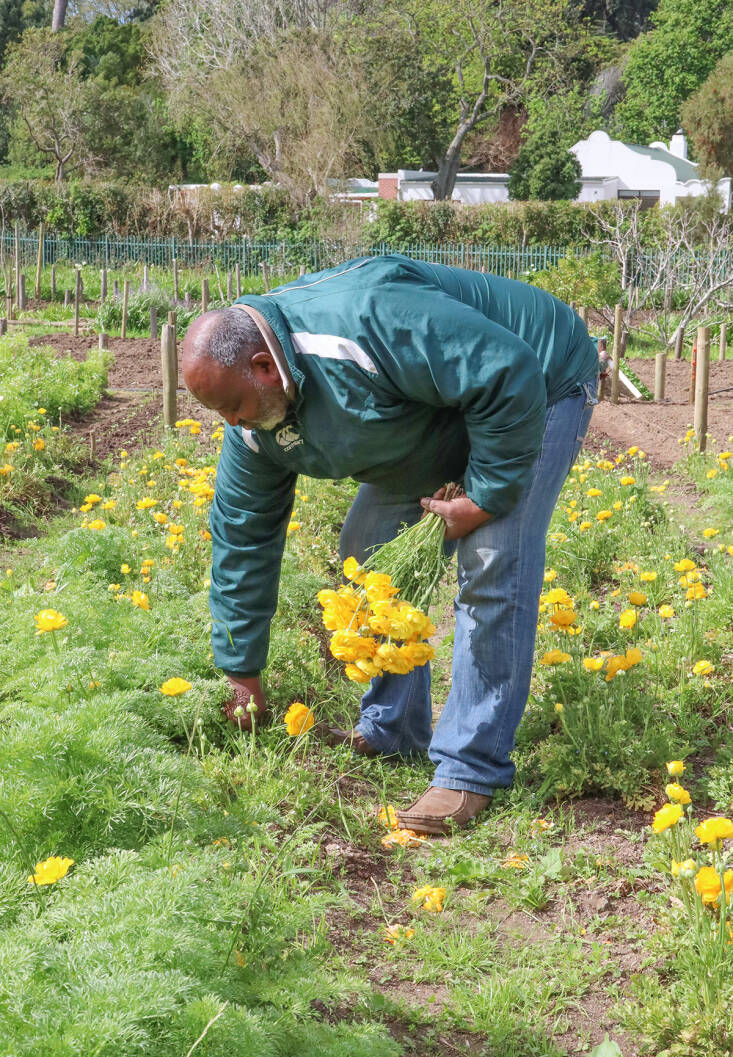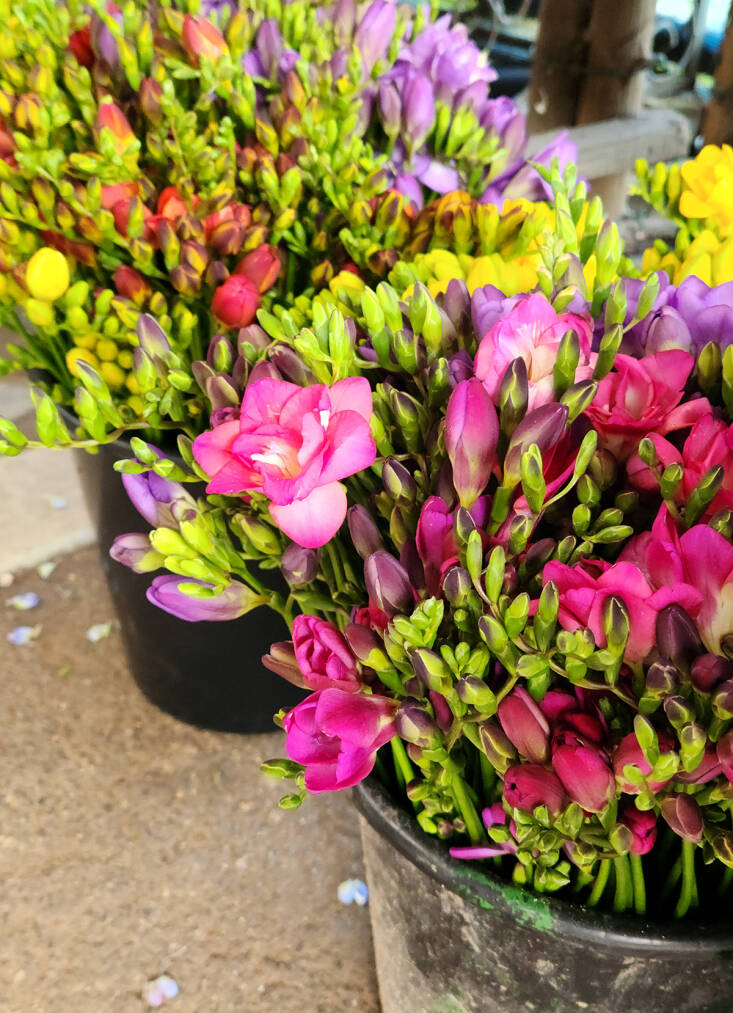 Freesias were the flower that brought me back to Jaftha's again and again during a nearly month-long stay. At a series of temporary Airbnb homes, I watched the austere and tightly budded stems open gradually, releasing more and more scent as each flower's petals unfurled. I took bunches to my mother, who used to grow freesias (native to South Africa) in her beautiful garden.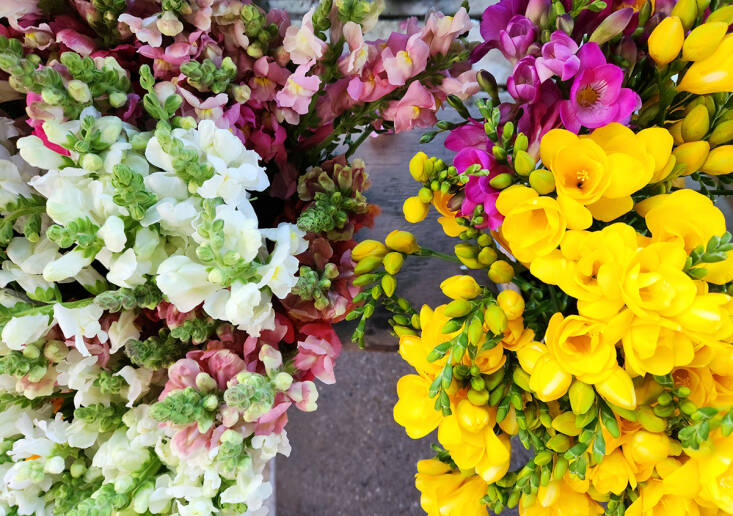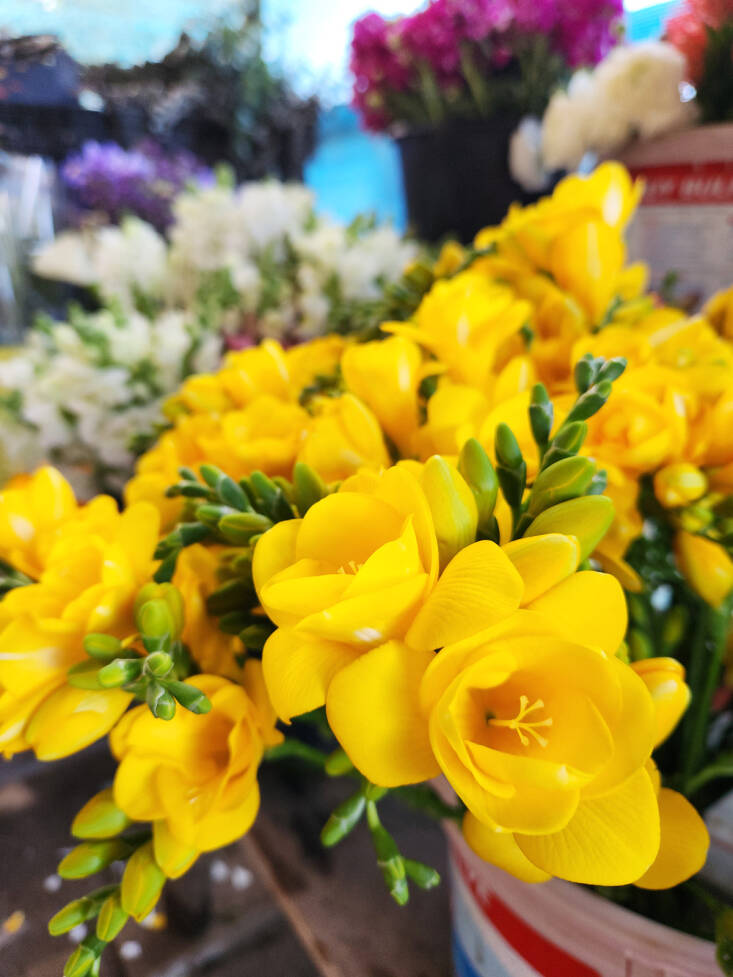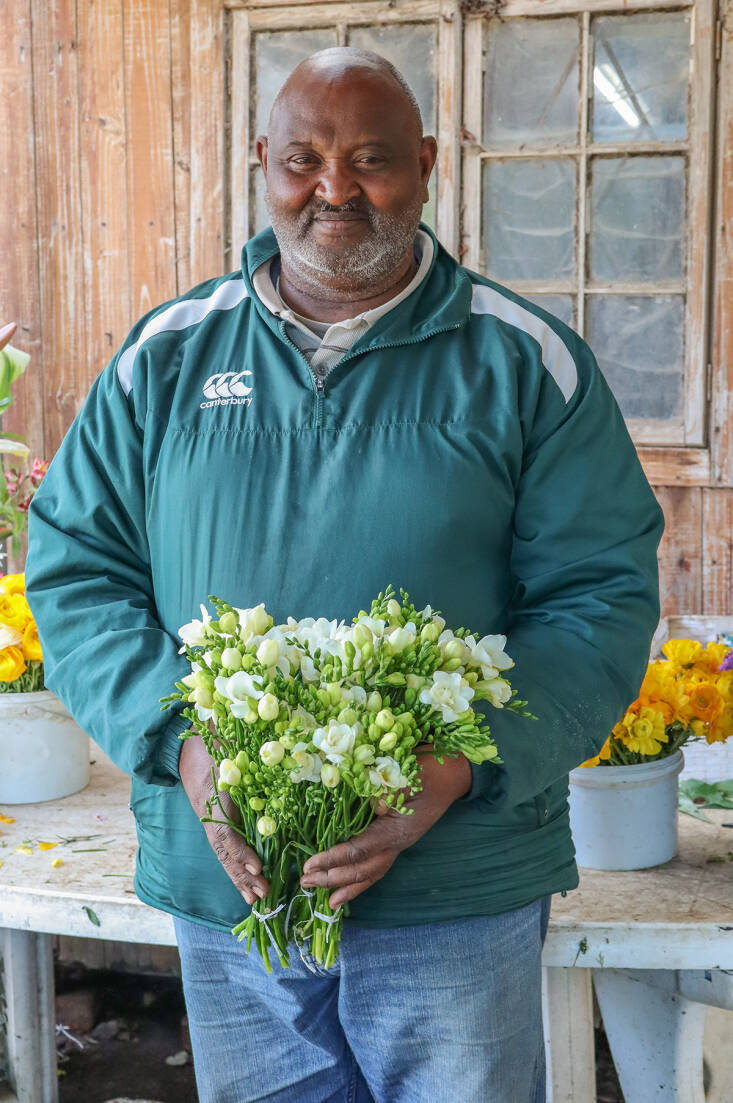 After three careful, COVID-19-free years, I had managed to catch the evolving virus on the crowded flight from Newark to Cape Town. The ill-timed infection packed a punch, and I was out of commission for a miserable week. When I could smell the freesias again, I knew that I had turned a corner, and could visit my elderly mother again.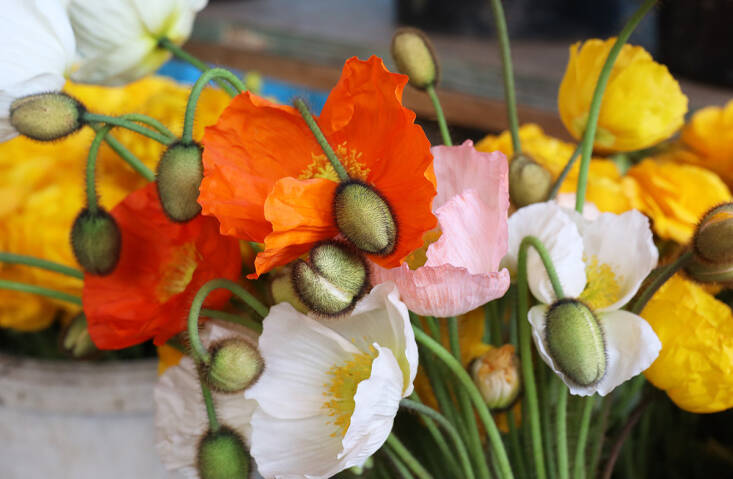 Iceland poppies are sold for a couple of weeks in early spring and are underrated for perfume. Their crinkled petals emerge from furry buds, which drop like cocoons from which butterflies have broken free.
Queen Anne's lace has a very long season in Cape Town, from early spring through summer's end.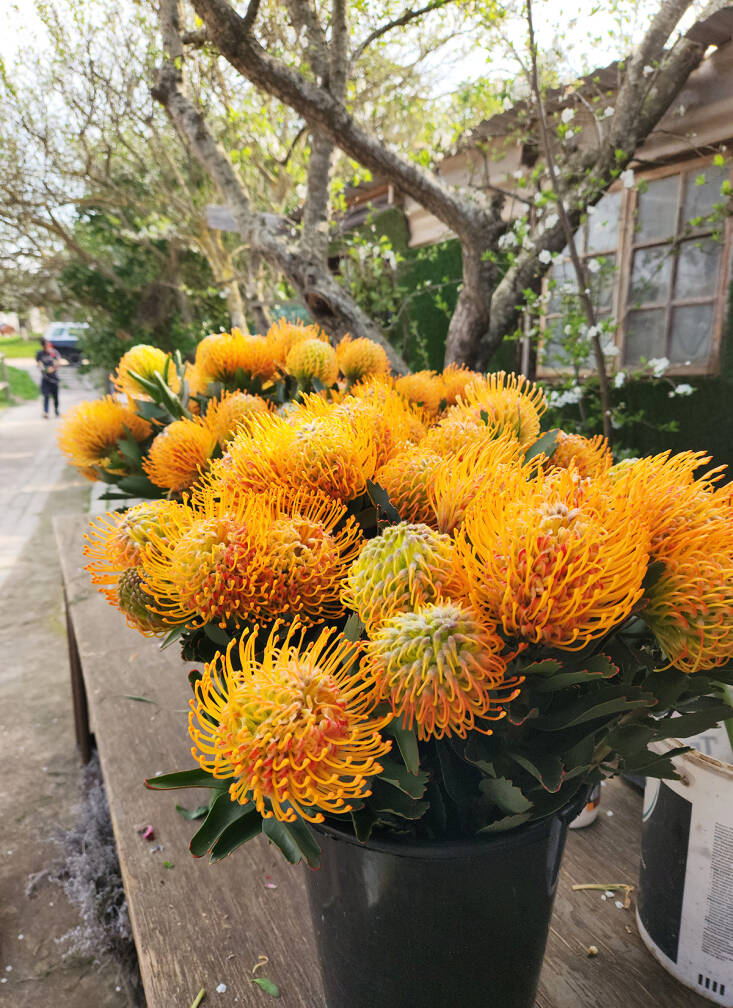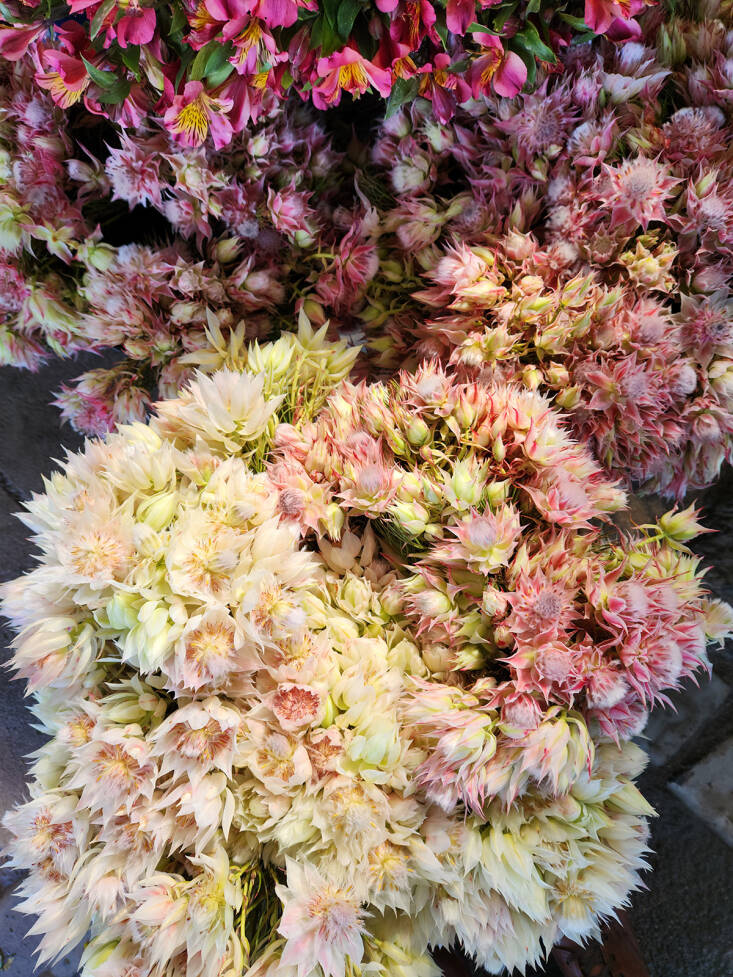 South African native blushing bride (Serruria florida) is critically endangered in the wild. The flowers sold commercially around the city are farm-grown in the Western Cape.
New customers keep discovering  the Jafthas. The farm has a very low profile on social media, and word of mouth is still its strongest recommendation. Visitors are welcome to walk the unfenced fields, and in summer the fruit of those plum trees is offered to anyone who would like some (eggs too, from the happy flock, if you arrive early).
There is no bad season to discover this heritage-rich farm where a flower-selling tradition grows strong. Just jump on a direct flight from the US. (And cover your cough.)
See also:
(Visited 1,432 times, 73 visits today)
Frequently asked questions
Where is Spring Jaftha's Flower Farm located?
Spring Jaftha's Flower Farm is located in Cape Town, South Africa.
What can I find at Spring Jaftha's Flower Farm?
Spring Jaftha's Flower Farm offers a wide variety of flowers, including roses, dahlias, tulips, and more. They also have a selection of potted plants and gardening supplies.
Can I visit Spring Jaftha's Flower Farm?
Yes, Spring Jaftha's Flower Farm is open to the public for visits. However, it's best to check their website or contact them directly for information on visiting hours and any restrictions.
Do they offer flower delivery services?
Yes, Spring Jaftha's Flower Farm provides flower delivery services within the Cape Town area. You can check their website or contact them to inquire about delivery options and fees.
Can I purchase flowers online from Spring Jaftha's Flower Farm?
Yes, Spring Jaftha's Flower Farm has an online store where you can browse and purchase their flowers, plants, and other products. Simply visit their website and follow the instructions for online ordering.
Do they conduct workshops or events at Spring Jaftha's Flower Farm?
Yes, Spring Jaftha's Flower Farm organizes various workshops and events related to gardening, floral arrangement, and more. You can check their website or social media pages for updates on upcoming workshops and events.
Are there any other services provided by Spring Jaftha's Flower Farm?
In addition to flower sales and delivery, Spring Jaftha's Flower Farm also offers gardening consultations and landscaping services. You can reach out to them for more details and to schedule a consultation.
Can I bring my kids to Spring Jaftha's Flower Farm?
Yes, Spring Jaftha's Flower Farm is a family-friendly destination and welcomes visitors of all ages. Children can enjoy exploring the farm and learning about flowers and plants.
Is parking available at Spring Jaftha's Flower Farm?
Yes, Spring Jaftha's Flower Farm provides parking facilities for visitors. You can safely park your vehicle while you explore the farm and make your purchases.
Are pets allowed at Spring Jaftha's Flower Farm?
Although Spring Jaftha's Flower Farm loves animals, pets are not allowed on the farm premises, with the exception of service animals.