Amsterdam's great canals were built in the 17th century, prompting the city's burgers to rush to build elegantly formal houses on narrow plots of adjacent land. Four hundred years later, the city's canal house gardens offer ideas to steal for any townhouse garden.
If you have a narrow backyard, canal house gardens may offer a useful design template: clipped hedges, symmetrical layouts and hardy perennials (roses, hostas, and hydrangeas prevail).
Here are 10 garden ideas to steal from Amsterdam's canal houses.
Formality
With narrow lots and houses standing shoulder to shoulder, a canal house garden was designed to be viewed from a slightly elevated vantage. The ground floor of the house was designated as servants' work and living spaces (including the scullery and laundry areas); the wealthy 17th-century homeowner and family members looked down on the garden from windows on higher floors.
A formal layout, with symmetrical garden elements and neat paths, offers a pleasing geometry from view from above. If you have a balcony or deck overlooking your garden, formal elements can create patterns and forms that soothe the eye.
Water Features
A fountain evokes the ultimate water features of the city's three main canals—Herengracht, Prinsengracht, and Keizersgracht—in the canal house gardens of Amsterdam. In any city garden, the sound of running water is a welcome distraction from traffic noises. See Everything You Need to Know About Fountains for inspiration to design your own water feature.
Pelargoniums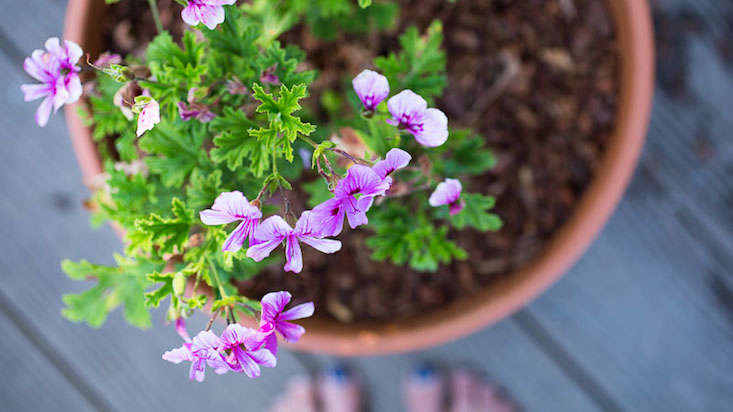 All around Amsterdam you can see window boxes with bright red, pink, or white blooms. So-called geraniums are really pelargoniums (see Please Don't Call Them Geraniums for more).
Add color to container gardens with scented pelargoniums; in cold weather bring them indoors to ride out the winter on a windowsill. See more at Pelargoniums: A Field Guide to Planting, Care & Design.
Buffer Zones
Tall, narrow canal houses block street sounds. In narrow city gardens, you can create privacy with a buffer zone—plant a layer of vines or shrubs against a fence or wall. Buffer zones make a small space feel larger.
Hollyhocks
Juxtapose an unexpected casual element against the formality of a classical facade or in a garden bed. Here, hollyhocks breach a sidewalk in Amsterdam. They would look just as happy in a back garden, against a fence and behind a low clipped hedge of boxwood. See more in Hollyhocks: A Guide to Planting, Care & Design.
Brick Paths
"Whatever its color or shape, [brick] is the ubiquitous Dutch building medium, for the Netherlands is a country without granite mountains or sandstone deposits, and where nearly every flat rural water-logged hectare is devoid of stones," writes Peter Eisinger in Michigan Quarterly Review.
Brick is a welcoming hardscape material which can be laid in a wide range of patterns. It is "hardworking, aesthetically versatile, easily maintained, and affordable," writes our contributor, Ellen Jenkins. See more in Hardscaping 101: Brick Patios.
Plant in Patterns
With low-growing shrubs, you can create fanciful designs: mazes, undulating waves, boxes, and circles are some of the possibilities. See more in Boxwood Topiaries: 6 Tips for Trimming Shrubs from Niwaki's Jake Hobson.
Clipped Boxwood
The ultimate shrub for shaping, boxwood is versatile and has many cultivars to choose among. See more in Boxwood: A Field Guide to Planting, Care & Design.
Trellises & Arbors
Add structure and support with an arbor, trellis, or pergola. See more in Everything You Need to Know About Arbors and Everything You Need to Know About Trellises.
Window Boxes
Many city townhouses, including canal houses, cover most of the lot with the building. Add a garden element to a front facade with window boxes. See more in Hardscaping 101: Window Boxes.
Looking for more garden design ideas? Start with our curated guides at Garden Design 101 if you're planning a Patio, Path, or Driveway. See more of our favorite Netherlands garden designs.
(Visited 518 times, 1 visits today)