In the Netherlands, outdoor spaces are carefully choreographed and Dutch gardens have traditionally been an orderly affair.
But there's a paradox. For centuries sharp-cornered rectangular beds bordered by clipped shrubs have kept unruly plants in their place. And yet, Dutch gardens are crammed with colorful flowers irresistible to everyone from the old masters, who venerated their velvety textures in paintings, to the 17th-century tulip maniacs whose obsession led to an economic collapse.
Nowadays, Dutch gardens are at the forefront of modern landscape design. Garden designer Piet Oudolf's meadows of four-season perennials have a relaxed casualness that belies the precision of his plantings. Designers such as Martin Veltkamp and Ronald van der Hilst have a modern, minimalist style that makes their geometric gardens feel airy. And in Amsterdam, where space is at a premium, city gardeners have pioneered creative cultivation techniques.
Here are 10 ideas to steal from gardens in the Netherlands:
Every Inch Counts
Equal-Opportunity Bulbs
Instead of planting spring bulbs in formal rows, scatter and intermingle: purple and orange is a lovely combination against a backdrop of green turf. Almost any spring bulb looks better when it grows in a tangle with another kind of spring flower bulb. Let tulips, fritillarias, anemones, hyacinths, and daffodils mingle.
A Formal Greeting
Dutch gardens are known for their precision; laid out symmetrically and bordered by clipped shrubs, they rely on the geometry of rectangles and square corners to create an orderly backdrop for water features and flowers.
A Sense of History
Above: In Limmen, Netherlands, the Hortus Bulborum Foundation propagates and preserves 4,000 kinds of heirloom spring bulbs including tulips, hyacinths, and daffodils.
"Nowhere on this globe you will find such a fine selection of old bulbs in one place," notes the foundation, which counts among its collection "tulips dating from 1595, the famous 'Duc van Tol Red and Yellow'; the oldest known cultivar and dozens of other cultivars which were prizes possession as far as back as the Golden Age."
In the US, Old House Gardens imports bulbs from Hortus Bulborum and is the best source for a wide range of historic spring bulbs; Duc Van Tol Red And Yellow tulip bulbs are $18 for three and ship for fall planting.
Mien Ruys Modernism
An influential 20th century landscape designer, Mien Ruys created gardens that juxtaposed the loose airiness of grasses  with formal, clipped perimeters. A forerunner to Oudolf, she experimented with textures and foliage.
Floating Gardens
If you have no soil, you can have a container garden on a roof, patio—or boat deck.
Pared-Down Tranquility
For more of this garden, see A Classical Approach to a Mod Minimalist Garden.
Investment Tools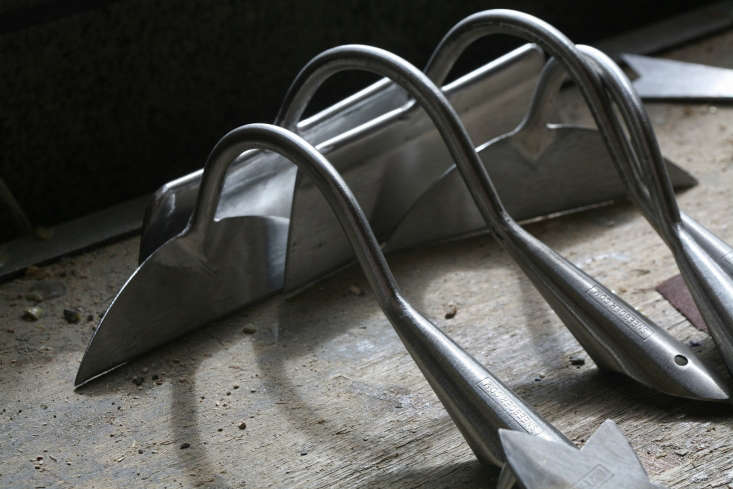 Netherlands-based toolmaker Sneeboer & Zn was founded in 1913 by Arie Sneeboer, whose motto was: "I know how to improve." Nowadays a fourth generation of the family business still relies on traditional hand-forging techniques to manufacture high-quality stainless steel tools for the discerning gardener. The company's line includes dozens of specialty hoes such as the Royal Dutch Hoe (€68), the Heart Shaped Push Hoe (€61.90), and the 12-centimeter Halfmoon Pull Hoe (€47.70).
Grand Gestures
Water Features
For more of our favorite Dutch gardens and flowers, see:
(Visited 1,031 times, 3 visits today)