It's important to make an entrance at a party or in a garden. For a party, you need charisma and of course the right shoes. For a garden, all you need is an arbor, preferably covered in glorious climbing roses.
An arbor is a piece of hardscape that takes a garden from meh to magnificent, framing a gate or path in a doorway of flowers and leaves. An easy way to add drama to a landscape design, arbors have been around for millennia, gracing gardens in ancient Greece, China, France, Portugal, Italy, India, Japan, and medieval England.
Arbors offer a partial view into the garden beyond, giving visitors an enticing glimpse of the private space they're about to walk into. (A peek is more tantalizing than a full view, because it invites you to imagine what's behind the vines.)
Which arbor is right for your garden? It depends on the purpose you have in mind: Arbors can be paired with a gate or stand alone as a doorless portal. Read on for everything you need to know to choose the best arbor.
What's the difference between an arbor and a pergola?
Arbors often get confused with pergolas and trellises. What's the difference? They're all a type of hardscape that props up plants, right? Yes, but each plays a different role in a landscape.
A pergola supports a rooftop grid where vines can be trained to provide a natural source of shade. It's generally the size of a room, can be freestanding or attached to a house to shelter a patio.  A trellis is a flat grid propped against a wall or fence to support trailing plants. An arbor is a freestanding structure that creates an entrance to a garden by creating a portal of living plants for you to pass through.
Look at this way. If your garden were a room, the pergola would be the ceiling. The trellis would be the wall. The arbor would be a doorway. Read on for tips on picking an arbor that fits your garden.
Should I pick an arbor that's pretty or one that works hard?
You want both. As any student of design can tell you, form should follow function. An arbor is beautiful because it gives climbing, rambling, and twining flowers, fruits, and vegetables a spine to grow on. Arbors aren't just a place to keep wisteria and climbing roses off the ground. They bring vertical zing to the horizontal ho-hum of a yard or garden. That mix of shapes is a design principle called contrast, and it keeps your garden from being predictable. They also draw the eye upward, making the garden around it feel larger and grander.
How do I choose an arbor that's the right size, scale, and style?
Pick an arbor that goes with the architectural style of your house. An ornate, cottage-style arbor will look as out of place next to a midcentury mod house as boho fringe on a Burberry coat. Make sure your arbor is tall and wide enough for you to walk through it: at least six feet high and three feet wide. The arbor also needs to be in scale with its surroundings. Arbors range in size from three feet wide to 10 feet wide. You'll need a big garden to accommodate an arbor that's the length of a smart car, but a three-foot-wide arbor is ideal for most home gardens. Be sure you get one that's sturdy enough to support the weight of climbing plants and made of weatherproof materials that can stand up to the elements. An arbor that falls apart in two seasons or collapses beneath the weight of a wisteria is a garden fail.
Can I make an arbor?
Yes, if you're handy with tools, you can build an arbor custom to your space. If you're more HGTV binge watcher than weekend woodworker, you can buy kits that can be assembled with nothing more than patience and a screwdriver. And, of course, you can buy ready-to-go arbors that require neither artisan skills nor tools.
What are the best materials for arbors?
You can find arbors made of iron, steel, wood, and wood polymer composite materials that can stand up to the wear and tear of the outdoors. Wood and metal arbors have the most classic looks. For a long-lived arbor, choose a weather-resistant wood such as cedar that's resistant to rot and insects, or a powder-coated metal that can withstand rust.
What are the most common styles of arbors?
Read on to learn about arched, moon gate, gabled, and bench-equipped arbors and decide which one belongs in your garden.
Arched Arbors
The arched arbor has a classic shape, the one you'll most often see. It's generally made of wood or metal. It has two flat sides that meet overhead in a graceful arch. An arched arbor usually has grid or ladder-rung-style supports that plants can hold on to as they climb upward. If the arbor is ornate and you want it to show, plant sparsely so its curlicues and trim can be glimpsed through the green. If you want the plants to be the star, let them take over and cover the arbor in a sheet of green.
Best plants for an arched arbor: Twining plants like passionflower, clematis, and jasmine. Climbing nasturtium or coral honeysuckle will race up an arbor and give you a flowery gateway. Train a climbing rose up the arbor so you can walk through a portal of fragrant roses when you walk into your garden.
Moon Gate Arbors
Moon gate arbors are semicircles that look like, you guessed it, a three-quarter moon. They're wider than other types of arbors, ranging from six to eight feet across, so they're good for large spaces. They're usually made of metal and have ladder-like slats for twining vines to hang onto. Left bare, their stark minimalism would look right at home in a contemporary or Asian-style garden, playing the starring role of sculpture instead of the supporting role as plant support. Moon gate arbors are based on moon gates, which originated in ancient China where they were placed in garden walls and intended to resemble a moon rising from the landscape. The Chinese believed moon gates to be symbols of birth and renewal and a representation of the endless cycle of life. As a design element, moon gate arbors make a gorgeous portal between the outside world and the inside of your garden, bringing Zen cool to your space
Best plants for a moon gate arbor: Flowering vines that aren't woody, such as clematis and sweet pea, will race up the moon gate. Choose an annual vine and the moon gate arbor becomes a modernist sculpture in the winter.
Design tip: Place several moon gate arbors three to five feet apart and train plants to climb up each one and fill the gap between them, creating a hallway of plants at the entry to your garden. Train an evergreen rambling plant on them and you'll have a tunnel of green year round.
Grape Arbors
Grape arbors have a flat top originally intended to make them better able to support the fruit and woody vines of grapes. They're useful even if you don't want a backyard vineyard, because they can stand up to many varieties of plants that have hefty vines and vigorous growth. Grape arbors are usually made of wood, with beams across the top that resemble the top of a pergola.
Best plants for a grape arbor: Grapes, of course. Wisteria, which grows into a whopper of a plant, trumpet vine.
Gabled Arbors
Gabled arbors have steep, pitched tops that resemble the triangular house roofs that kids draw. They're usually made of wood and are a fixture in English gardens: crisp, angled and proper. Generally you want to let the pointed roofs show through the plants, giving this garden fixture an architectural quality. They're almost always made of wood.
Best plants for a gabled arbor: Climbing English roses, because you they're slow-growing enough for you to keep them from covering up the arbor's roofline. Clematis, hummingbird vine, and black-eyed Susan vine will climb skyward.
Design tip: Trim vines so they cover the roof without obscuring its angles.
Arbors with a Bench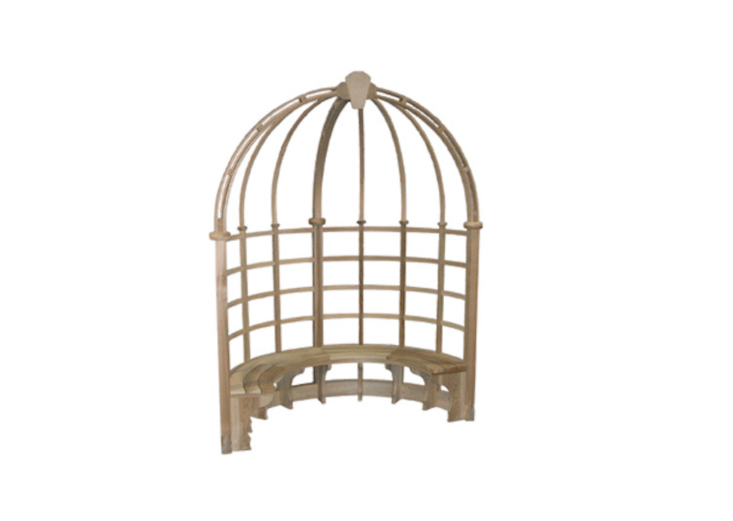 Not all arbors work as a doorway. Some include a built-in bench so you can place the arbor out in the garden and create a shady nook where you can sit and look at your plants. It's like a tiny pergola. Bench arbors usually have three sides of grid for plant support, two on the side and one behind the bench, so you get the effect of sitting in a semi-private niche of greenery.
Best plants for a bench arbor: Pick climbers that will make a thick wall of green to screen out the garden beyond. Wisteria and grapes are good choices. English ivy will wrap your arbor in green quickly. Scented climbers like jasmine, honeysuckle, or roses make your bench arbor a sweet-smelling bower.
Design tip: Place a bench arbor in a corner of your garden with a path winding out to it so that it's a destination.
Arbor, trellis, pergola, which is the best choice for your garden? See Hardscaping 101: Pergolas for more guidelines (and essential design tips). For more design ideas, see our curated guides to Garden Design 101, including Gates & Fences and Exteriors & Facades. And don't miss: