On my recent visit to the National Gallery of Art in Washington, D.C., the crowds were there to see Johannes Vermeer. I struggled to see each work in the exhibit, including A Lady Writing, one of my favorites, which I spied through the huddled hordes. We were all entranced by the Prussian blue, the light from the window on her arm, and the oily depths of intrigue behind her. For the aesthetically driven, the paintings of the Dutch masters serve as inspiration for any tableau. So, what if their same techniques were applied to the garden? (And, maybe, this is Dutch designer Piet Oudolf's big secret?) Here, with your trowel as your paintbrush, are 10 ideas borrowed from the Dutch masters.
Start with a tonal underpainting.
The Dutch masters primed their palettes with washes of oil and underpainting—tonal or monochromatic—before building up the image with color. You can implement the same technique in the garden. At a Dutch garden in Sevenoaks, England, green raised beds, lawn, hedges, and trees create a canvas; the same idea can be applied to silvery or dark foliage.
Take a multilayer approach.
Like a 17th-century Dutch painting, a garden needs multiple layers for overall effect. Dutch painters applied three or more layers of color over one another—starting with halftones, then an overlay to pick up tone and color, and the final layers to bring out detail (the light on an earring, for example). Dutch landscape designer Piet Oudolf uses the same layering technique with planting, as seen in his own garden at Hummelo where wispy grass is layered with tall natives, and layers of colored blooms.
Showcase color.
The Dutch love bulbs for a reason: Their blooms have real impact. Integrate colorful blooms into hardscaped spaces—steps, patios, and more—and don't be afraid to mix up your color palette. Seen here, pale yellow hollyhock, red and purple fuschia, blue cornflower, and orange dahlias lead the eye up the steps of the DeWiersse manor in the Netherlands.
See more ideas for adding bulbs to a landscape in our curated design guide to Bulbs & Tubers 101.
Paint with light.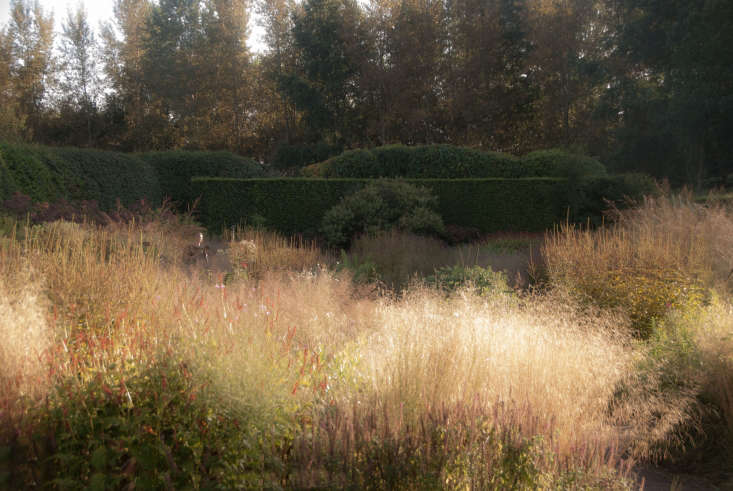 To contrast light and shadow—a chiaroscuro effect—like Johannes Vermeer, study the full growth of a plant, from the leafy foliage at the bottom to the seed at top to see what it looks like in every stage of its life cycle. That's what designer Oudolf does when building up a field of grass, like the Deschampsia cespitosa seen here at Hummelo. Bunched together, the perennial grasses catch and reflect sunlight, so Oudolf planted the bunch in an area with full afternoon sunlight for an overall mesmeric effect. Find a space in your garden with that special soft-glow light in the morning or golden haze in the afternoon and optimize your garden's full aesthetic potential.
Consider a cutting garden.
Keep a raised bed or section your garden for a rotation of bulbs and annuals—Dutch-style—to feed abundant floral arrangements throughout the house. Planting heirloom ranunculus, poppies, tulips, and iris are a sure bet for a still-life-like floral arrangement. Prussian blue, a favorite pigment of the Dutch masters, can be achieved with flowers like delphinium, grape hyacinth, and more.
Grow fruit trees.
A proper Dutch still life includes fruit of all sorts—oranges, lemons, pomegranates, peaches, and more. Growing just a few baseline fruit trees in the garden, such as small citrus trees, create that abundance. Still Life, above, by Dutch artist Willem Kalf in 1660, features an orange rind; Kalf gave the rind the most color and light to highlight its natural beauty.
Compost can be beautiful.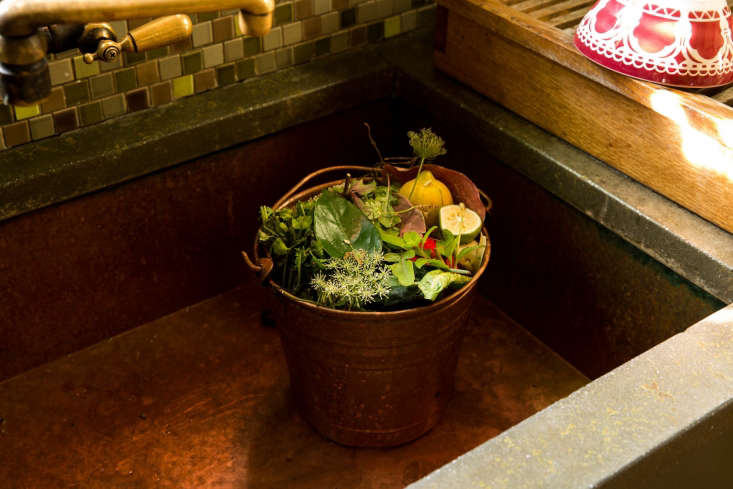 Imperfection is a key characteristic of the Dutch still life: the peeled rind, smashed buds, fallen petals, and wilted leaves. Still lives depicting banketje (banquet) and ontbijtjes (breakfast) scenes embraced the process of decay and death as a theme. From a kitchen compost full of leaves and rinds to a garden composter full of regenerating decay, the cyclical process of composting is a way to integrate the same vanitas into the gardener's life.
Plants can grow anywhere.
If you relate more to the lifestyle of a Dutch villager than the lord of a manor, you still can grow trees and other plants to add curb appeal to your village life—with potted plants and the practice of espalier. Shown here in the painting, Scene in a Courtyard by Ludolf de Jongh from the early 1660s, a vine trails up the exterior of a house in a Rotterdam neighborhood.
Structure with symmetry.
Great Dutch gardens of past and present show that hyper-symmetrical layouts, be they mazes of hedges, pergola-type structures, or entrance gates, are a consistent feature across time and region. To create pleasing symmetry down a path, strategically grown topiaries at the entrance of the DeWiersse garden in the Netherlands guide the eye down the path ahead.
Plant walls.
The Dutch have embraced vine-covered facades for centuries, coaxing trailing varieties to cover outbuildings and brick to give interest to otherwise uninteresting facades. Note that the look requires some upkeep and research on invasive plants to really get it right. Create walls where there weren't any with the use of hedgerows; they are good for defining spaces within the garden and for creating walls for privacy.
For more ideas from the Dutch, see our posts: