Wouldn't you say that certain plants and certain people could benefit from a little extra support? Human support usually comes from family, friends, coworkers, animals—the list goes on—while certain plants get propped up by trellises. By definition, a trellis is "a framework of light wooden or metal bars, chiefly used as a support for fruit trees or climbing plants." But there's so much more to say about this versatile hardscape element.
What's the difference between an arbor and a trellis? A trellis is a solid vertical support (which itself may rest against a solid wall, fence, or facade) while an arbor is a freestanding garden element. An arbor acts as an entryway but garden designers often use trellises as screens to create privacy or to screen unsightly elements.
Which is the right trellis for your garden? There are many sizes, shapes, and styles, but don't feel overwhelmed; we're here to help you make the right choice. Read on for tips for selecting a trellis that enhances the design of your landscape—and meets your plants' requirements for a little extra support.
Should I choose a trellis for form or for function?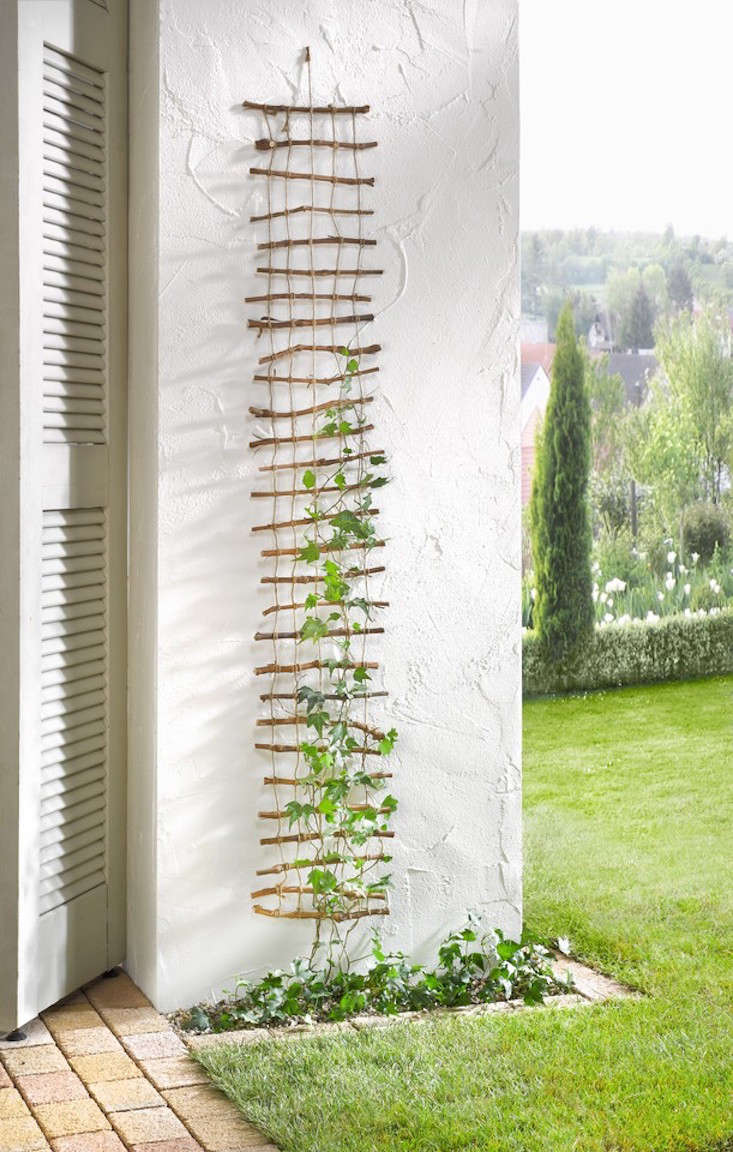 The true beauty in a trellis is that the structure should be both decorative and functional.
Garden structures, including trellises, provide a strong vertical element to break up a flat space, plus they act as important backbones for certain climbing vines and rambling vegetables and fruits. All trellises require that the homeowner take time to consider the style, scale, and placement in the garden in relation to the existing house and garden so that all the elements play well together. The other beauty of a trellis is that if you're crafty and competent with tools you can build your own and customize the shape and design to suit your landscape needs and budget, keeping in mind that what you build is sturdy enough for what you want to plant and that it's constructed of weatherproof materials that will last.
What are the main styles of trellis?
Read on to find out about arch, tepee, grid, fan, and ladder trellises—and to learn which is the right style for your garden.
Arch Trellis
Arch trellises, made of metal or wood (that's painted or stained to resist the elements), are usually defined by their two flat trellis sides with a rounded or arched top joining them.
The function of an arch trellis is to politely guide plants over a path or to encourage wayward scramblers to grow vertically not horizontally. Depending on how elaborate the arch design is, this structure can definitely add a distinctive look to your garden or silently disappear under a blanket of greenery.
Best plants to grow on an arch trellis: Top choices for arches are climbing roses, clematis, and fragrant jasmines. See more at Jasmine 101: A Field Guide.
Tripod or Tepee Trellis
As the name implies, a tripod trellis is made in the shape of a freestanding tripod or tepee. While this style appears simple, a tepee trellis can become a focal point in your garden after it is decorated with flowering vines.
Design tip: Use a tepee trellis like an exclamation point, to punctuate and add visual emphasis to a garden design. Don't repeat them too often in a landscape (the look will lose its power) unless you are placing them in a vegetable garden for truly practical purposes.
With a tripod trellis, make sure it's strong and tall enough to support your chosen plant—otherwise it may become overwhelmed. An eight-foot-tall tepee trellis can handle a heavy vine like wisteria, but a shorter structure will fail. An affordable solution is to use inexpensive bamboo sticks to build a support for climbing plants such as sweet peas or green beans. To DIY a tepee trellis, place three tall poles/bamboo canes together at an angle with the tops together and the bottoms splayed evenly. Next tie and secure the tops with sturdy twine or wire, add twine as the layers, and plant around the base.
Best plants to grow on a tepee: Flowering vines such as clematis that are not woody will scramble happily up a tripod.
Grid Trellis
Made of either wood lattice or metal panels, a grid trellis is often used to provide privacy, to define a space, or to decorate a barren wall or fence. Versatility is the strong suit as grid trellises can be freestanding, anchored to a wall or fence, or in combination with a container.
The size of the flat trellis is determined by how much you need to screen or how much delineation of garden space you need. The types of plants fitting for this style of trellis really depends on the purpose of the trellis.
Best plants to grow on a grid trellis: As a rule of thumb, vegetables with tendrils like cucumbers, peas, and squash, which are always looking to grab on to something, prefer nonmetallic materials such as wood and twine supports and grids that are fewer than four inches wide.
Fan Trellis
A fan trellis has ribs that flare out in the shape of a fan to encourage horizontal as well as vertical growth. A fan trellis can be a good choice for a corner where two walls meet as it will encourage vines to grow on both. Like a square grid trellis, a fan trellis has a screening and is a good choice for privacy.
Best plants to grow on a fan trellis: A fan trellis is a good support for perennial vines or climbing roses (and will display rose flowers to their advantage), but make sure your trellis can support the weight of woody plants.
A-frame or Ladder Trellis
A-frame trellises are made with rot-resistant wood or strong metal. I've even seen gardeners use actual wooden ladders as their support for a truly creative and repurposed touch. A-frame trellises look most at home in a vegetable garden where beans, tomatoes, squash, and peas will happily climb the rungs.
Tip:
Growing vegetables vertically produces higher yields, saves space, and makes plants less susceptible to disease.
Best plants to grow on a ladder trellis: Scramblers like tomatoes and nasturtiums appreciate ladders or tripods.
If you're adding a decorative or support element to your landscape, get inspiration from our Hardscape 101 design guides including Exteriors & Facades 101. Choose the best climbing plant for a trellis with growing and design tips at Vines & Climbers: A Field Guide. If you're seeking more support, see: