A personal tour of Hummelo, the Netherlands home and famed garden of designer Piet Oudolf, would be pretty near the top of any keen gardener's wish list. But this dream becomes a reality—albeit in a virtual sense—when you enroll at Learning With Experts, an online school where you can take courses with all manner of experts.
Planting The Piet Oudolf Way, a course with Oudolf and his long-time collaborator Dr Noel Kingsbury, costs $195 and is one of many horticultural programs on offer, ranging from how to choose and care for roses with David Austin's senior rosarian, Michael Marriott, to designing small gardens with designer Annie Guilfoyle. We enrolled in Piet Oudolf's course to see if distance learning is as good as the real thing.
Photography courtesy of Learning With Experts.
The courses are cleverly designed to be very user friendly. You can dip in and out of classes, watching them at your own speed; re-watch them if you want to. At the end of each class you can send an optional assignment to your tutor for feedback and advice.
Each session focuses on a key element of design, kicking off with plant structure. "The idea is not to copy nature, but to give a feeling of nature," says Oudolf of his style as we learn about each group of plants. There are verticals (such as Veronicastrum virginicum or the fluffy haze of Miscanthus sinensis 'Malepartus'), spikes and spires such as Sanguisorba canadensis or Stachys officianalis that provide dynamic focal points in a scheme.
We also learn about plumes such as astilbe or the hazy flowers of Calamagrostis brachytricha, balls and buttons and umbels – a group that includes some of Oudolf's favorite and most effective plants such as Eupatorium maculatum or Sedum 'Matrona'.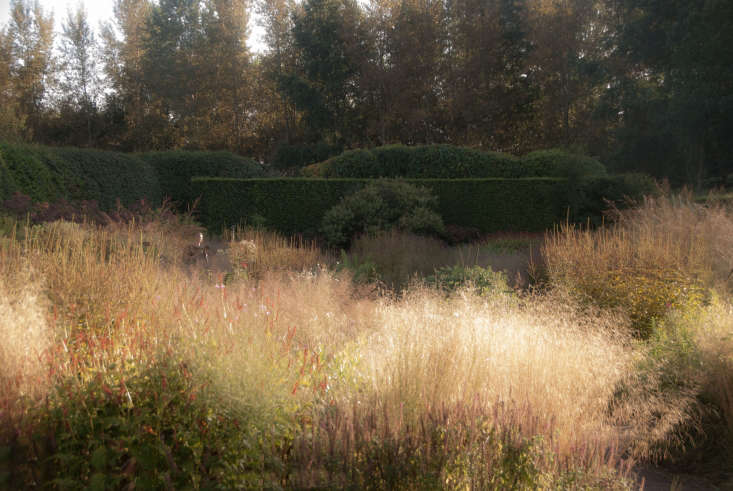 While most gardeners obsess over color, we learn that form is actually much more important for a longer season of interest; for Oudolf it's fundamental that a plant performs over a long period of time, not just during its flowering season. A closer look at Hummelo through the seasons illustrates how the garden evolves from spring through summer and late autumn when the garden becomes a tonal sea of blonde and brown forms, and into winter when those same shapes are dusted in a coating of frost.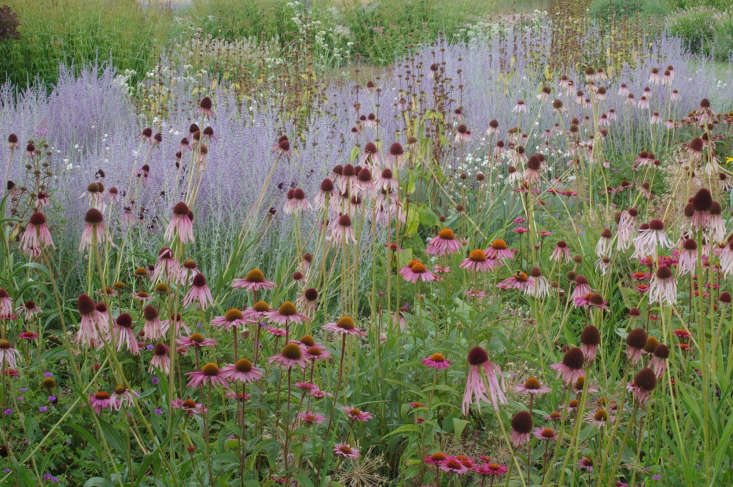 Can the Piet technique be mimicked? Oudolf is a planting genius, perhaps the most influential garden designer of his age, but there is much to learn in these classes and besides all that, it's just a joy to hear him talk about how he puts it all together.
For more of Oudolf's garden designs, see:
(Visited 1,982 times, 4 visits today)