Feng shui, the ancient Chinese system of arranging physical objects to create serenity and balance in a home, also offers lessons for modern landscape design. The most important? Work with nature, not against it.
For more than 2,000 years, Taoists have believed in the importance of balancing the opposite forces of yin and yang. The tug of war in a garden is between the natural surroundings and the manmade environment. How you interpret the rules of feng shui will vary depending on the size, location, and topography of your own landscape. As a starting point, try to see things from nature's point of view.
Here are 10 garden ideas to steal from Chinese feng shui masters:
Water, Fire, Earth
Natural elements are "forces" in feng shui parlance. Whenever you add a natural element such as water, wood, earth, metal, or fire to your landscape, you honor nature and create balance.
How: Add a fountain (water), a fire pit (fire), terra cotta pots (earth), or wind chimes (metal).
Leisurely Paths
Nature is full of curves. Straight lines? A garden path that follows the counters of the land instead of trying to change them will feel more like an adventure than a chore to traverse.
How: Use  irregularly shaped pavers and "grout" them with gravel, or plant low-growing ground cover plants between them. For ideas, see Hardscaping 101: Ground Covers to Plant Between Pavers.
Thoughtful Views
In China, the outdoors and the indoors are two halves of the whole; connect the living spaces physically and visually whenever possible. Frame the views to remind people indoors of the natural landscape that surrounds the house.
How: Plant a flowering tree in a spot where the springtime blossoms will be framed by a window. If you're building a new house, orient it so the main windows enjoy a bright southern exposure and the garden has full sun all day long. See an example in Architect Visit: Barbara Chambers at Home in Mill Valley.
A Sense of Scale
The size and placement of natural elements—such as plants, wood, and stone—should complement each other, not compete.
How: Pay attention to the scale of elements so they can blend together as in nature rather than fighting for attention.
Focal Points
Give the eye somewhere to rest in the garden.
How: Showcase a specimen tree or a favorite flowering shrub in a spot where there's room for it to grow to full height and width without crowding.
Sheltering Sky
A roof overhead will create a cocoon of comfort.
How: Drape fabric over a pergola. Or train vines to grow over an arbor.
Courtyard Culture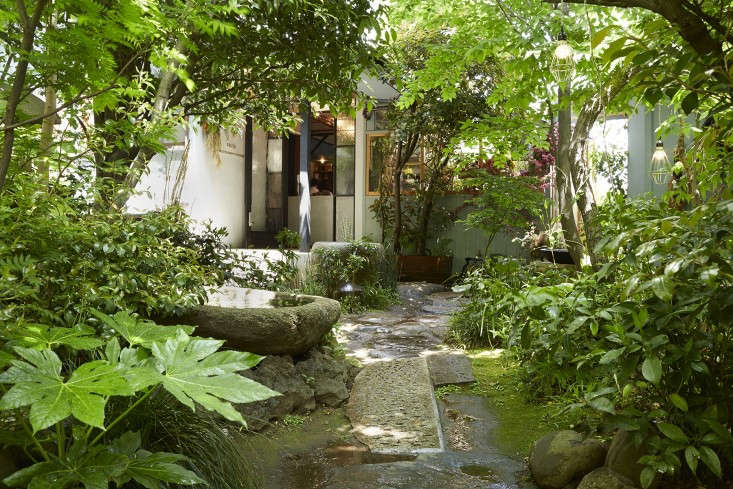 Walled gardens and courtyards create a sense of security in a garden. Beyond the practical benefits of adding privacy and eliminating wind, a courtyard can calm the mind by blocking out the distractions of the greater world.
How: If you're building a house from scratch, design it around the garden (instead of making the building the focal point) and add doorways to connect as many rooms as possible to the serene internal courtyard.
Reminders of Nature
In a city where you may have no physical outdoor space, you can extend the natural landscape indoors by adding foliage, greenery, and other reminders of the airy world beyond your windows.
How: Collect houseplants and group them together, in clay or terra cotta pots. Place them at eye level.
Rustic Furnishings
Wood is one of the five natural elements to include in any feng shui garden design. Simple, rustic furniture complements the natural surroundings.
How: Place a wooden chair in a spot where it will remind passersby how much they like to sit down for a while to watch birds and bugs fly by.
Stillness and Movement
Create interest by contrasting static elements with movement.
How: Build a bridge over a stream or a walkway next to a pool of water.
N.B. For more inspiration to create peace and harmony in the garden, see:
(Visited 1,416 times, 1 visits today)