Rain chains, a feature of Japanese architecture, are a pleasant alternative to downspouts. The Japanese translation is kusari doi, and for centuries the chains have hung from eaves of Buddhist temples to funnel rainwater from roof to earth (or into a barrel or catchment tank).
Japanese architecture takes inspiration from the natural world, and kusari doi are a reminder that rainwater that falls from the sky onto a roof is a celebration rather than a nuisance. Instead of flowing downward in an enclosed downspout, water runs visibly down a rain chain to become an aesthetically pleasing element in a landscape. A rain chain system also creates rhythmic sounds as water gushes or drips, ebbing and flowing as the weather changes.
Are rain chains for you? Here is everything you need to know to decide.
What are rain chains?
A substitute for downspouts, rain chains can be simple links of metal or decorative cups to catch water gently before sending it on its way to the ground. If you want to install them yourself, you can buy a rain chain installation kit (hardware included).
Increasingly popular with architects, rain chains are a visually unobtrusive feature that can blend well with many styles, from modern to traditional. The simpler the design of the chain, the more easily it  will blend into the background.
How sturdy are rain chains?
Are rain chains right for my house?
A general rule of thumb is that a roof needs a three-foot eave to funnel water effectively to a rain chain. If you live in an area with high winds or heavy rainfall, a rain chain may not be be able to funnel all the water away from the foundation of your house; consider a perimeter French drain to add drainage.
How much do rain chains cost?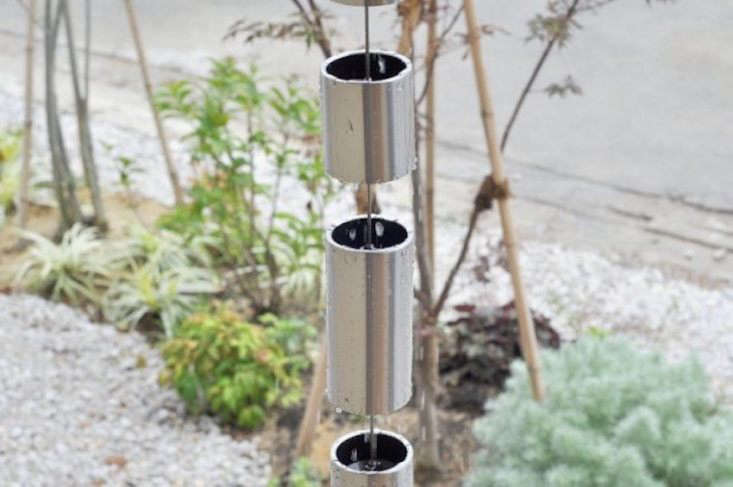 Compared to a traditional gutter-and-downspout system which can cost as much as $32 per linear foot for installation (for copper), rain chains can be easy on the budget. At the low end, an 8-foot Copper Iron Rain Chain from Home Depot for $40. An 8-foot length of decorative copper Kanji Cups Rain Chain with 13 cups is $272 from Rain Chains in a Nutshell.
Rain Chains Recap
Pros:
Less expensive than gutters.
Aesthetically pleasing with a wide range of architectural styles.
The sound of running water is a pleasant background noise in a garden.
Cons:
Less sturdy than traditional metal downspouts.
Handle less capacity than a downspout.
Less effective in areas with high winds.
Water can freeze on the chains in winter, creating a heavy weight on eaves.
Trying to direct the flow of water away from your house or into the garden? See our Hardscape 101 design guides, especially Exteriors & Facades 101: A Design Guide. And don't miss our recent posts:
(Visited 957 times, 7 visits today)