Music to my ears: the sweet sound of wind chimes (especially when drowning out the sounds of the streets of San Francisco).
Here is a roundup of wind chimes that look as pleasing as they sound.
Above: From Portland-based Pigeon Toe Ceramics, Ceramic Disc Chimes are threaded on a deerskin lace cord and gently clink together in the breeze. Glazed in bone, they come in a choice of six cord colors (shown in aqua, L, and natural, R). Available in sets of 4 or 8 Discs; $44 and $70 respectively.
Above: The Edo Glass Bell from Maison Martin Margiela is an interpretation of the traditional Japanese wind bell intended to be hung at the entrance to your home or onto the branches of trees outdoors. "According to Japanese legend, with the ringing of the bell, the wishes of a home's occupants are fulfilled." The blown glass bell is available in three sizes, each producing a slightly different tone; $57 to $86 depending on size at Luminaire.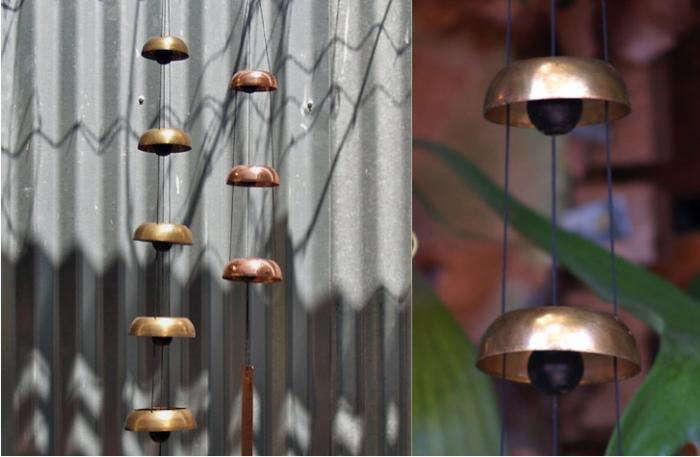 Above: Inspired by ancient Chinese bells, the Five Tier Temple Bells offer a subtle peaceful chime. Equally at home in the garden or by the front door (an alternative to a doorbell?), they come in a choice of polished brass or copper-plated steel; $45 at Potted. Also available in a smaller size (Three Tier Temple Bells) for $35.
Above: At once delicate and rustic, Ironaworks Round Windchimes (333) with Colorful String are handmade from recycled metal. "The longer these stay outside, the prettier they get." The string measures 34-inches in length; $19.50 through Ironaworks on Etsy.
Above: The more the merrier. Consider Ironaworks Set of Three Windchimes; $37.50.
Above: Hand forged in India, the Moksha Noah Bell comes in a choice of three sizes (four, six, and eight inches). Dramatic on their own, or in a group; $7.50 to $39 depending on size at Potted.
Above: Offering an extraordinarily delicate sound, the Fairy WInd Chime is considered a classic. This version is make of cherry wood and anodized aluminum; $28.50 at Potted.
You need to login or register to view and manage your bookmarks.