When it came time to retire, Steven and Dee Dee Kim knew just what they wanted. They would leave their home in Tiburon, California near San Francisco, and build a traditional house with a swimming pool overlooking a golf course in the Santa Lucia Preserve in Carmel Valley, California. They found a five-acre lot in a stand of old-growth oak trees and assembled their dream team—landscape architect Bernard Trainor, architects Sagan Piechota, and contractors Stocker Allaire—to make it happen.
What they got was something different but even more desirable: a 4,400-square-foot modern house with a guest studio, an outdoor living room, and a glass walkway through the trees—and no one is missing the swimming pool. Principal architect Daniel Piechota walked us through the details:
Photography by Joe Fletcher courtesy of Sagan Piechota Architecture.
The clients initially wanted a house in a traditional architectural style, but they also gave the architects clues about how they wanted to live—close to nature, chiefly. "That necessitated a certain amount of glass," said Piechota, "and a modern style is a better fit for that."
Though the lot is on a slope, the architects "wrapped the house around the topography of the site instead of cutting into the hill."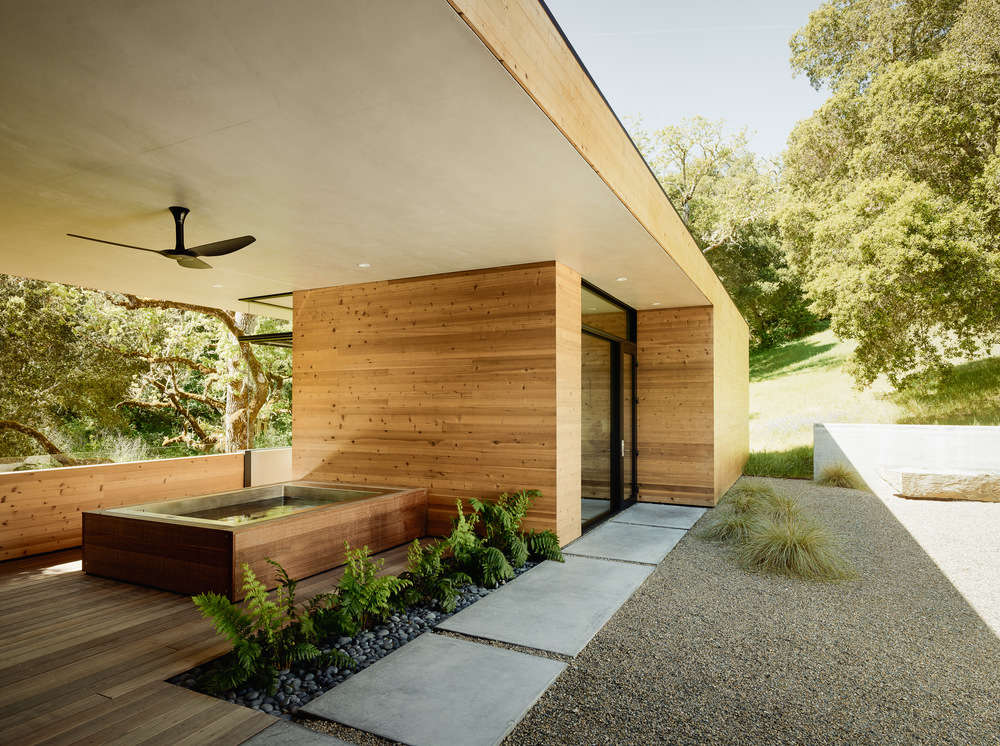 Piechota and Trainor have worked together many times throughout the last decade and are highly collaborative. "Honestly, I don't know how to design buildings that don't relate to the landscape," said Piechota. "And I appreciate working with someone who's both in tune with the landscape and respectful of the architecture."
"What this house does best is that it has the feeling of being up in the air—in the trees—and simultaneously grounded on the courtyard side." Often, said Piechota, a house offers one or the other.
A gravel driveway rings the oak grove in front of the house. Here, Trainor chose a lighter, warmer color for the gravel—"California gold"—to brighten the front landscape and reflect back what little light filters through the trees.
Find more inspiring modern landscapes in:
(Visited 1,238 times, 6 visits today)