Let's take a minute to envision your fantasy flower garden. Tall, breeze-blown blossoms sway like synchronized swimmers. The clouds of color remind you (again) that you've always wanted to visit Monet's garden at Giverny. In the distance, a phone rings, but you don't hear it; the garden has enveloped you in the moment and it's a good moment.
Now let's make the fantasy come true. How do you create a lush flower garden? Good dirt, lots of digging, lots of water, and ample nutrition to ensure the plants will flourish. Here is a roundup of flower gardens for inspiration: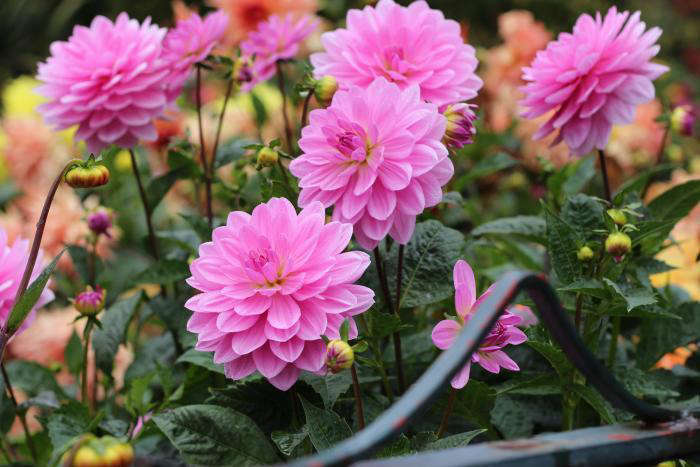 Photograph by Michelle Slatalla.
Above: About 500 different clumps of dahlias recklessly bloom their heads off in San Francisco's Golden Gate Park. The dahlias are planted in a modest plot next to the Conservatory of Flowers. There are four distinctive shapes of dahlias. The "Decorative" varieties, according to the sign at the Dahlia Dell, are double flowers that "have broad, flat petals that incurve slightly at their margin and usually reflex to the stem." For more, see Dahlia Fever in San Francisco.
Photograph by Marla Aufmuth.
Above: An old boathouse in a sheltered cove in Tiburon, California, survived a landslide in 1982. Rebuilt now, bougainvillea climbs the south wall. The boathouse has six capstans and views of Angel Island. Beginning in 1997, Sausalito-based garden designer Paul Leffingwell began creating a new design for the property. For more, see A Survivor: A Grand Seaside Garden in Tiburon.
Photograph by Jeanne Rostaing.
Above: It is wise to consult a local expert before planting your flowers to make sure they will thrive in your growing zone (as are these Northeast roses). According to Sarah Owens of the Brooklyn Botanic Garden, home gardeners often make the mistake of choosing the wrong plants.
To grow a lush garden of your own, supply your flowers with adequate nutrients.The Pennington Smart Feed Sprayer System makes it easy to evenly distribute vital water soluble nutrients at the same time. The premium fertilizer tablets created for Flowers & Blooms come pre-measured and are ready to use. And the four-way, adjustable sprayer ensures a faster and more uniform delivery of nutrients, while using less water.
Above: Photograph by Kendra Wilson.
The Cottage Garden at Sissinghurst contains no white. It faces west and is full of opulent color and rich scent: a place to sit at the end of the day, while watching the sun go down. For more, see Vita's Sunset Garden and for more information on using the Pennington Smart Feed for your next Garden DIY, please visit the company's site.
(Visited 29 times, 1 visits today)