I had no idea, until I stopped by the lamp repair store the other day, that there is a letter-writing campaign urging the mayor of San Francisco to redecorate his City Hall offices with dahlia wallpaper and dahlia drapes and paintings of dahlias in fancy gilded frames.
It makes perfect sense, of course–not finding out about it at the lamp store, necessarily, but the part about the letter-writing campaign–because of the intense support dahlias enjoy in this city. "They are the official city flower and the official county flower," the clerk informed me as he examined the lamp's frayed cord. It turned out he was a big fan: "Have you visited the dahlia garden in Golden Gate Park lately? It's in full bloom."
Now, here is what I know about Golden Gate Park. Almost every time I go there, it's shrouded in fog–velvety gray curtains, bone-chilling wafts, vampire fog so thick that big droplets of mist get into your hair and make it go limp. I don't go very often. But there was something in his voice–a tone of such thrilled certainty–that made me head straight over to the Dahlia Dell:
Photographs by Michelle Slatalla for Gardenista.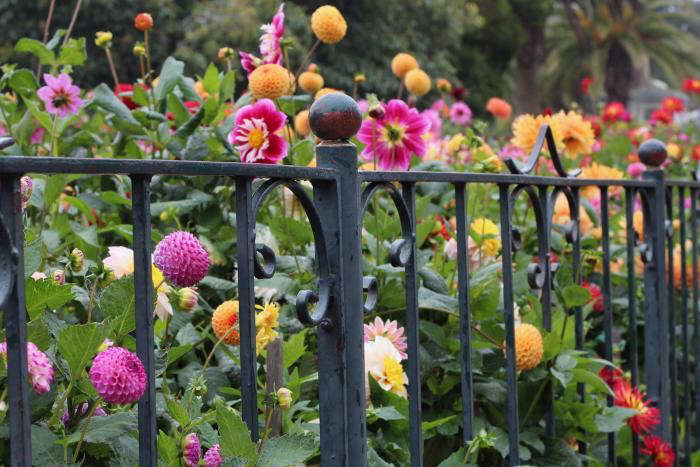 Above: Thank God I took his advice because otherwise I would have missed the riot: 500 clumps of dahlias all recklessly blooming their heads off.
Above: The dahlias are planted in a modest plot next to the Conservatory of Flowers, which you can barely see through the archetypal San Francisco fog.
By the way, at my house a mere ten minutes' drive across the Golden Gate Bridge it had been sunny and warm when I left that morning. Microclimates. The Bay Area is famous for them; wily native San Franciscans typically keep at least two changes of clothing–often involving fleece–in the trunks of their cars. They add or subtract layers as they move from one neighborhood to the next.
Above: There are four distinctive shapes of dahlias. The "Decorative" varieties, according to the sign at the Dahlia Dell, are double flowers that "have broad, flat petals that incurve slightly at their margin and usually reflex to the stem."

Above: Dahlias grow from tubers that spread underground, creating dense clumps of flowers.

Above: In the foreground, you can see a "Cactus" variety of dahlia, recognizable by its "narrow, pointed petals that can be straight or curl inwards…"
Above: …and "recurved edges" along most of the petals' length, according to the sign on the fence.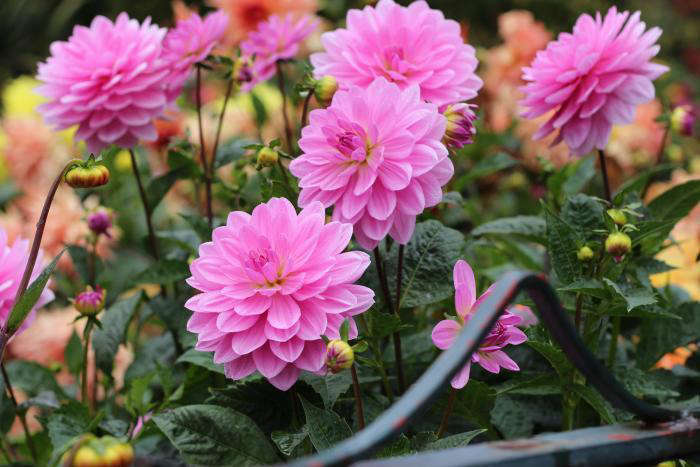 Above: The size of the flower heads at Dahlia Dell ranged from as small as two inches to as big as 16 inches in diameter on "dinner plate" varieties.
Above: Dahlia Dell, planted in the 1920s, contains examples of such varieties as Luminescence (first planted in 1994), Bishop of Auckland, Eden Talos, and Glenbank Twinkle. For a large selection of dahlias, visit Frey's Dahlias.
Above: Dahlias are not scented and there aren't many that bloom in bees' favorite color (blue). But this "Ball" variety with dense, tightly packed petals still attracts pollinators.
Above: In San Francisco's mild climate, dahlias may be left in the ground to overwinter. But at Dahlia Dell, volunteers dig them up every fall, divide the tubers, and store them in a dry cool place until spring.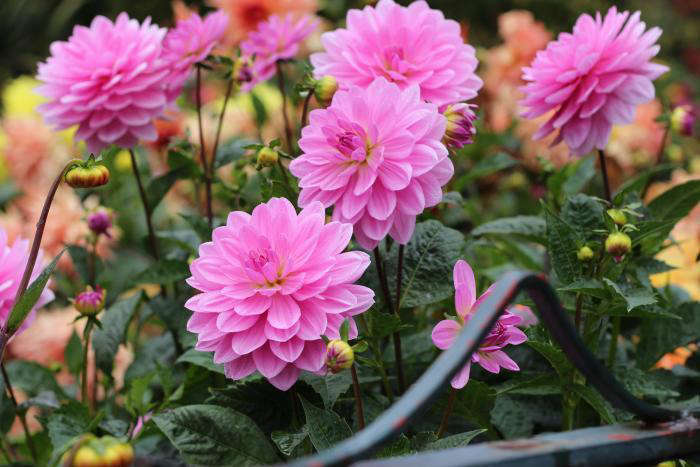 Above: I went home, stripped off a few layers of fleece, looked up San Francisco Mayor Edwin Lee's Email Address, and composed a note: "Dear Sir: About your wallpaper…"
N.B. This is an update of a post that was originally published on October 1, 2012.
For growing tips, see "DIY: How Not to Kill Your Dahlias."
Finally, get more ideas on how to successfully plant, grow, and care for dahlia with our Dahlia: A Field Guide.
Interested in other bulbs and tubers for your garden or indoor space? Get more ideas on how to plant, grow, and care for various bulbs and tubers with our Bulbs & Tubers: A Field Guide.
(Visited 206 times, 2 visits today)