An old boathouse in a sheltered cove in Tiburon, California, survived a landslide in 1982, a year when severe rainstorms caused a record 18,000 Bay Area mudslides that killed 15 people—including the owner of this 8.5-acre garden—and caused $100 million in damages. Everything looks so peaceful now:
Photographs by Marla Aufmuth for Gardenista except where noted.
Above: The shingled boathouse at the edge of the waterfront property was not in the path of the 1982 mudslide, which came from Paradise Drive above the property.
Above: The boathouse has six capstans and views of Angel Island. Beginning in 1997, Sausalito-based garden designer Paul Leffingwell began creating a new design for the property.
Above: Mexican salvia, which can stand up to ocean breezes and salt air, thrives at the waterfront.
The privately owned property was open for tours during a recent convention of the Association of Professional Landscape Designers. For another garden on the tour, see "Rescuing a 100-Year-Old Garden."
Above: Bougainvillea grows on the the south wall of the boathouse.
Above: San Francisco architect Herb Kosovitz designed a new 10,000-square-foot main house, with a glass conservatory filled with the owner's collection of tropical plants. Photograph via Hotbed. The previous house sustained severe damage in the mudslide.
Above: Under the direction of Mr. Leffingwell, a full-time arborist spent two years pruning more than 250 oak trees and shrubs on the property. "The whole concept is to create gardens within the natural landscape," says Mr. Leffingwell. "The beautiful twisted oaks, north facing, are reaching for the light."
Above: Bluestone stairs and English concrete planters "relate to the more natural character of the landscape," Mr. Leffingwell says.
Above: Sculpture by neighbor Jean Pierre Rives.
Above: Boston ivy on a wall beneath more tropical plantings.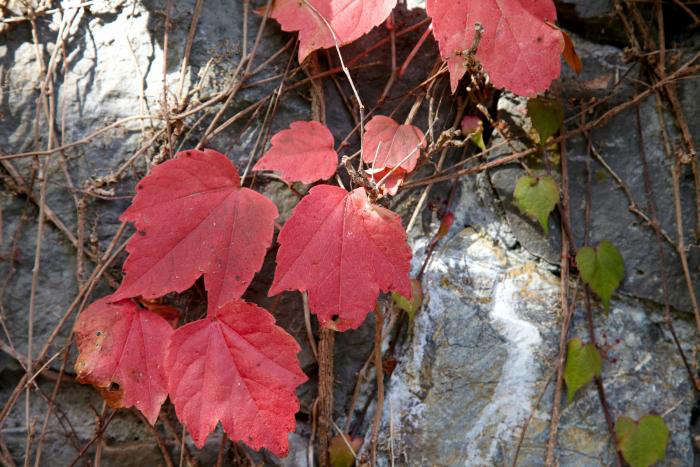 Above: In autumn, the ivy leaves turn bright red.
(Visited 129 times, 1 visits today)