Our judges have selected the finalists, now you choose the winners. Vote for the finalists in each of 17 Considered Design Awards categories, on both Gardenista and Remodelista. You can vote once a day in each category, now through August 8.
In the Best Outdoor Living Space, our five finalists are Tatiana Barhar/Carlos Zubieta, Jacob Cottage, WE Design, Leslie & Woody Pyrtle, and Hsu McCollough.
Project 1
Tatiana Barhar/Carlos Zubieta | Venice, CA | Casa de Familia
Design Statement: "I love soft plants and a layered look," said Barhar. "Our house is so architectural, and I wanted to make sure whatever we planted was more organic-feeling. I love throwing California poppies and chamomile seeds in with the wild bunch grass." So much of the family's life spills outdoors–cooking, dining, sitting around the fire pit, playing bocce ball, gardening in the raised planter boxes–the expanded home feels much larger than its 1,750 square feet.
Chosen By: Guest judge Judy Kameon, who said about the project: "Casa de Familia looks super fun! Lots of great ways for everyone to engage and enjoy the outdoors."
Above: Twenty-foot ficus with an A-frame tree house.
---
Project 2
Jacob Cottage | Swansea, United Kingdom | Outdoor Kitchen or "Man Cave"
Design Statement: Our outside kitchen was born out of two necessities: firstly to turn a previously overgrown and unused area into something useful, and secondly to find a place where we could cook fish without stinking the house out. We felt it important that the kitchen was sympathetic to the style of the house, which is a Victorian cottage, and so tried to use reclaimed or recycled materials. The retaining wall was built from old bricks that were found on the land during renovation and the area was then filled with gravel. For the walls we used reclaimed scaffolding planks so that it wasn't too pristine; the table is an old work bench from the garage–both are battered and have old paint splatters, which add character. We wanted to raise the area to make it stand out from the rest of the garden, so we backfilled it with several tons of hardcore that were hacked off the house when we renovated. We are growing herbs in the kitchen to use when cooking. The surrounding border and gardens have lots of ingredients that can be foraged throughout the year, such as wild garlic, berries, and elderflower. Most of the items on display are car-boot or charity-shop finds, such as the Clint oil painting. The kitchen is west-facing so it's the last place in the garden to catch the evening sun–perfect for a sloe gin sundowner.
Chosen By: Gardenista Editor-in-Chief Michelle Slatalla. "Finally, an iteration of outdoor living my husband can embrace: the man cave. (The only thing missing is a spot for his man cave TV.) Extra points for the thoughtful reuse of materials."
Above: Workbench.
Above: Staff plank shelves.
Above: Garden mint.
Above: Storm lantern.
---
Project 3
WE Design | New York, NY | Chelsea Rooftop Terrace
Design Statement: On this rooftop terrace, lush plantings create private outdoor rooms for dining and entertaining, while preserving views out to the Manhattan skyline. A custom outdoor kitchen, new green roof, and thoughtful lighting all play important roles in establishing this previously underutilized rooftop as a lively space at all times of day.
Chosen By: Judy Kameon: "This rooftop terrace in Chelsea is an elegant re-imagining of an often underused space."
Above: View of continuous seating bench with storage below.
Above: Detail of continuous seating bench in open position, showing storage trunks below.
Above: The outdoor kitchen.
Above: Detail of step light beside the green roof.
Above: View showing interior butler's pantry.
---
Project 4
Leslie & Woody Pirtle | New Paltz, NY | Garden Room
Design Statement: We wanted to design a quiet contemplative space for sitting and reading.
Chosen By: Michelle Slatalla: "The word 'magical' is not one I throw around lightly, but it's appropriate in this context. The juxtaposition of rough stone walls and velvety green vines creates an otherworldly sense of peace."
Above: A quiet place to sit in the garden room.
Above: View from above the garden room. The chicken coop lies just beyond.
Above: Approach to the garden room. Climbing hydrangea covers the exterior walls.
Above: Entrance to the garden room, with tree stump seating in front of the firebox.
Above: A diagonal view across the room.
---
Project 5
Hsu McCullough | Los Angeles, CA | Boise Residence
Design Statement: Hsu McCullough maximized the gardens and living spaces on a corner lot adjacent to two alleys, maintaining privacy with property edges of exterior wood walls, cherry laurels and pepper trees. Exterior living spaces are deposited over multiple levels of wood deck and at grade, including an outdoor living room below the yuccas, a dining terrace below the pine tree, and a fire pit below the poplar tree. All exterior living spaces, the driveway with motorized vehicular gate, and the detached accessory structure are connected with interchanging paths of flagstone, broken concrete, and decomposed granite with sage and lavender edges.
Chosen By: Judy Kameon: "Wonderful privacy paired with considered outdoor rooms creates a real extension of the home."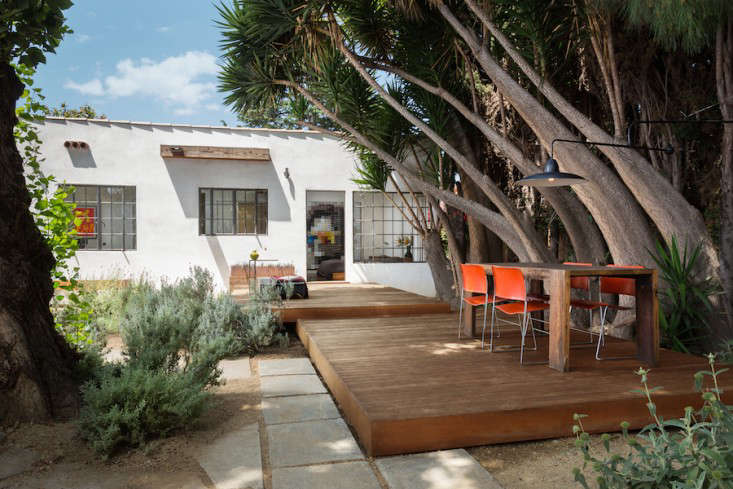 Above: Looking west, with exterior dining terrace deck and exterior living room deck with chaise lounge connected to master bedroom.
Above: Looking east at dining terrace deck with accessory structure, driveway, and wood wall that screens trash and compost bins beyond.
Above: Looking northeast at dining terrace deck with driveway and wood wall that screens trash and compost bins.
Above: Looking west at dusk, with dining terrace deck and living room deck with chaise lounge connected to master bedroom.
Above: Looking northeast at fire pit, with dining terrace deck beyond.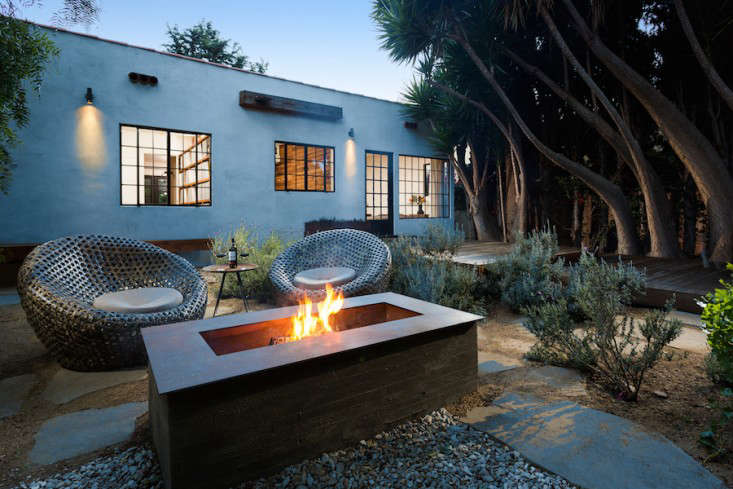 Above: Looking northwest at dusk, with fire pit and living room deck beyond.
(Visited 872 times, 2 visits today)