It's autumn, and it's rosehip season—time to gather the fruits of the last roses of summer. Even if you have not been bingeing on the History Channel's Alone series (not something I would ever do, of course), where hungry contestants wolf rosehips straight from their branches, you probably know that these plump red seed capsules are edible and revered for their nutritional benefits (rosehips are high in antioxidants and vitamins). You may also have heard that they can be fiddly to work with and take some trouble to prepare. And if you're in tune with your local flora, you may be aware, too, that some rose species, highly invasive, don't play well with their botanical neighbors.
Read on for an easy rosehip syrup recipe that includes optimism, exercise, and virtue. We'll also identify two invasive rose species and make an easy syrup whose main demand upon you is the ability to shake a Mason jar. It couldn't be more simple.
Photography by Marie Viljoen.
Two introduced shrubs that have naturalized in many regions of the United States are multiflora (Rosa multiflora) and beach roses (Rosa rugosa). Both are so ubiquitous that you'd be forgiven for assuming they belong (imagine a beach without beach roses). Both species are native to East Asia.
In early summer frothy hedgerows of invasive multiflora roses burst into bloom along roadsides and on woodland edges. Their blossoms are beautiful and they smell good. The rose was introduced to the US in the 19th century as hardy rootstock for grafted ornamental roses and later planted to control erosion and contain livestock within living barriers. The roses scramble up other shrubs and trees for support, weighing them down and creating shady, impenetrable thickets. Habitats are altered, and native species can suffer.
Many birds relish rosehips, especially once frost has softened them and bletted their tannins. As birds travel, seed is dispersed, and the spread continues.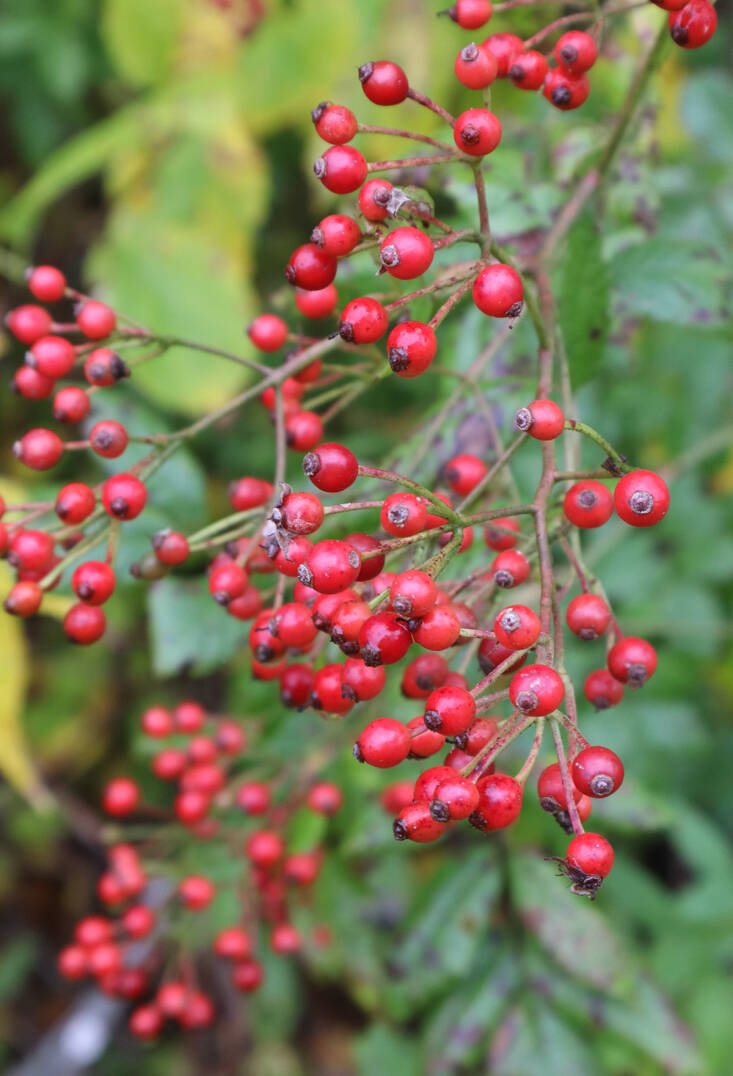 The beach rose shrubs that light up shorelines in summer were imported for their beauty and hardiness: their wide, single flowers, and fatly attractive hips combined with their adaptability to challenging urban conditions (where nutrient-poor soil often goes hand in hand with lack of water) made these East Asian native roses very appealing. Rosa rugosa now colonizes shorelines where it thrives, disrupting native plant communities.
What happens when you prune sprays of rosehips from tangled thickets, and pick the fat hips off beach roses? Well, you get yourself outside, for one thing, with a purpose. And you're saving hundreds of seeds from being dispersed. Also, you are taking home the nutritious, still-astringent raw ingredients for a noteworthy syrup, one whose sugar content diminishes the longer it ferments.
I began making cold-extract, fermented syrups from ume (Prunus mume), years ago. The technique of mixing fruit with sugar (no liquid) produces a rich, nuanced syrup from hard green fruit. It's a method that I now use with all kinds of astringent or unripe fruits (like this cranberry syrup recipe). While the ratio of sugar to fruit is high the fermentation process eventually includes bacteria that digest the sugars. When the flavor is somewhere in the hard-to-describe-realm between tart and sweet, I strain, bottle, and refrigerate the pale amber (if it's rosehip) syrup.
After the syrup is strained, one can either toss and compost the remaining rosehips or scoop out the now-soft insides and air-dry the flavorful orange meat of their shells. They are a delightful snack, sweet nibble, or fancifully delicious garnish for autumnal salads, savory dishes, and desserts.
How nutritious are rosehips after fermenting? That is very hard to say. Possibly more so than after being boiled into traditional rosehip tea, although heat makes some antioxidants bio-available. Rosehips are high in lycopene, Vitamins C and K, and contain a lot of potassium. Eaten raw they are nutritious, but not too palatable. I feel this syrup is a happy compromise. (And if anyone has a laboratory at their disposal, please get in touch!)
Rosehip Syrup
You can use any rosehips for this syrup. If they're invasive, all the better.
2 cups ripe rosehips, tops sliced off (to expose the flesh)
1 cup sugar
4 strips orange zest (optional)
Combine in a Mason jar and shake well. Cover with the lid, but loosely*. Shake the jar daily. After a a few days you will notice syrup forming at the bottom of the jar. By days 10 – 14 it should cover the rosehips. At this point it can be used and will be very sweet. Continue fermenting until the rosehips have turned a darker, caramel color, are soft, and taste sweet, around another 2 weeks. By now the accumulated syrup should have begun to mellow towards a more tart flavor profile. Strain the syrup through folded cheesecloth, decant into a clean bottle, and refrigerate.
* The loose lid allows gradually-forming carbon dioxide to escape. If kept on tightly it could build up and explode the bottle. For real. Fermentation is fun.
See also:
(Visited 9,164 times, 15 visits today)