The Pilgrims were not the only foreign settlers to come over on the Mayflower. The first exotic plants also ventured to the New World with early European visitors. Today as much as one-third of the plants in North America are exotic (and up to 80 percent of garden plants). Though many behave nicely in our landscape, some non-natives are considered "invasive," with aggressive growing habits that choke out indigenous plants and pose a threat to native eco-systems.
Gardeners nationwide are joining a growing movement to stamp out the most harmful invaders, but even the most conscientious may be surprised to learn that many of their garden favorites are in fact invasive plants. To help, we've compiled a list of the top 10 offenders and the best substitutes:
1. Invasive Plant: Butterfly Bush
Butterflies are not only pretty, these pollinators are also great for the environment. Unfortunately butterfly bush (Buddleia davidii) is not. A native from Asia, this plant is listed as an invasive in more than 20 states including much of the West Coast and the area east of the Mississippi. Though mature butterflies love this shrub's sweet nectar, the butterfly bush provides no support for butterfly and moth caterpillars. More important, it threatens native species that do.
Native Plant: California Lilac
Gardeners who want to support the entire butterfly life cycle and still enjoy brilliant flower clusters should consider native alternatives such as California lilac (Ceanothus), and meadowsweet (Spiraea spp). Wild hydrangea (aborescens), viburnum, and azaleas are also good substitutes.
2. Invasive Plant: Japanese Honeysuckle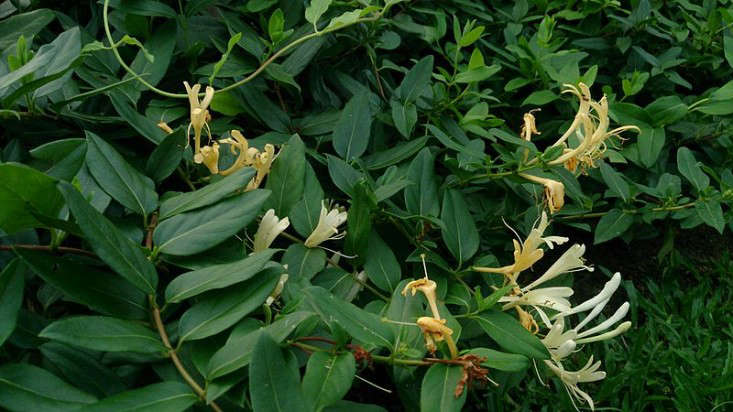 An aggressive, vine, Japanese honeysuckle spreads quickly over trees and along the understory, where it chokes out native seedlings.
Native Plant: Trumpet Honeysuckle
People are usually attracted to Japanese honeysuckle not for the brilliance of its blooms, but for their strong fragrance. Those who want a similarly sweet-scented vine should consider natives such as Trumpet honeysuckle (Lonicera sempervirens), Carolina jasmine (Gelsemium sempervirens), or leather flower (Clematis viorna).
3. Invasive: Purple Loosestrife
Swaths of Purple loosestrife (Lythrum salicaria) in a marsh may look dramatic and pretty, but this aquatic invader is choking wetlands in nearly every state in America.
Native Plant: Gayfeather