I used to live in a basement flat near London's King's Cross, with a little courtyard. It was full of pots and was lovely really, except for two things. It was overlooked by hundreds of people (there was a hotel next door), and there was no soil.
I could have done something about the latter problem if I'd come across Alex Mitchell, author of The Edible Balcony. Instead, I carried countless bags of compost down into the flat, due to an unfounded fear of using anything that was "tired," and got rid of said compost in the park across the street when no one was looking.
Photography by Sarah Cuttle via The Edible Balcony, except where noted.
Above: Herbs are easy, and don't mind the harsh conditions of a small pot. The thyme here is in easy reach of a comfortable window seat, perfect for crushing the leaves to release scent while reading.
Above: One of the questions I would have asked Mitchell would have been: Don't I need to replace my soil constantly? "Luckily, no," she says. "Otherwise you would have a backbreaking time ahead of you… It would not be a very sustainable way of gardening and it would be pretty expensive."
If your balcony is shady, grow woodland plants such as raspberries. "If you grow hungry crops in fresh compost you can then reuse it for less hungry crops," says Mitchell. "To reuse compost, sift it through your fingers, removing as many roots as you can since these can stop water draining through and make it difficult for new roots to spread out."
Looking for a compact lean-to conservatory to protect plants from weather? Consider Urban Gardener: A Balcony Greenhouse.
Above: A thriving roof garden in central London.
Above: A rooftop in London's Bermondsey, near the River Thames. Wind is cunningly kept back with box balls at head height. Mitchell says: "Hungry crops, such as tomatoes, (growing here in rows), potatoes, sweet peppers, aubergines, zucchini, and squashes, do need fresh, fertile compost to grow really well, but others, such as carrots, peas, beans, salad and herbs, don't require so many nutrients."
Above: Turn a problem into an advantage. Unfriendly railings are ideal for climbing crops. Mitchell: "You can add the old roots in your used soil to your wormery or compost bin. Top this old compost with a third fresh multi-purpose compost and, if you have a wormery, a few scoops of fresh worm compost. A handful of slow-release plant food will re-vitalize old compost too."
Above: Beans are one of those crops that just keep giving, though they do require feeding. "Most crop plants need feeding," says Mitchell. "A good all-rounder is organic, sustainably sourced liquid seaweed feed; tomato feed can be used in the same way. A bottle should be enough to see you through the whole growing season and will ensure your plants get all the nutrients they need."
Above: The Barbican is a concrete landmark in the middle of town: once reviled but now loved. The living spaces are well-designed with generous balconies. This one is cheered immeasurably with sunflowers, tomatoes, cosmos, and an olive tree, all ideal for a sunny spot.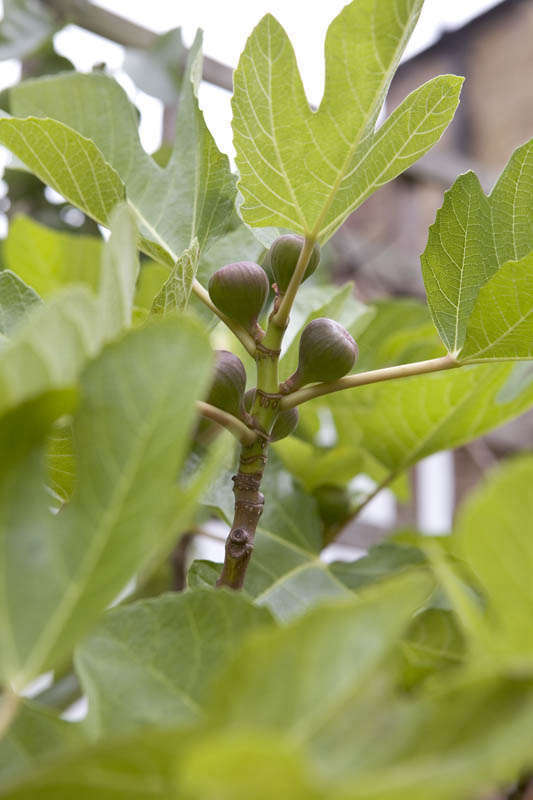 Above: A fig also has a faraway scent and is a reminder of warmer places. Because its roots like to be constricted, it is ideal for a tight space and its branches can be spread out against a south- or west-facing wall which will warm it up for more productivity.
Above: A wormery is a fantastic solution for people with hard surfaces. Instead of requiring worms and other invertebrates to emerge from the ground to aid the breaking-down process, these worms are self-contained and only require feeding from your kitchen and the small amount of garden waste of a balcony or courtyard. They provide invaluable worm 'wee' to be diluted and used as plant food: it drips into a watering can under the tap which is left open. The compost produced by wormery worms is amazingly rich. Can o' Worms available from Wiggly Wigglers, from £32. Photograph by Kendra Wilson.
Above: The Edible Balcony by Alex Mitchell (Kyle Cathie, (£16.99) is also available to US gardeners for $16.16 from Amazon.
This is an update of a post originally published July 27, 2012.
(Visited 178 times, 1 visits today)