A triplex apartment sits atop a '60s office block in the Belgian city of Antwerp. The landscapers' brief: to create a garden on each floor, blending with the style of the building, which is mainly concrete. Step forward the delightful Bart & Pieter, who like a challenge:
Photography by Sarah Blee.
Above: The top floor. The client here is an architect at the renowned B Architects in Antwerp. It was a fruitful collaboration, partly because the architect-client "has a knowledge and feeling for plants," says Pieter Croes of Bart and Pieter, also known as Haverkamp and Croes.
Above: The roof garden has "rather wild growing shrubs," says Pieter, "and a 'lawn.'" It's unexpected, this lumpiness next to the clean lines of steel and glass.
Above: As we travel down to the next level the planting is more ordered.
Above: The desert plant Agave overlooks the stairwell. The architect-client is Brazilian and divides his time between the southern hemisphere and northern Europe. "There is certainly a Brazilian inspiration," says Pieter.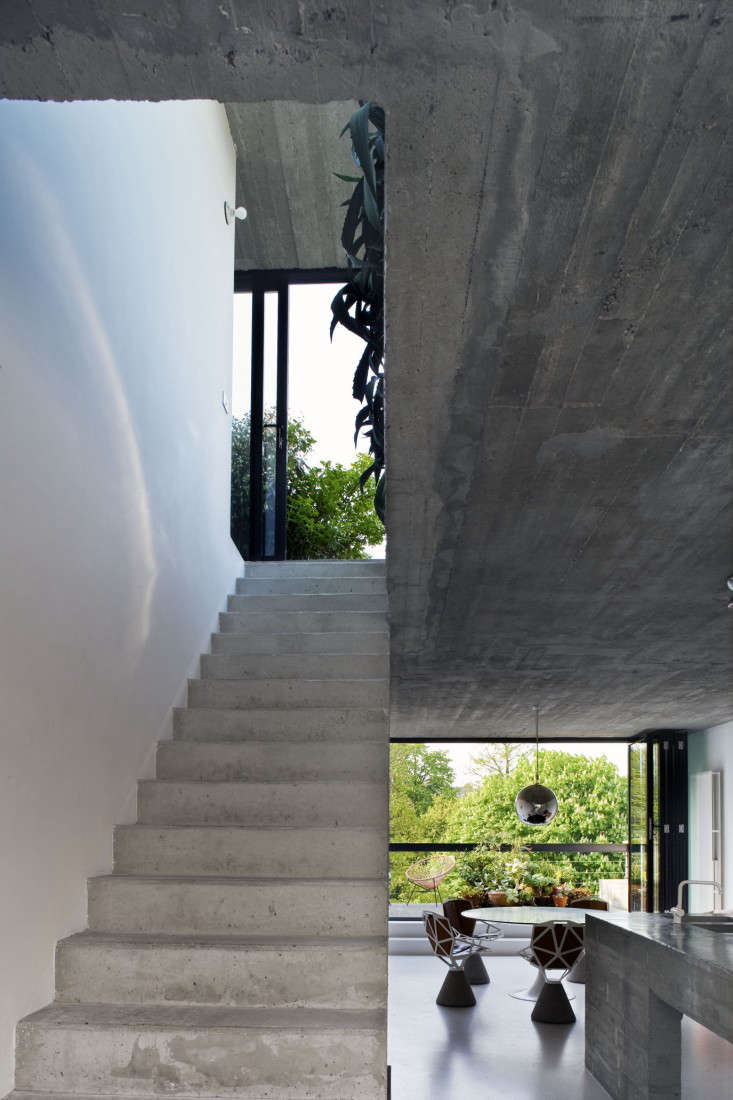 Above: A balcony above, the kitchen below and everywhere, greenery next to concrete.
Above: A Rhus typhina dominates the patio outside the kitchen, accompanied by ferns and grasses.
Above: Enormous windows on every floor help to keep these living quarters light where possible. On the lowest level the bedroom, bathroom, and living room are situated. Within an internal space the jungly Monstera climbs up toward the next floor.
Above: The bonsai-style growth of this Rhus works brilliantly against its very stark surroundings.
For more Bart and Pieter, see Radical Urban Gardens in Antwerp. And on Remodelista, check into Hotel Julien in Antwerp and browse all our favorite spots in our Belgium City Guide.
(Visited 137 times, 1 visits today)