When we think of the Dutch landscape, water and flatness come to mind—a scene so "monotonous" that British writer Noel Kingsbury used to complain to Holland's garden superstar Piet Oudolf that it was impossible not to get lost. "Learning to read the landscape takes time," says Oudolf in the foreword to this erudite and fascinating new book, "and not all visitors are prepared to do that."
Gardens Under Big Skies, published by Filbert Press, lavishly illustrates that the devil is in the detail: Dutch gardening is distinguished by "its clarity of form and its desire to embrace the contemporary," in the words of co-author and photographer Maayke de Ridder. The low-lying landscape (about a third of which is below sea level) is key to the rigorously forward-thinking garden scene in the Netherlands.
Besides the current "Dutch Wave," as communicated by Oudolf, Holland has long been an international player in design, underpinned by a reputation for connoisseur plantsmanship. And yet the catalysts for today's younger generation of gardeners—such as Mien Ruys (of whom there are no books in English) and Henk Gerritson—are almost unknown abroad.
For any gardener who sees Dutch gardening as synonymous with Oudolf's communities of grasses and perennials, and perhaps hankers for something more structured (or even super-structured, like Holland's baroque gardens), this book fills in the blanks and so much more.
Photography by Maayke de Ridder.
Tom de Witte is part of the generation that does not see the "New Perennial" movement as new, since it is almost 30 years old and he grew up with it. He works for Piet Oudolf as a project manager on international gardens but has his own business building smaller, private gardens. While much of Oudolf's work is done on a matrix, in other words, using ground-covering grasses interspersed with different perennial species, a small garden does not allow such experimentation. "Everything has to work for a long time; juxtapositions have to shine," says de Witte. He is keen on multiple viewpoints, using two paths where other designers would use one. Seeing a garden from different angles makes it seem bigger, he maintains.
In the Netherlands, where space is at a premium, a small garden does not imply slender means; people are used to less space. "The design of small gardens is certainly at a higher level of expertise and creativity here than elsewhere," says Noel Kingsbury. The book's focus on landscape is a way of exploring the work of contemporary designers and their cultural influences. Straight lines are everywhere, so Carolien Barkman, a former lawyer, has rejected the idea of hanging her designs off the lines that emanate from a house. Her lines don't do what you might expect; her pathways "widen, then narrow, then go a little bit to the left, although at first sight they look straight," in her words. She also uses creeping groundcover (like Soleirolia soleirolii, or baby's tears, above) for softening paving stones or to completely obscure them.
In the one part of the Netherlands that features hills (South Limburg), soil thinly covers limestone. Landscape contractor-turned-designer Noël van Mierlo loves using the un-Dutch medium of rocks, which refuse to be defined as specifically hard or soft landscaping but give a garden weight and a sense of longevity. The combination of water and hills has given him license to draw from an Asian tradition, with a touch of 20th century American (specifically Pacific North West) style.
Water is integrated into these designs not as a novelty or "water feature" but as an inevitable part of the landscape. The hard materials used by Vis à Vis are also chosen for pragmatism: why use oak or teak when many garden designs last for just a few years, until the next remodel? In urban gardens especially, they often use softwood with a shorter lifespan. Where harder woods are needed, they eschew unsustainably-harvested tropical hardwoods in favor of robinia, Douglas fir, and chestnut. Regarding planting influences, they cite the late Henk Gerritsen, who appreciated the interrelationship between native plants and how they interacted with wildlife. They plant with the wildflowers that are increasingly available at Dutch nurseries.
Although Frank van der Linden freely acknowledges the effect of Gerritsen, Oudolf ,and Mien Ruys on his work, he is also a free thinker and like many in this book, is one to watch. On design projects, he sets out every plant himself, for maximum concentration and flow. Structure is important amid the grasses and perennials; he favors clipped mounds of privet, beech, holly, silverberry, and narrow-leafed olive willow. From these, small trees emerge, including rowan, serviceberry and winter-flowering cherry. His specialty is creating a visual mix of cultivated and wild. "I'm on my own path, designing more and more with the plants that are native to the area where I live."
Pierre van de Heiden points out that at college, his contemporaries were taught that "everything can be designed and shaped the way you want it"—which is the story of the Dutch landscape, having been claimed from water. With business partner Monique Donders, Van der Heiden takes an inherently Dutch penchant for structure to another level. In their work, says Noel Kingsbury, "there is more than a hint of the highly organized and rational Dutch agricultural landscape." Understanding the Netherlands is an insight into future-gardening.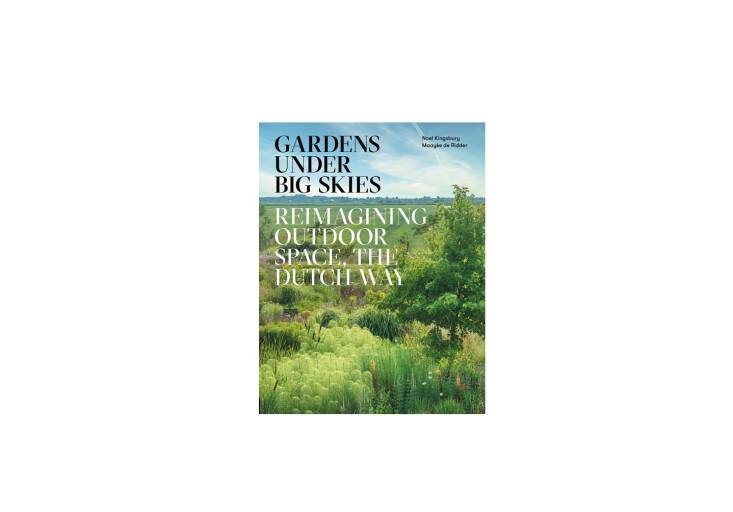 (Visited 437 times, 1 visits today)